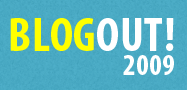 "Social media is like teen sex.
Everybody wants to do it.
Nobody knows how.
When it's finally done there is surprise it's not better"
– Avinash Kaushik, analytics evangelist, Google
An amusing anecdote that social media consultant Yongfook brought up during last week's Blogout '09, but nonetheless very true.
Run on 6th and 7th March (Friday and Saturday) last week, Blogout '09 was an event organized by Singapore's TDM (The Digital Movement) to help attendees "make sense of the social media space in Singapore".
They brought together a bunch of digital media consultants like Yongfook, Joel Postman and Tania from Ogilvy to present to the largely government audience (at least on the 6th when I was there) on social media. Topics touched on include how to measure ROI, how to do outreach in this space and where social media is going in the future.
It was well-run and well-coordinated, so kudos to the TDM folks (e.g. Claudia) for organizing a great event from a bottom-up grassroots effort.
Just adding my two cents to various topics that caught my interest throughout Friday 6th when I was there:

On measuring social media ROI: Yongfook mentioned looking at various business "needles" (e.g. authority, marketing/sales leads, etc.) to measure impact rather than using web metrics like page hits and number of visitors. Whilst I agree that these are effective measures, how these metrics are formulated and pegged to business impact is difficult to do (which is why it's valuable!). I doubt you can get away from things like page hits and the like short term — even though they can be gamed — because it's an objective metric that's easy for the fledgling social media industry to measure and sell.
On making money through blogs or paying blogs to blog: Whilst there are individuals who probably are exceptional in this area, I'm not convinced that blogs are a vehicle for making money, especially not through ads. And in the Singapore context, this is even more difficult due to reasons like the limited advertising market. Here's anarticle I wrote for Digital Life two months back, in which SMU's Michael Netzley explains why he believes it doesn't work.
On blogger outreach: Yes, reaching out to bloggers is about conversations. To do it well, you need to understand why bloggers blog. Is it about passion? Is it about fame and/or ego? Do they only want friends to read or are they aiming for a wider audience? Do they intend to make a living from building their own personal brand online? The thing is this: people blog for all kinds of different reasons, and there are millions of them out there. Pragmatically speaking, you can't talk to ALL of them; you have to prioritize. How influential are these bloggers that you reach out to? Will they champion what you're presenting to them? I really don't think this is as an easy question to answer as many social media folks make it sound like. "Just have conversations loh" isn't going to cut it, unless you explain in depth what this entails.
Is social media outreach useful for B2B? I'm not convinced of this myself. I think it's far more useful for B2C than B2B. B2B is probably better served through other channels like industry relations or analysts relations, because it's easier to see more direct business impact from these types of comms work. Maybe if you're flush with cash and want to do a branding campaign social media could be included as a component for B2B, but to me there are better alternatives.
Agree? Disagree? Leave a comment!