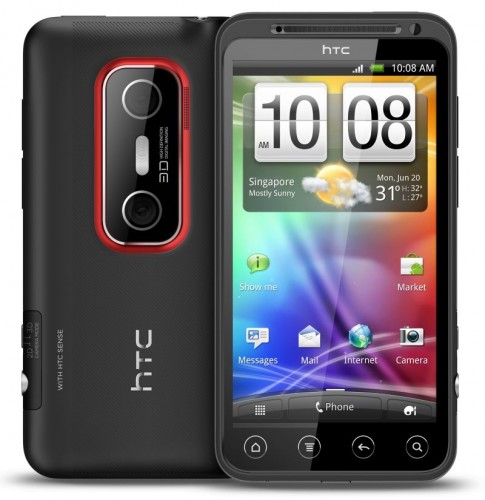 Here's a treat for those interested in shooting 3D pictures or videos – a phone that doubles up as a 3D camera as well as a player that shows the stereoscopic 3D images without having you wear those dorky glasses.
The Evo 3D from HTC is essentially a fully spec-d out smartphone (think the HTC Sensation), plus two 5-meg cameras stacked on its back to take 3D images. There's also a 3D screen that lets you view what you have shot, along with support for 3D movies and games like Green Hornet 3D and Spider-Man: Total Mayhem HD that HTC has pre-packed on the phone.
The Taiwanese handset maker is selling the Evo 3D from this month, for S$895, which is roughly what you'd pay for a high-end smartphone now.
Besides 3D, the other features are also what you'd expect from a top model, like the HTC Sensation launched just recently. The 170-gram Evo 3D comes with a 4.3-inch QHD screen, sports a dual-core 1.2GHz Qualcomm Snapdragon CPU and has 1GB of RAM, which should provide sufficient horsepower to handle the additional 3D tasks on its Android 2.3 OS.
Among the cool stuff that HTC expects that users will use is to take 3D videos of, say, a walk through the streets of a city they have visited. This, they believe, can offer a more immersive experience than just plain pictures or videos.
We think, however, that the phone will interest a rather niche group of users, who seek the latest features to be packed into their phones. For others, the HTC Sensation might be the more attractive HTC model on offer.
Consumer interest in 3D on the big screen – in cinemas – is there, but the technology is taking a painfully long time to transition to the home screen (TV) and might take a while more too to move to the small screen.