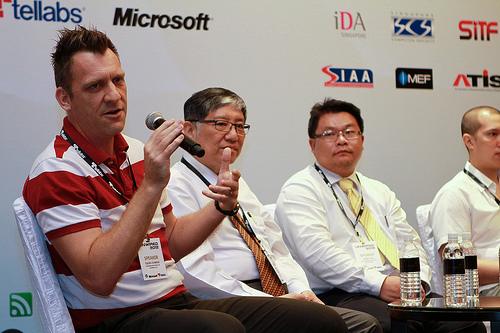 "The future of everything is mobile and social," said Colin Miles, Chairman of MEF Asia and Vice President of InternetQ.
Speaking last Thursday at UNWIRED 2012, Singapore's only independent mobile and wireless conference, Miles' enthusiasm in the cloud was infectious. He detailed the ways in which the metaphor "cloud' has made it easier for the layman to understand the concept of delivering software and services over the network.
In a lively discussion with representatives from HP, Google, and the Singapore Industrial Automation Association (SIAA), the panel also touched on how companies should not jump on the social cloud bandwagon just because they can. Instead, each available option should be duly considered and only the most appropriate implemented.
But all the above would not be possible without the appropriate infrastructure, an issue which the second panel of industry veterans tackled.
With LTE still rolling out country-wide and mobile broadband penetration increasing exponentially, the key question, said Motorola Solutions' Asia-Pacific service provider lead, Aled Tien, is how to give end users a better experience for the next three or four years before everyone experiences the full benefits of LTE.
There were several ideas put forward to alleviate the congestion on current 3G networks. They included the deployment of LTE networks, complementing cellular networks with unlicensed spectrum such as TV whitespace, and offloading traffic to Singapore's Wireless@SG free Wi-Fi network.
But the panellists agreed that there will never be enough bandwidth, and spectrum is just part of the equation.
Mock Pak Lum, StarHub's chief technology officer (below), pointed out that the usage of bandwidth went up three times when Korean telecom operators rolled out LTE, expecting to make networks less congested.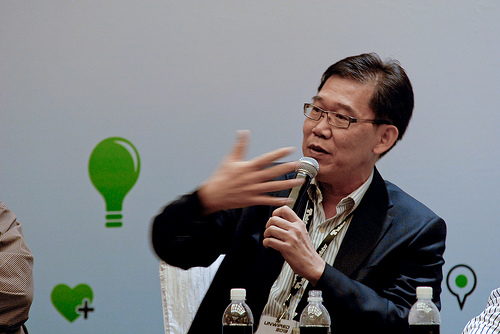 Tan Kok-Liang, Ericsson's vice-president for engagement practices for Singapore and Brunei, offered the interesting example of Japan's Shinjuku Station, which sees a daily average traffic of 3.5 million people. Telcos are still able to provide service of a decent quality there by deploying their networks smartly.
The issue of prioritising bandwidth for users who are willing to pay more was raised also by Dr Tan Guan Hong, president of the SIAA. He pointed out enterprise broadband subscribers do not want to compete with the kid on the next block streaming YouTube videos.
This is especially crucial for machine-to-machine communication through the Internet. For example, sensors built along drains have to be able to warn technicians instantly of the danger of flood so they can respond to the situation.
Turning to the consumer, the third panel delved into the recent trend of converging operating systems in a single unifying interface, such as Microsoft's Windows 8. But one question kept cropping up: are consumers ready for such an experience?
Winston Goh, senior product manager at Samsung Asia, argued that innovation might very well stall if everyone adopted just one user interface. But others in the forum disagreed, pointing out that convergence means companies can focus on innovating on one seamless experience compared to many.
The introduction of Siri on the iPhone 4S has put voice control into the foreground, and Samsung has responded by debuting its S-voice on the Galaxy SIII. Although neither are perfect, it seems that Siri has the edge for now.
But Microsoft wants to take natural user interface such as voice control even further. It believe that it's the next step in personal computing.
"With every paradigm shift in user interface design, there's going to be resistance," said Jonathan Wong, Microsoft's Asia-Pacific lead for Internet Explorer. From the mouse, to the touch screen, and now voice, there have been detractors every step of the way, but it shouldn't stop companies on attempting to advance user experience, he added.