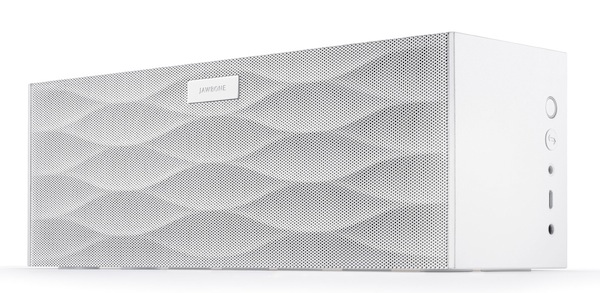 When we first reviewed the original Jambox over a year ago, that chilli padi of a speaker belted out room-filing sound that belies its diminutive footprint.

Now, the little red box is joined by a bigger brother, aptly named Big Jambox. The newest member of the family is six times larger in volume and three times heavier than original Jambox.

That's not to say the S$458 Big Jambox is awkward to carry around. The 1.2-kg boom box remains compact enough to be packed into a luggage or backpack on your travels.

The Big Jambox sports a similar design as its smaller sibling. Encased in a stainless steel mesh, the larger model has a striking presence that will put most portable speaker systems to shame.

Dotting the top of its shell is a slew of controls, such as volume, play/pause and previous/next. A talk button, denoted by the letter J, lets you pick up calls and chat via a built-in mic when the speaker is paired over Bluetooth with a smartphone. You can also depress the talk button twice to re-dial the last number called.

Setting up the Big Jambox is a cinch: connect it to a laptop or any audio device via its 3.5mm audio jack. Or, stream tunes over Bluetooth from any mobile device.

Like its smaller brethren, the Big Jambox lacks a battery indicator. You can check on the power by depressing the talk button. A voice then tells you how full the built-in battery is. The speaker lasted for about 3-4 days on a single charge when I used it for an hour or two a day.

On the right side of Big Jambox is a microUSB port for connecting the speaker to a computer, so you can download apps to customise the voiceover tones and call your closest friends, among other tasks.

Note, though, that you have to sign up for an account at mytalk.jambox.com to download and install the Jawbone updater software on a Mac or PC before you can load the Jawbone apps into the speaker.

If you have an Android device, you can even use the Jambox Companion App from Google Play to check on battery life and hear upcoming calendar events through the speaker. The app also lets you select voiceover options for the talk button, such as the current time, battery level or both.

As expected, Big Jambox lives up to its heritage of punching above its weight. Thanks to bigger two-inch drivers and a pair of passive subwoofers, it sounds even better than the original Jambox with much fuller sound. Jawbone has also created a sample playlist on Spotify, with tracks from Coldplay, U2 and others, to show off the speaker's potential.

I've always been skeptical of any newfangled audio processing circuitry that claims to create the illusion of a stereo set-up from a single speaker. The Big Jambox attempts to do this with its LiveAudio processing technology, which you can activate by the depressing both volume +/- buttons.

In instrumental pieces, LiveAudio works as promised and widens the sound stage in most cases. During rock numbers, vocals and midrange tones sounded a tad underwhelming with the circuitry is applied.

Like the original Jambox, the big Jambox packs more punch than most puny laptop and smartphone speakers. Though it won't replace a tradition stereo set-up, it's arguably one of the best portable speakers you can bring along for a small business presentation or BBQ party.