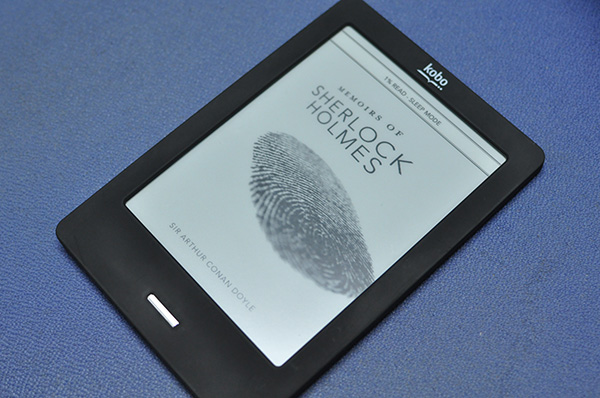 Having experimented with a variety of hardware, I've found tablets to be awful at reading eBooks. While the iPad has a fantastic app in the form of iBooks and its sharp screen is gorgeous, the 9.7-inch tablet is too big and heavy to hold up over an extended period of time.
Seven-inch Android tablets might be closer to the size of a novel, but none of the reading apps available on the platform provides as great an experience as iBooks.
Plus, I have a tendency to multi-task on tablets. If an e-mail or IM message comes in when I'm reading, I get the urge to take a look at it immediately.
So finally, I gave up on tablets and decided to get myself an eReader with only one simple need: to buy new books and read my existing books without fuss.
I have friends who own Kindles, but a brief look at Amazon's eReader is enough to turn me off. It doesn't support the EPUB format – which is pretty much considered as the standard eBook format – and buying books in this part of the world requires jumping through some hoops.
In the end, I settled on the Kobo Touch, and I'm convinced that it's the best eReader Singapore residents can buy.
Hardware and design
The Kobo Touch is built of soft matte plastic and has a quilted design round the back, which makes it very nice to hold compared to the hard and unyielding Kindle.
It's marvellously light, and doesn't strain my weak arm muscles one bit. Unlike a tablet, it also doesn't get warm after extended usage.
A microSD card slot on the side easily lets me load new books onto the reader without having to plug it into my PC, and a standard micro USB port is used for charging and data transfer.
A thin silver button on the front brings you back to the home screen immediately, exactly like on an iOS device.
The e-ink touch screen has a nice matte finish and is readable even in direct sunlight, though it does reflect light uncomfortably at certain angles. It's not backlit, which means no reading in the dark. But the increased comfort for my eyes more than makes up for that.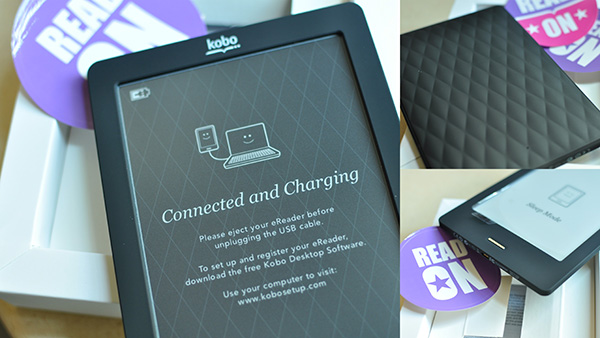 Unfortunately, the touch screen feels a little fickle in terms of sensitivity. Impatient users might get frustrated initially as there's a noticeable lag between your touch and the e-ink screen's response.
Due to the power-sipping nature of e-ink tech, I can go for days without having to charge the Kobo Touch. Mileage will vary depending on your usage, of course, but it's nowhere as power hungry as tablets.
Software
The Kobo Touch's operating system is by far more pleasant to use than the Kindle's.
Once you power up the device, you're taken to a home screen which displays your four most recent or new reads, and you can either start reading or delve deeper to browse through your whole library.
Thankfully, you're not forced to scroll up and down with your finger like on an LCD touch screen. That would have been torturous on the low frame-rate e-ink interface. Instead, arrows let you flip between pages and lists.
Once the books start to pile up, organising them will be quite a task. Fortunately, the search function is pretty powerful, and you can create "shelves" – which are essentially folders – to group your books under your own labels.
There are a number of customisation options available in-books. You can change the font size, margins, highlight passages and even make annotations with the touch keyboard.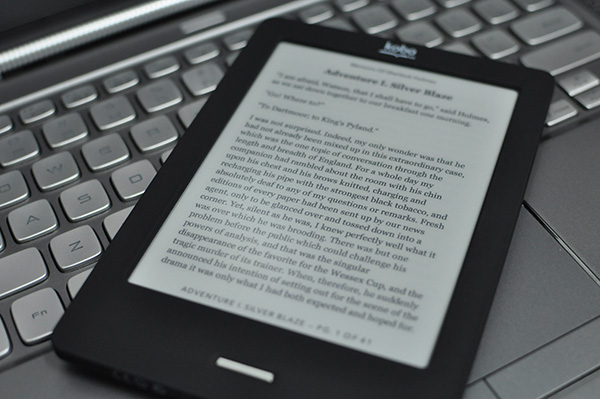 Kobo has attempted to make the reading experience more fun by awarding users virtual badges upon completing certain tasks, such as read five times after midnight. You have the option of showing these badges off to your friends by sharing them to Facebook, thus reading more social, for better or worse.
If you have a Wi-Fi connection, you can also hop into the store to browse books on sale and purchase any that catches your fancy (more on buying books in a moment).
And if you're feeling adventurous, you can try the three experimental features buried in the settings menu: a very basic Web browser, a sketching app, and a Sudoku game.
The interface is responsive in general, but the slight lag because of e-ink tech will take a bit of getting used to. As a Jedi would say, "Patience!"
Besides the eReader itself, Kobo also has apps for Android, iOS, and desktop. You can sync your reading progress on books purchased through Kobo and pick up where you left off on any device, a neat feature for device-hopping users.
Buying and reading books
The Kobo Touch supports a wide variety of formats, including the popular EPUB format, and all you have to do is drag and drop the files into Kobo through your file manager. I loaded up all my EPUBs without a hitch and was able to start reading immediately.
On the downside, there were some formatting inconsistencies in non-Kobo books, such as spelling errors and weird punctuation. Some of my EPUB files' metadata, such as the book cover, author name, were also either missing or displayed inconsistently.
But eBooks which are actually purchased from the Kobo store, either through the desktop app or the eReader itself, are near flawless. The cover of the eBook fits the entire screen perfectly, and the formatting is mostly problem-free. The store might not be as big as Amazon's, but most major titles can be found. The store also has frequent sales on select not-as-popular titles for as low as 99 US cents.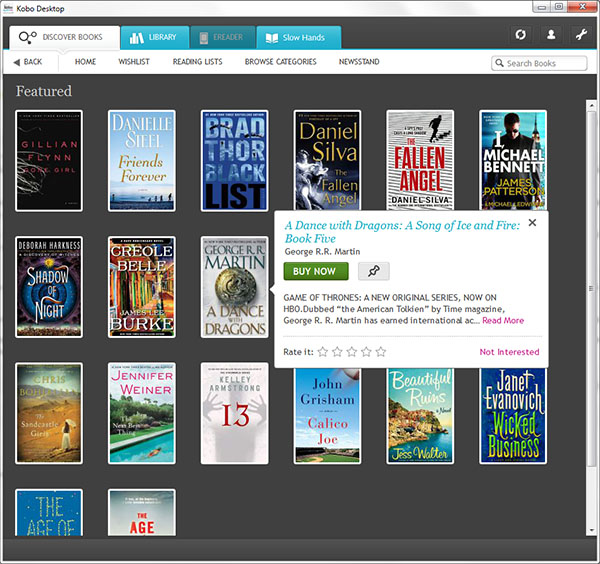 The best part of the store is its support for international buyers. I signed up with my local credit card and could buy books without any sort of workaround required. The store has also recently started to support PayPal payments, which is great if you don't want to share your credit card number with Kobo.
Bottomline
Ironically, the best place to get yourself this fantastic eReader is on Amazon! Depending on timing and luck, you may be able to get  one for under US$100. In comparison, the Kindle Touch without ads will set you back US$139.
A quick peek at Kobo's career page reveals that they're looking to hire a business development director based in Asia, so that's at least some reassurance that the company is working to expand its offerings in this region.
The Kobo Touch is a fantastic eReader for those looking for a single-purpose device for immersive reading without all the distraction of a connected device like a smartphone or tablet. The e-ink is great for your eyes, and the ability to drag-and-drop third-party eBooks straight into the eReader frees you from having to buy books only from Kobo.