Brought to you by Fuji Xerox
To many small organisations, embarking on a customer relationship management (CRM) initiative often means hefty investments in IT with uncertain returns.
That has changed with cloud computing, which has put CRM software within the reach of most small and medium sized enterprises (SMEs).
CRM, which includes sales and service automation capabilities, is a strong catalyst for improving revenue and customer satisfaction.
According to a study by Techaisle, a SME market research company, the proportion of SMEs using cloud-based CRM software jumped from 34 per cent in 2010 to 55 per cent in 2012.
Not surprisingly, the cloud-based CRM software market is heating up.
That segment of the business software market has grown from nothing at the turn of the century to 26 per cent in 2010. It is expected to comprise about 33 per cent of all CRM software purchases by the end of last year.
Businesses are flocking to cloud-based CRM software in droves for several reasons.
First, cloud-based CRM software makes it a cinch to track sales leads and customer queries. Most CRM software also comes with analytic dashboards, making it easy to monitor a company's sales performance and identify gaps in the sales cycle.
In addition, companies no longer need to maintain big, monolithic systems to automate their sales force and manage customer records. Getting on the CRM bandwagon today is as easy as signing up for a webmail service.
Finally, as with all cloud-based services, the cloud vendor takes care of maintenance and updates for you. That means no fiddling with complicated IT systems when businesses should really be out there sourcing for new customers.
That said, a CRM initiative is not just an IT project. Start thinking about your CRM strategy. What do your customers want? What is most important to them? How does your company compare to your competitors in meeting your customers' needs?
Once you have answers to those questions, define what CRM is going to do for your organisation and paint a vision of what the future will look like. Then, pick a CRM software that will help you speed up the process of communicating with customers and build better relationships.
If you are new to CRM, Fuji Xerox's SkyDesk CRM offers an easy way to get started. It will help you automate your sales process, provide business insights, support customers and manage your inventory with a single system.
Sales force automation
SkyDesk CRM provides your sales force, executives, and management with sophisticated sales management functions such as lead generation, sales pipeline analysis and competitor analysis.
Say, you are manning an outreach booth at a trade show, and you've collected business cards from visitors who have spoken with you. Each visitor is a sales lead.
To follow up on those leads, you can enter the contact details directly into SkyDesk CRM, or scan the business cards using SkyDesk Cards and export the information to SkyDesk CRM.
The leads can be shared with colleagues in your sales team. Once you are close to inking a deal with a potential customer, you can convert that lead into a potential. You can also assign leads and potentials to particular sales and marketing campaigns, such as the trade show outreach in this case.
These functions will give your business an opportunity to completely focus on the customer lifecycle (lead generation, acquisition, conversion, retention, loyalty), thus increasing sales revenue.
In addition, you can identify bottlenecks in the sales processes well in advance and effectively use existing customer data for future cross-selling and up-selling opportunities.
Glean insights
Data analytics is a key feature in any CRM software. With SkyDesk CRM, you can create custom reports based on a set of criteria, such as potentials sourced via cold colds by a specific sales person, with an expected revenue of, say, over $100,000.
While reports will pull out the data you need, SkyDesk CRM's dashboards offers a real-time snapshot of your organisation's key business metrics.
Using dashboards, you can easily visualise the patterns and trends in sales, marketing, support, and inventory related data.
For example, you can look at the products that are selling out over a period of time, compare the current quarter sales with the previous quarter, or compare the actual sales to projected sales.
In SkyDesk CRM, dashboards can be presented in two-dimensional and three-dimensional charts that display data dynamically.
A unique feature in SkyDesk CRM is the Funnel Chart, which can be used to visualise various stages in the sales pipeline.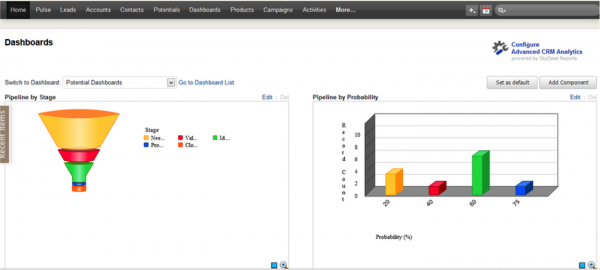 Customer support
SkyDesk CRM can also be used as a customer support tool. Companies can create customer cases for enquiries they receive through e-mail, telephone and other channels.
Cases can be routed to various customer support agents based on workflow rules. You can also use the Web-to-Case feature to capture enquiries from your website.
In addition, you can create a database of answers to frequently asked questions. Call centre agents can then use these answers to close common queries and focus more on complex cases.
Marketing Support
SkyDesk CRM includes tools to manage your marketing campaigns, which are primarily aimed at acquiring potential customers who may have an interest in what you are offering.
With the Campaigns module in SkyDesk CRM, you can track all leads acquired from your marketing campaigns, along with all the necessary details for you to measure the performance of those campaigns.
If you are planning to conduct e-mail marketing, use SkyDesk to send e-mails to your leads and contacts in your mailing list. A variety of e-mail templates that can be customised to suit your needs are also available.
Finally, take advantage of the SkyDesk CRM's web forms to capture leads from your websites. You can send automated responses to those potential customers and even include captcha codes to prevent spammers from flooding your mailbox.
Inventory management
Including inventory management features in a CRM system makes perfect sense. Call centre agents will be able to use real-time information on inventory to better address customer queries, without running to the warehouse or contacting another department.
SkyDesk CRM's inventory management features lets you create sales quotes and invoices as well as a product database. Along with its core CRM features, SkyDesk CRM can be used to manage pre-sales and post-sales accounting activities in a single application.
With a starting price just S$91.20 for a six-month subscription per user, SkyDesk CRM is a good deal, especially for SMEs that are still relying on spreadsheets to manage sales leads and customer records.