The inaugural Youth Olympic Games, or YOG for short, is running in Singapore this year from 14th to 26th August.
As part of the worldwide promotion to create buzz around the event, the Singapore Youth Olympic Games Organising Committee (SYOGOC), together with the Infocomm Development Authority (IDA), is creating a virtual world called Singapore 2010 Odyssey.
Said RADM(NS) Ronnie Tay, Chief Executive Officer of IDA at the official launch on Saturday 6th March: "The Singapore 2010 Odyssey is a unique virtual world platform offering many possibilities for learning, social networking and entertainment, as it reaches out to the youths from all over the world in a fun and interactive way. The development of the 3D virtual world is testimony to Singapore's infocomm capabilities in innovatively harnessing digital media technologies to support major events like the Singapore 2010 Youth Olympic Games."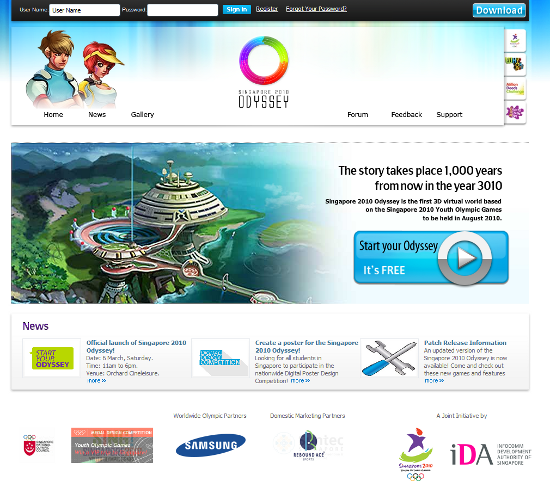 Of course, what's more important is the content of this virtual world. I had a preview of the world last Wednesday at a media/blogger session (the news was embargoed till today) but to see how it really was working out, I decided to give it a real life test.
So I went to the website, registered for an account and downloaded Odyssey, which is around 240MB. Installation crashed once on my Windows 7 machine, but it could have been just a stray glitch. Patches were automatically downloaded and installed, and in general getting Odyssey running — from registration to installation — was quite smooth.
The first thing I noticed about Odyssey after getting in was that it was pretty much empty. Of course, I logged in at around 1am on a Sunday morning, but for the day after on when this thing was launched, you'd expect more people. Besides myself, there was only one other lonely soul, and I couldn't tell if it was an NPC or player character.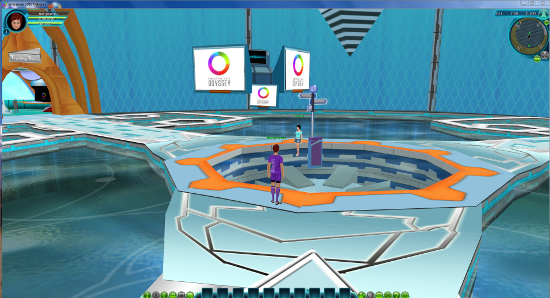 The second thing that struck me is that the look and feel is very much like Second Life, but it's not by Linden Labs. The game world was created by HiPiHi, a China-based 3D company.
When you first enter the game, you get an introductory video clip on how humans are doing badly vs. aliens in the Intergalactic Olympic Games in the year 3010. By taking part in games, you can help humanity do well. The story doesn't have much impact on the actual gameplay though.
Gameplay itself is a series of mini-games, where you mash keys to play with other players in various sports. Thus far, the only ones available are archery, swimming, shooting, hurdle race and basketball. More will be added later, according to in-game text stating this.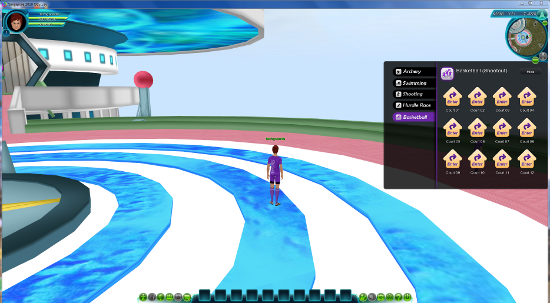 I've tried the shooting and hurdle race. Basically you mash keystrokes to compete with other players, for example, "E" to accelerate, and "spacebar" to jump in the hurdles relay. The problem is that if there are no other players to compete with you, there's little point in this.
One type of game that you can play solo are the embedded flash games that appear in the world, lke this whack-a-mole game below.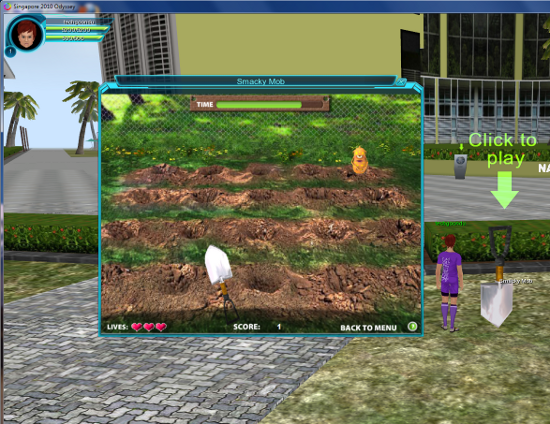 Probably the most useful part of Odyssey is the ability to wander around the Youth Olympic Village, and for folks to get a sense of how the campus is without coming here physically. Other venues like the Marina Barrage and the Singapore Sports School are also available for a virtual walkthrough. I visted the Marina Barrage in Odyssey, and it is just a 3D model of the place for now. There's precious little to interact with, and I guess more interaction will be added later.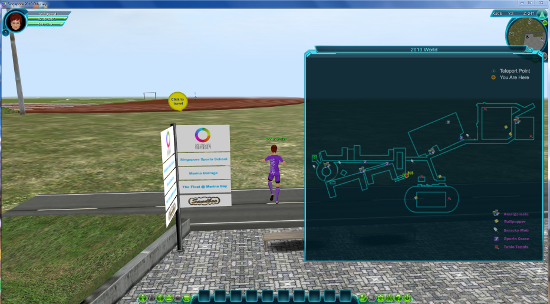 Verdict: If this was an actual commercial game, I would say that it is unfinished in terms of content. Sure, it's pretty, but that's about it — there's not much to do in here at the moment. To be fair, this charge can be levelled at Second Life as well.
But as a social platform to reach out to people for YOG, I believe it has potential, provided that the community managers for the Odyssey run events in it.
At the media session it was stated that the team behind Odyssey are running poster design competitions (from January to March 2010) and machinima competitions (April to June 2010) for our Singapore schools. They are also getting the school kids to code and generate content for the world. All of these are good ways to drive users and build a community around Odyssey, which in turn will create a buzz around YOG.
Community. This is the keyword here. On the YOG website there are many social media initiatives run, from the million deeds challenge, to WhyOhGee, a portal site with a blog, contests and photos. There is some content, but the community building for some of these intiatives seems lacking.
For example, the million deeds challenge was launched last year in March 2009, but to date they have only garnered about 50,000 deeds and still missing 950,000. And there's only about five months left to YOG!
Don't get me wrong. As a Singaporean, I of course want YOG to do well and raise our flag high in the international community. But if you want the social media part to work, you must engage the community — just building sites and content is not good enough. And it can be done. A good example that I like in the public sector space is yesterday.sg, which is run by the National Heritage Board.
In any case, reaching out to the Singaporean blogosphere — from technology blogs like ours to general blogs — is an easy step to help market these social media initiatives for YOG. You can't have thin skin though, because bloggers will give unvarnished candid feedback. The second step would be to get community managers to engage the audience, like going to schools and talking about it, or setting up meetings with bloggers.
Sell Singaporeans the vision, and we'll in turn help sell it to the world.