The annual Consumer Electronics Show (CES) has come and gone again, with a dizzying range of cutting-edge gadgets sweeping the exhibition floors in Las Vegas last week.
The future of TV was a hot topic, manufacturers showcased some mobile computing concepts and products, a power-packed virtual reality headset was introduced, while a long-awaited fingerprint scanner was unveiled.
We kept our fingers on the pulse to bring you six of the best new things to look out from at CES 2018.
Razer Project Linda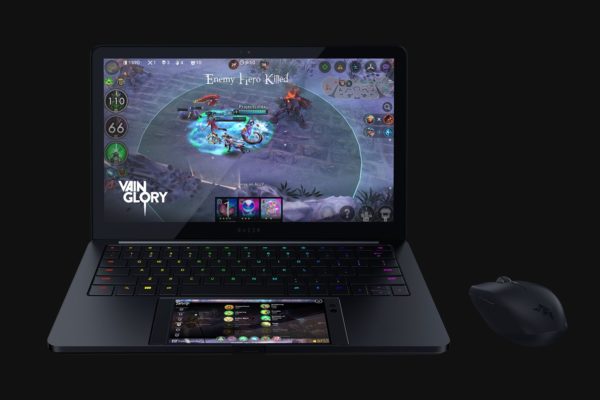 Razer loves to trot out bold concepts at CES to attract headlines and this year was no different. Riding on the hype of the Razer Phone, the gaming company showcased Project Linda, a fully-equipped laptop dock powered by the phone itself.
Unlike other laptop docks such as the Samsung DeX where the phone powers an external screen, Project Linda is a proper laptop chassis with a dedicated slot for inserting the Razor Phone. Once in place, the phone's screen becomes a trackpad.
This is a neat trick and harks all the way back to the cool but ultimately doomed 2011 Motorola Atrix Lapdock, which was beset by slow performance and a flaky keyboard.
Six years on, mobile chips are giving desktop-class processors a run for their money. The Snapdragon 835 processor in the Razer Phone is already powering several Windows laptops like the Asus NovaGo. Speed will not be a big issue here.
Besides desktop-class performance, Project Linda packs a QHD touchscreen with a sweet 120hz refresh rate like the Razer Phone, so gaming and animations should look very smooth.
The chassis is just slightly thicker than the Razer Blade Stealth and contains 200GB of storage, an RGB-lit keyboard with some standard keys swapped out for Android buttons like Home, Back, and App Switcher. There is also a power bank in the chassis to charge the Razer Phone when docked.
Ports-wise, the chassis features a USB-C port, a USB 3 port, and a 3.5mm audio jack. This configuration could easily change when Project Linda is actually launched.
Overall, there is plenty to be excited about Project Linda  if you are a Razer fan or just someone looking for an all-in-one mobile computer. However, other potential buyers could baulk at the price if it is too close to a regular laptop.
Though Razer doesn't always bring its concepts to market, I think this has real potential because mobile-laptop convergence is gathering pace and the company will want a slice of the pie. I'm keeping my fingers crossed.
Lenovo Miix 630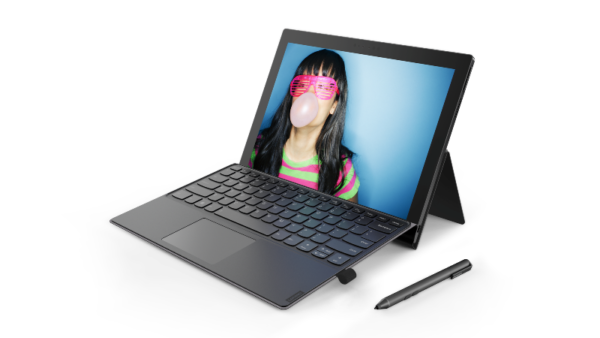 The Lenovo Miix 630 PHOTO: Lenovo websiteWhat will go to market, for sure, is the Lenovo Miix 630. It is the third Windows 10 laptop to be powered by Qualcomm's Snapdragon 835 platform, after HP and Asus announced theirs back in December.
As a detachable tablet, the Miix 630 will come with a keyboard cover and stylus out of the box. What I like most about the device is its sleek all-metal tablet like the HP Envy x2, but with a darker Iron Grey finish that screams premium.
Lenovo is promising 20 hours of battery life on the device, which runs Windows 10 S out of the box. Users can get a free upgrade to Windows 10 Pro, though battery life will take a hit outside the 10 S operating system optimised for the chip.
The Miix 630 will come with a nano-SIM tray together with a USB-C port, an SD card slot, and a 3.5mm audio jack. It lacks the HDMI port on the HP Envy x2 but its 12.3 inch Widescreen Ultra Extended Graphics Array+ (WUXGA+) screen coming in at 1,920 x 1,280 pixels should be big and good enough for media consumption on its own.
Promising all-day Internet connectivity with its SIM support and endless battery life, the Miix 630 looks like good value at US$799 for the 4GB RAM/128GB storage variant, which works out to be just over S$1050.
Students looking for a capable but portable device for school and those needing a device for media consumption and Web browsing may want to keep an eye out for the Miix 630's second-quarter release.
LG 65-inch Rollable Display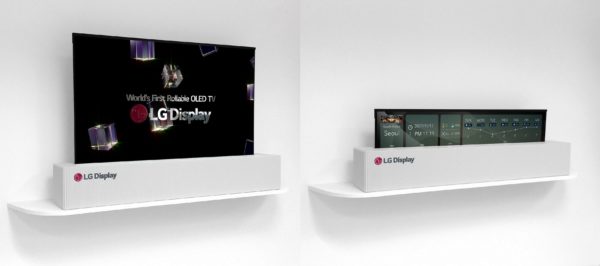 Moving away from computers, several TV manufacturers also duked it out on the show floor to position their concepts as the future of TV. LG will be sure to catch your eye with its bet on retractable screens.
LG showcased a ambitious foldable 18-inch display two years ago at CES 2016 but that was more of a prototype. This year, LG's rollable TV looks very much like the finished product.
The screen is a 65-inch Ultra HD 4K panel which can be retracted partially or fully into a fairly plain white rectangular box. LG showcased some uses of its retractable screen at CES, including rolling up the screen slightly for weather updates and to play music from Spotify.
The obvious benefits are easier storage and greater portability around the house, especially if you don't want a huge black screen reducing your wall space.
Another less-mentioned boon is potentially customisable media consumption. Movies and TV programmes often come in a variety of resolutions and aspect ratios, so a rollable display can adapt to them and prevent "letterboxing", where black spaces flank movies watched on say, Netflix. All this spells a more pleasant TV viewing experience.
There is no news from LG on availability as yet, so this sadly remains a prototype for now.
Samsung's 'The Wall'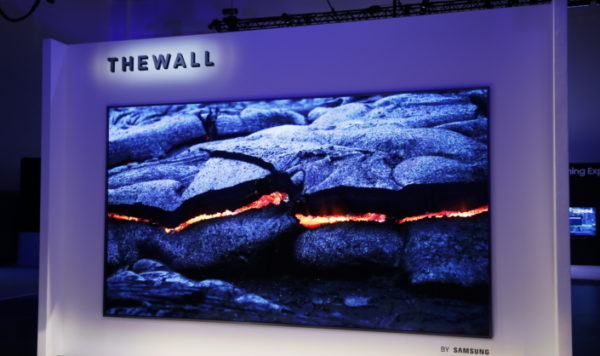 On the other hand, Samsung showed off its enormous 146-inch "Micro LED" display aptly named "The Wall", pitched as the first modular TV in the world. The screen at CES measured about 3m by 1.8m (10ft by 6ft), almost as tall as the average person.
Whereas LG went for a retractable display to let users customise the size of their TV, Samsung is going modular. The screen on The Wall is not made up of a single panel but by many small LED panels or "bricks" users can assemble to enlarge or cut screen size, hence the name "The Wall".
Each panel features Samsung's new Micro LED technology, which it says comes without weaknesses of OLED displays like burn-in and shorter lifespans. Micro LED is also said to produce much better contrast and brightness than typical LED LCD TV screens because each LED can be turned on and off individually. It is still not clear what resolution Samsung's new display will come in though one guess is it's in 4K.
There is no news on pricing as yet, though Samsung has said it will ship this year. If you have deep pockets, a big wall to spare at home, and want to be the centre of attention among friends and family, this could be your splurge of the year.
HTC Vive Pro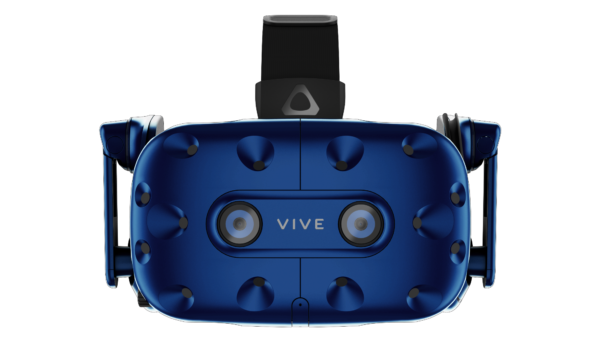 On the augmented reality (AR) and virtual reality (VR) front, manufacturers like HTC, Lenovo, and Huawei have debuted new VR headsets to improve gaming and overall experience for users.
Since HTC launched its Vive VR headset in conjunction with gaming company Valve in 2016, it has been a crowd favourite with its room-scale technology and quality motion controllers. Room-scale VR uses infrared lasers set up in a room, which let users traverse their virtual environments as they move about the room in real life.
The Vive Pro has upped its resolution to a combined 2,880 x 1,600 pixels in both eyes, up from 2,160 x 1,200 in the Vive. Pixel density has thus increased from 448ppi to 615ppi, which makes for an even more true-to-life virtual experience.
The Vive Pro also comes with two front-facing cameras for potential AR functions by developers and external vendors.
Audio has improved too with integrated 3D audio with in-line amplifiers and two mics for noise cancellation. This helps to block out your physical environment during gaming.
An issue with the Vive was its occasionally-awkward fit and unbalanced weight at the front of users' heads, which HTC now tries to remedy with a new head strap and sizing dial for users to customise how the headset fits.
HTC has also built a wireless adapter for the Vive and the Vive Pro so users can go completely untethered when using the headsets for gaming or otherwise.
A final note: HTC says the Vive Pro will not replace the Vive but is simply for VR enthusiasts and gamers who want a more powerful and high-end VR experience. The Vive Pro will go on sale in the US in the first quarter, though no pricing has been announced.
Vivo smartphone with Synaptics ClearID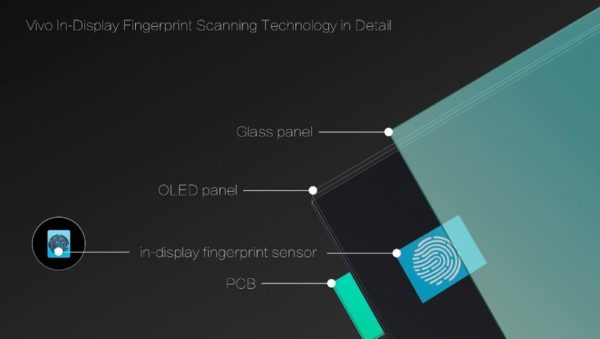 An on-screen fingerprint reader has perhaps been the holy grail since smartphones began losing their bezels in 2017 and Vivo has unveiled a phone with one at CES.
Last year, I was excited by rumours claiming the Samsung Galaxy S8 would come with an on-screen fingerprint scanner but my hopes were dashed as the Korean electronics giant could not get Synaptics to ready the technology in time.
Roughly the size of a small coin, the fingerprint reader module sits below the screen near the bottom of the phone. It is an optical sensor, which means the module scans for users' unique fingerprint through the glass of the screen.
A small fingerprint graphic shows up to let users scan their fingers to authenticate their identity when required but will remain invisible when not in use. Current reports show no obvious difference in speed, though some reviewers have said it is marginally slower than conventional fingerprint scanners.
I would expect this to show up in many Android phones this year, especially flagship devices by Samsung, LG, HTC, and the like. I personally find it more natural to scan my thumb on a fingerprint scanner at the front of my phone than reach around the back with my index finger, so if you are like me, then this should be good news.
As for the phone at CES, Vivo has not revealed its name, specs, or price, though it should be announced in more detail sometime later this year.