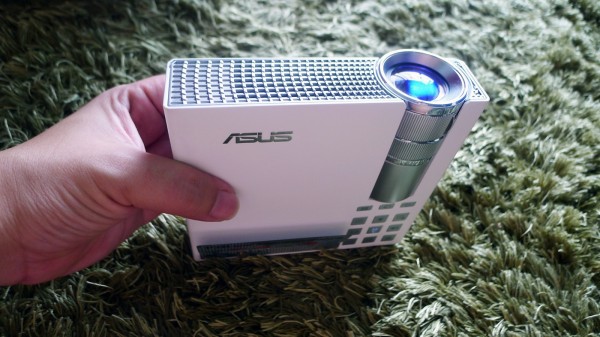 The Asus P2B portable projector reminds me of my days as a rookie technology reporter 15 years ago. Back then, setting up a projector for a review required lots of gear – a power cable, for starters.
Today, compact options such as the P2B are no bigger than a small jewellery box. Weighing 1.4kg, the new Asus projector is surely not a back-breaker, as some sales executives will tell you of their days lugging bricks to a meeting room.
But the most impressive thing about the P2B – and many compact projectors like it – is the fast plug-and-play convenience. No more waiting for the lamp to heat up. No more trying hard to get the shape of the projected image right.
As Asus claims, it takes only a few seconds to get an image on a wall with the P2B. The projector accepts lots of connections as well. You can connect up a laptop via an HDMI or a mini VGA port, slot in a microSD card, or plug in a USB flash drive to view photos, movies and documents.
Particularly useful are the built-in options. Instead of lugging along a laptop, a microSD card or USB drive can be used for viewing common files such as Word or Powerpoint documents, or even movies in a number of formats such as AVI, MKV or MOV.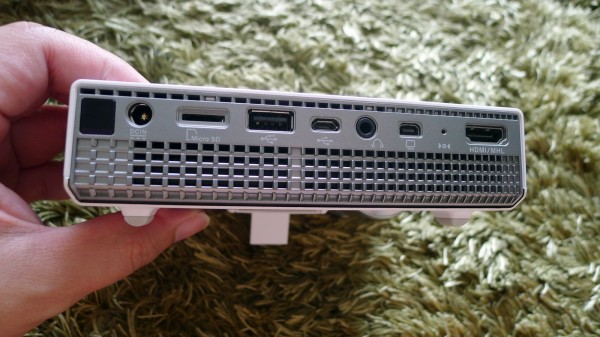 If convenience is the only criteria, the Asus projector would score high marks indeed. The easy height adjustment helps to quickly get a usable image as well. The embedded 2,950mAh battery, rated to run 1.5 hours at 300 lumens brightness, means you don't need to worry about a power cord for quick presentations.
From my quick test playing a movie, it seems the battery does perform to spec. A 90-minute movie should not pose too much of a problem, say, if you wish to view it in a tent while camping out at night.
For a projector so small, there has to be trade-offs, for sure. The most obvious is image quality. The 1,280 x 800 resolution may be okay for quick presentations in a small room but isn't the sharpest around. Movies are okay if you don't mind a little blurness at the edges, but I won't be so keen to show off small numbers on an Excel file.
Similarly, the 350-lumen lamp is not bright enough if you are in a brightly lit room. You'd barely make out the image unless you draw up the curtains on a bright afternoon. So, despite the convenience it offers, the Asus P2B is limited in the places it can be used.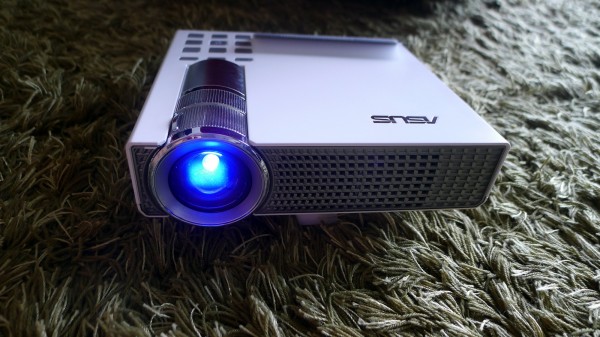 Another area that Asus can improve on is the interface. I've come across some really arcane controls over the years, but the one used by Asus is hardly user-friendly. It has a back button but sometimes you have to press another button – depending on the contextual menu on screen – to close a setup menu.
This translates to the remote controller as well, which Asus is smart to include. It also suffers from the same unusual controls, but with a laser pointer included, at least it saves you the trouble of bringing another gadget for a presentation.
To be sure, the P2B is not a poor projector. It's just that you have to know its limitations. I'm happy to say the projector doesn't create the same amount of heat that larger, regular projectors do.
That means you don't need to wait for it to power down. Or to cool down, before you can pack up and go. During a 90-minute test of the projector, I can say the P2B unit was only warm, never hot to touch like some old laptops.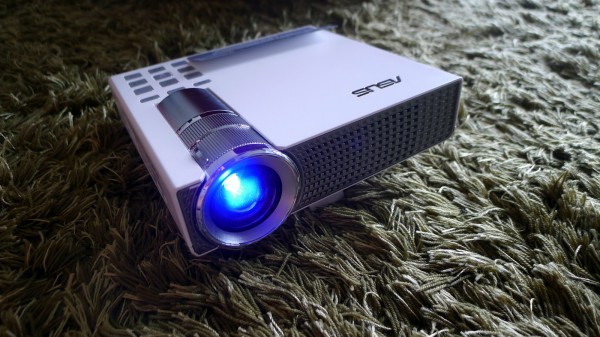 Perhaps its best feature, besides the size and portability, is the short throw distance. Place it 1 metre away from the wall and you'd get a large 42-inch image. So small rooms are no issue for the P2B.
That's where I think most people will place the projector as well. The S$799 price might put some potential buyers off, since you can buy a 42-inch Full HD (1,920 x 1,o80) TV to mount on an office for less.
The Asus P2B might win over those who need the added portability though. For folks who travel all the time and need the occasional wall to project on to make a point, the P2B will be what they've been looking for.