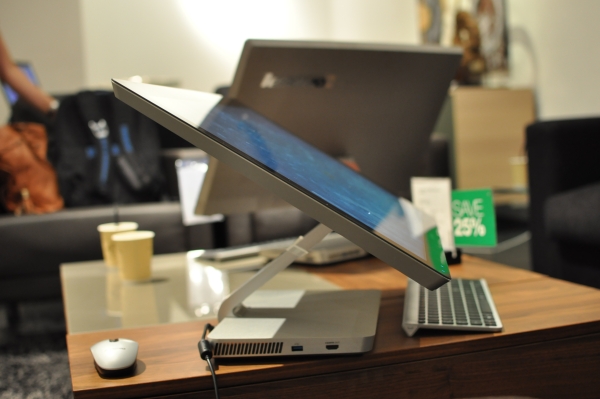 Remember how I said the Microsoft Surface was way too expensive for domestic use?
That turns out to not be a problem at all, because Lenovo's new all-in-one PC the IdeaCentre A720 is the perfect alternative to the Surface for tabletop computing in the home.
What makes the A720 so unique is its sleek 10-point multitouch full HD screen on a articulating support, so that with a single push, the entire PC can collapse neatly into a flat screen on your table.
The support for multitouch means that multiple users can play on its screen at the same time, and to start you off Lenovo is bundling popular games with every A720 sold, including Angry Birds and Fruit Ninja.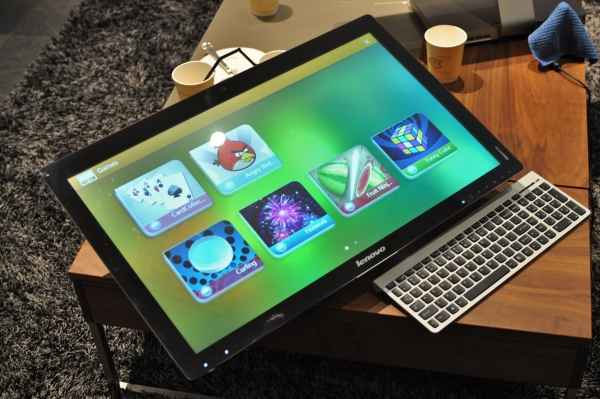 The hardware design is excellent, too. It's the slimmest 27-inch all-in-one on the market right now, and its glass screen stretches from edge-to-edge, although the bezel is quite fat.
This is partly achieved by housing the PC's DVD drive and ports on the base of the stand.
It's powered by a third-generation Intel Core i7 processor and a GeForce GT630M 2GB graphics. Some might lament the mobile graphics chip Lenovo is using, but you probably won't be playing any hardcore games on the A720.
You also get 8GB of RAM, a 750GB HDD, and an integrated 720p webcam, and WiFi and Bluetooth connectivity. Integrated stereo supports Dolby Home Theatre V4, and coupled with overall specs, strongly cements the A720's position as a home entertainment PC.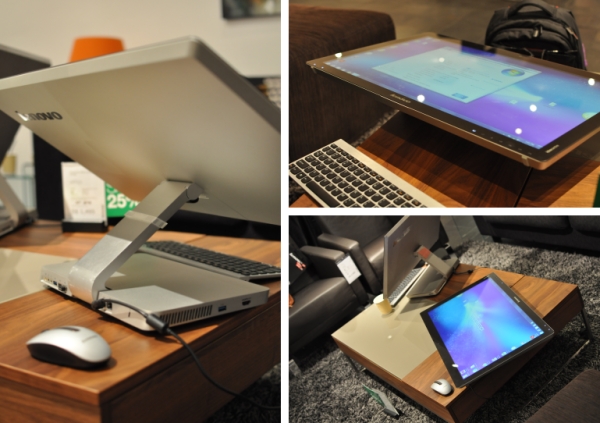 And here's a weird but also pretty cool feature: the A720 has something Lenovo calls the "Eye Distance System", which alerts you whenever your face gets too close to the screen!
Surprisingly, the A720's potential as a Surface alternative didn't occur to Lenovo reps at the Singapore launch after I quizzed them about it.
But it lacks a key feature that the Surface has – the ability to "see" objects on the screen. It would have been fantastic if you could, say, play Dungeons and Dragons or some other board games on the A720's screen and have it interact with the objects on the surface.
If retailers and businesses don't have the need for their retail systems to recognise physical objects, the A720 is an incredibly cheaper touch alternative to the Surface.
And at S$2,699, this is also one innovative home PC that looks stylish and performs well. It's definitely one of the best Windows alternatives to Apple's 27-inch iMac at the moment, and the touch panel ensures that you'll enjoy all of Windows 8's goodness when it launches later this year.
The A720 will be available from the first week of June.