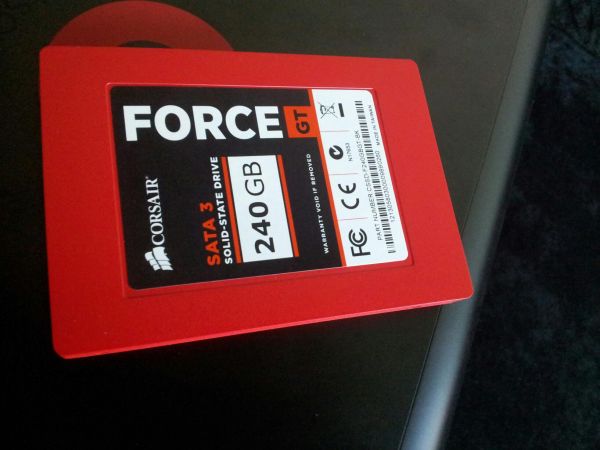 If you had asked just six months ago if you should buy a solid state drive (SSD) for your PC, I'd have said "only if you are using it for a laptop."
Besides the pure speed of an SSD, the low power consumption, light weight and durability mean that SSDs are a perfect fit in portable machine. So much of our data is stored on the cloud now, be it e-mail or music, that we don't need all that space onboard after all. There's always an external hard disk you can call on if you need storage.
So, what about desktops then? Well, I used to think they can do with a hard disk.
But having used SSDs in all the laptops at home now, I have to say, once you get used to the speed of SSDs, it's hard to go back to hard disks. And that's what I did this past weekend – I finally relented and bought a Corsair Force GT for my desktop PC.
Using the popular Sandforce controller, it is at the apex in terms of SSDs for home users. Why Corsair instead of, say, OCZ's Vertex 3 or the newer Vertex 4? The truth is, it came down to a mere S$4 difference in price.
The Force GT cost S$495 while the Vertex 3 was priced at S$499. Oh, and I like red as well!
Don't be shocked if you are reading this in the United States – yes, SSD prices are much higher than Newegg or even Amazon, because the distributors in Singapore don't have the scale of these online retailers.
But  back on topic: I had considered the cheaper Corsair Force 3 and OCZ's equivalent – the Agility 3, which cost about S$430 each. They made more sense as I'm using an old Intel Core i7-920 with an Asus Rampage II Extreme motherboard sporting an X58 chipset. The SATA ports onboard support only 3Gb/s and not the newest 6Gb/s, thus bottlenecking the very fast Force GT.
Still, being the PC geek that I am, I decided to go for the faster version. I know I'm almost due to upgrade my three-and-a-half-year-old PC this year. Even though it's not optimised, the Force GT will meanwhile complement the still-fast Western Digital Velociraptor 300GB hard disk running at 10,000 revolutions per minute (rpm).
A quick test with Crystal Disk Mark confirmed what I felt.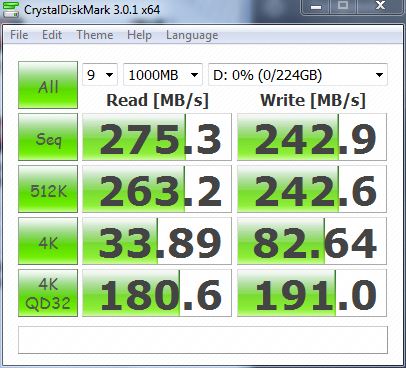 UPDATE: The scores above from the synthetic test are from the Corsair Force GT connected to a SATA II drive on my old X58 motherboard. The scores are not that bad, but compare them with those below, which show what it can do when hooked up to a faster SATA III port on Intel's new Z77 motherboard and an Ivybridge-based Core i7-3770K CPU.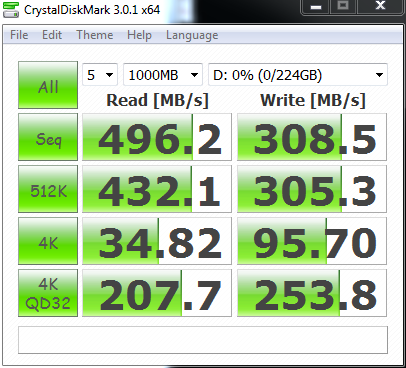 Yup, there's noticeable difference. Some may argue that benchmarks don't tell the entire story, since they don't always represent what you do everyday. But for geeks, it's difficult to accept that one of the fastest drives around is not running at its fastest!
I guess the good news is that I don't need to untangle anything much from my custom water-cooling job on my Silverstone TJ07 to fit the new SSD in. It now sits snugly on top of my optical drive, which I have unplugged – I used the same SATA and power connectors for the SSD now. How's that for a lazy upgrade?
But I'm quite sure this is a stop-gap solution. With Intel's new Ivybridge CPUs already out in town, matched with the new Z77-based motherboards, it sure is tempting to unplug everything from my nice water-cooling setup and redo things all again.