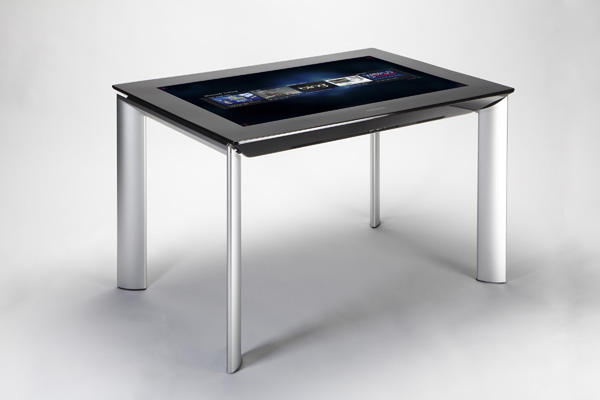 If the prototype of Microsoft's Surface 2.0 unveiled last May got you excited, it's time to ready your wallet: the SUR40 table-top computer is finally available for order.
Made in partnership with Samsung, Microsoft initially said the SUR40 will launch in late 2011, but it evidently ran into some delays. This week, we're told the software has been further refined, and several new applications developed specially for it.
For example, camera brand Fujifilm and cosmetics company Le Metier de Beaute both are among a list of companies with plans to utilise the SUR40 for their retail and marketing efforts.
Under the 40-inch full HD Gorilla touch screen is what Microsoft calls PixelSense technology, which lets the SUR40 recognise inanimate objects without the need for bulky projectors and cameras. The result is a relatively sleek and thin 4-inch panel which won't look out of place mounted on the wall.
Other main specifications include a dual-core AMD processor, 1GB of Radeon graphics, 4GB of RAM, and 320GB of storage. The SUR40 runs on 64-bit Windows 7 Professional for Embedded Systems.
But at US$11,960 for the display only and US$12,590 with a matching stand, it's unlikely that anyone will buy it for domestic use, although there's certainly nothing to stop well-padded folks from splurging on one!