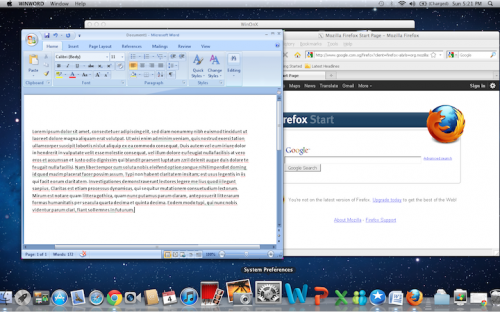 If you need to use a Windows program occasionally on a Mac but don't want to cough up US$80 for Parallels Desktop 7, a new Mac app by NES Software might be worth considering.
Dubbed WinOnX, the US$4.99 app is based on the Wine open source project that lets users of Linux and Unix-based operating systems run Windows applications through a software compatibility layer. As a former Linux user, I depended on Wine to run Internet Explorer, Microsoft Office and some utility applications.
WinOnX is simple to use. Just launch any Windows installer file and WinOnX will be fired up immediately. After you've gone through the installation process, a launcher for your Windows program will be created in the Applications list and Start menu.
To be sure, WinOnX will not run all Windows applications. You may hit a wall with newer titles like Adobe Acrobat X Pro which can't be installed. Internet Explorer would not run, while Firefox 3.6 worked flawlessly. Adobe Acrobat Reader was successfully installed, but the software could not run beyond its splash screen.
I had better luck with Office 2007 – Microsoft Word, Outlook and Excel 2007 worked like a charm, though the same could not be said for PowerPoint 2007 and the Microsoft Office 2010 productivity suite. As a guide, if a Windows application is not supported by Wine, don't count on it to work in WinOnX.
NES Software CEO Hisham El-Emam said in an e-mail to Techgoondu: "Our offer is that we open the doors to the Windows universe for 5 bucks".
"Seventy percent of the Windows programs will work and the rest will run buggy or not at all. We think that's a fair deal. In case you need run a specific Windows program we always recommend to use Bootcamp or Parallels. But for occasional use WinOnX is the fastest and easiest way to try it out," he added.
We think it's a fair deal too. WinOnX is available from the Apple Mac App Store and requires Mac OS X 10.6 and later to run, but do check out Wine's list of compatible Windows software before taking the plunge.