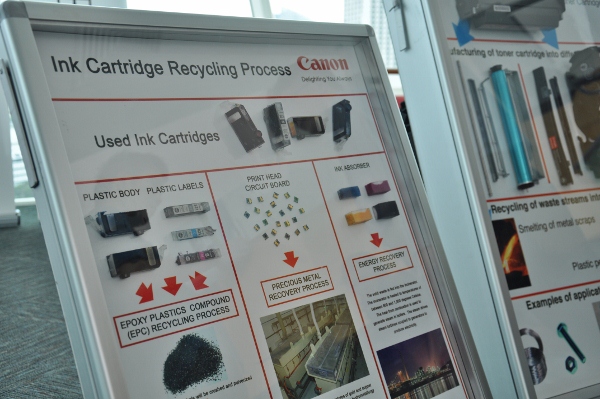 What do you do with your printer toners after they run out of ink?
For most of us, it's straight to the trash for these spent cartridges. But did you know that they can be recycled and re-made into useful products?
To encourage such a practice, five major printer brands – Brother, Canon, Dell, Epson, and Lexmark – have come together in a joint initiative to offer collection points for these used inks and toners.
Called Project Homecoming, the initiative is supported by the National Environment Agency (NEA) and National Library Board (NLB). The collection boxes will be placed at public libraries island-wide, starting immediately at these 13 branches:
1. Ang Mo Kio Public Library
2. Bedok Public Library
3. Bishan Public Library
4. Bukit Merah Public Library
5. Geylang East Public Library
6. Jurong Regional Library
7. Jurong West Public Library
8. Marine Parade Public Library
9. National Library Building
10. Queenstown Public Library
11. Tampines Regional Library
12. Toa Payoh Public Library
13. Woodlands Regional Library
Ink and toner cartridges of any brand, not just the five companies behind the initiative, can be deposited in the boxes.
Joseph Hui, Deputy CEO of NEA, lauded Project Homecoming as an "exemplary initiative".
"Together with the support of the community, we hope to see more organizations promote waste reduction, reuse and recycling and to form partnerships where common sustainability objectives can be found." Hui said.
Recycling vendors will collect the used cartridges and break down recyclable parts, including plastics and metal. These can then be fashioned into new products, such as stationery, tables and chairs, and even eco-friendly bags.
Project Homecoming is the first international expansion of its successful Japanese counterpart, called Ink Cartridge Satogaeri (literally "homecoming"), which has been running for three years. As of February 2011, there are more than 1,000 collection points spread throughout Japan.
The next time you head down to the public libraries listed above, keep an eye out for these boxes: