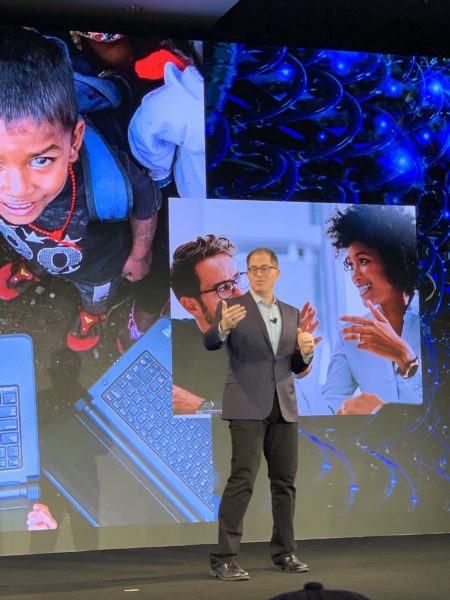 "Water, water everywhere, nor any (but not a) drop to drink." – Rime of Ancient Mariner, by Samuel Coledrige.
This line is said by a sailor on a calm ship who is surrounded by salt water that he cannot drink. The analogy to the tech world is that data is everywhere, but extracting insights is frustrating.
Water will quench the sailor's thirst. Data, when unlocked, can create immense impact on economies, healthcare and education as well as reduce poverty.
Leveraging data for the advancement of humanity represents "a generational opportunity to create value and social impact for customers and for the company", said Michael Dell, chairman and founder of Dell Technologies, who spoke at the opening of the company's summit on November 11.
Outlining the company's vision in Texas in the United States, he spelt out the four moonshot goals to create social impact worldwide. Called Progress Made Real, the vision's lynchpins are advancing sustainability, cultivating inclusion, transforming lives and upholding ethics and data privacy.
About 200 journalists and industry analysts attended the one-and-a-half-day summit held in Austin, headquarters to Dell. The 2030 moonshot goals are a variation of similar themes it laid out in the company's 2020 Legacy of Good plan introduced in 2013.
Among the achievements of this earlier plan, it had recovered more than two billion pounds of used electronics via responsible recycling programmes. It was recognised by Ethisphere Institute as a World's Most Ethical Company for six consecutive years.
To advance sustainability in its 2030 Progress Made Real plan, Dell wants to recycle an equivalent product for every new device a customer purchases.
To this end, the company is working on extracting gold from recycled printed circuit boards and reusing it to produce new ones. In packaging, the company aims by 2030 to use 100 per cent recycled or renewable materials.
In cultivating inclusion through gender diversity, it is currently working to hire, develop and retain more female employees so that they account for 50 per cent of its global workforce by 2030. Currently, women makes up of about 31 per cent of the workforce.
The company also said that technology can be harnessed to advance healthcare, education and economic growth for one billion people by 2030.
Lastly, to unlock the data for use, the company will fully automate its data control processes in its products by 2030 to make it easier for customers to control their personal data.
At a later briefing for media, chief customer officer Karen Quintos stressed that the moonshot goals will stretch the company and workforce to go far beyond incremental change.
"In some cases, we're still working to uncover how we'll get there – but we know that significant change and innovation starts with deep commitment," she said.
On-Demand infrastructure service
One of the first products to help organisations better deploy, manage and use IT, is On Demand, a set of consumption-based and as-a-service offering to make it easier for organisations to manage multi-cloud environments.
Recognising that the multi-cloud world is here and will grow, Dell vice-chairman Jeff Clarke pointed out that "customers need on-demand and consistent infrastructure that yield predictable outcomes across all of their clouds, data centres and edge locations."
On Demand makes it possible for organisations to plan, deploy and manage their entire IT footprint. They can choose how they consume and pay for IT solutions that meet their needs with the freedom and flexibility to evolve as their needs change over time, said Clarke.
Dell also announced Dell EMC PowerOne autonomous infrastructure with built-in intelligence. It promises to automate thousands of tasks and deliver ready-to-run resources in a few clicks, shifting IT staff from routine to strategic objectives.
CORRECTION at 25/11/2019 9:36am: An earlier version of the story misspelt Dell chief customer officer Karen Quintos' name. This has been corrected. We are sorry for the error.