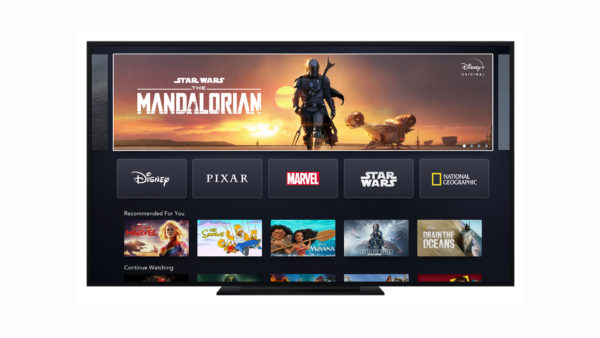 When news first came months ago that Disney was entering the video streaming market, there was grumbling that the entertainment behemoth would help break up the market and force users to buy several services to watch what they want.
Well, the excitement around the Disney+ launch in the United States, Canada and the Netherlands this week has not dampened consumers' moods. The opposite is true, actually, with 10 million sign-ups in its first days.
The House of Mickey's new streaming service now offers what Netflix and Amazon don't – a vast catalog of kids' programmes, Star Wars movies in 4K plus original content such as The Mandalorian.
Little surprise then that the TV series about one of the Star Wars universe's most popular and under-explored episodes has become among the most pirated shows now.
Sure, you have to fork out from around US$7 for each of the services available now – Netflix, Amazon Prime, Hulu (for US residents) and Apple TV+ – but you're looking at thousands of shows you can't possibly finish watching. Or even exploring.
The good news is that you can pick and choose. There are no subscription tie-ins like the bad, old days of cable TV so you can start or stop a subscription whenever you like – unless you are on a discounted bundle deal.
The upshot is that each service provider knows what will make users stick with them – original content. Netflix knew it as a platform player years ago and started creating its own content or partnering content producers and Hollywood A-listers.
Though forays with Will Smith and others have had mixed results, you can't say that Netflix is just a platform like cable operators of old. Its original shows, such as those with chef Dave Chang, bring in fans.
The same can be said of Apple, with its shows featuring Jennifer Aniston, and Amazon with, say, the Jack Ryan TV series, based on the Tom Clancy spy novels.
So, there appears to be a lot more original content in streaming services today, which is a good thing. The competition has forced each provider to come up with new shows to differentiate itself from rivals.
Isn't it a hassle to switch from app to app? Well, you used to scroll through hundreds of lousy channels on cable TV on a slow, unresponsive cable remote, too.
At least, these apps will recommend shows based on what you have watched or browsed. And most importantly, they bring choice not available previously.
Fragmentation? Okay, sure, but if it brings more great content, that's all cool.