Supported by SecureAge Technology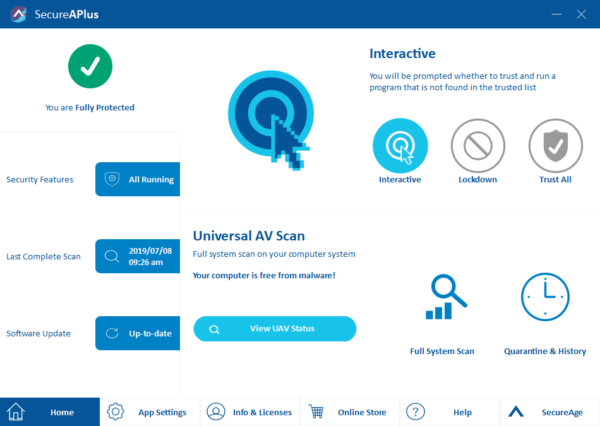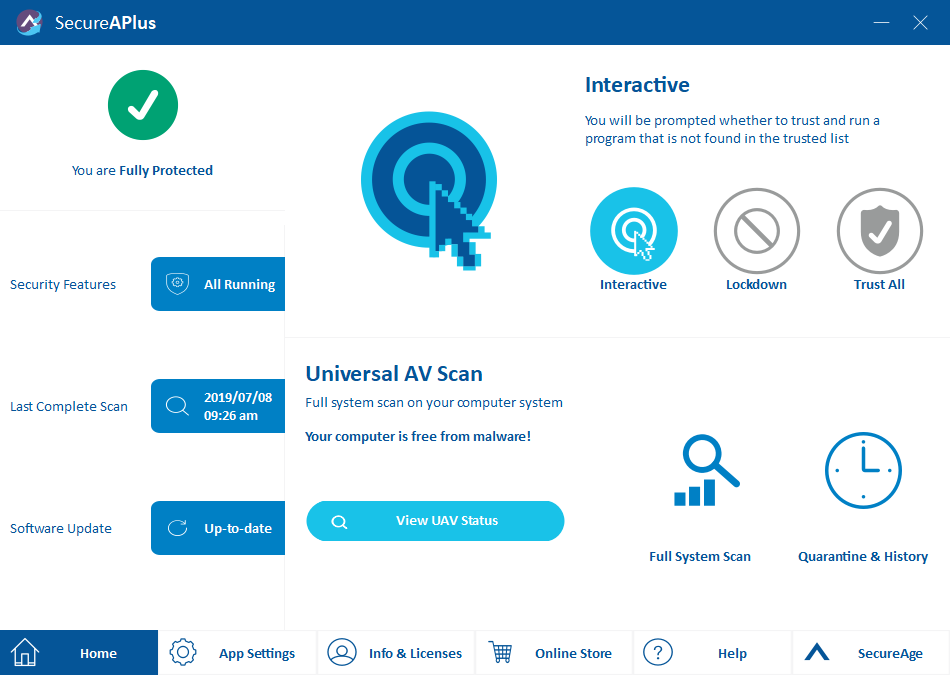 With so many antivirus and cybersecurity tools in the market, it is not always easy for a consumer to find the best one to keep out constant threats like ransomware.
One thing that they have to look out for is whether the software takes care of both known and unknown sources of the next big cybersecurity threat. In other words, it cannot just suss out what is already out in the wild but also detect what's not yet been discovered.
To do this, it needs to be smart enough to notice suspicious activity and flag that to the user. The enabling technology here is usually in the form of an artificial intelligence (AI) engine that detects zero-day vulnerabilities and other advanced threats.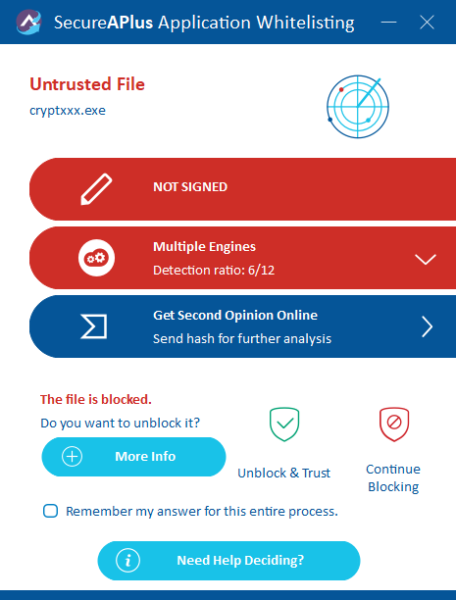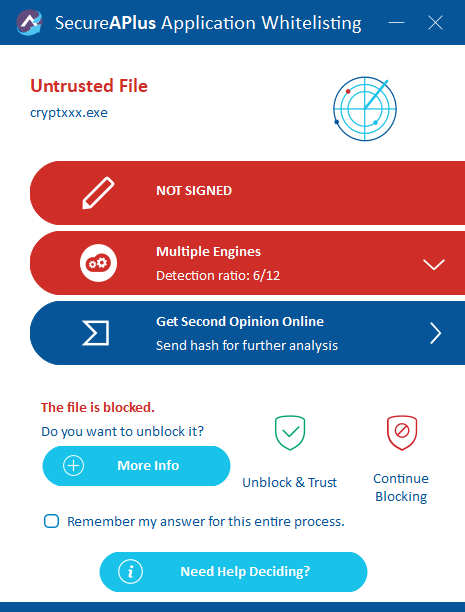 Another important feature is the ability to defend against threats by using more than one antivirus engine. Using the cloud, a capable defence system can take advantage of multiple antivirus engines to detect threats better than with a single engine.
All these features are what make SecureAPlus a proven and respected endpoint protection tool for home users as well as enterprise users. Tested by independent sites, it has won plaudits as a reliable, trusted tool against cyber threats.
For example, Checklab Testing awarded SecureAPlus a Best+++ rating in 2019. It was also given the Best in AV Lab award for anti-ransomware tests in 2018. These are testament to the effectiveness of the software.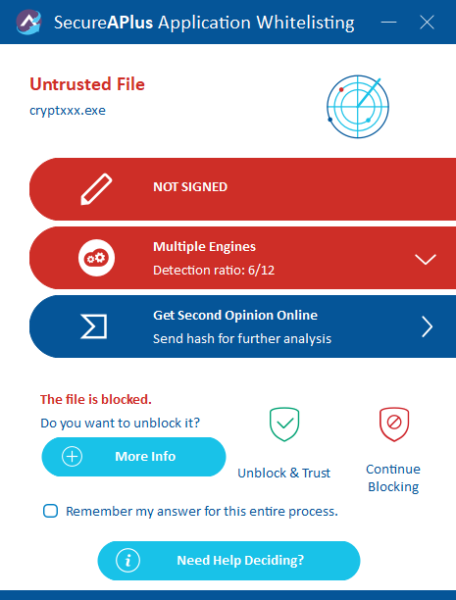 This is possible with three core features – a Universal AV Engine that uses multiple engines to scan for known threats, an AI-powered SecureAge Apex engine that detects unknown threats and application whitelisting that both detects and protects against threats.
In other words, you get protection from not just one anti-malware scanning engine but multiple ones that you can seek for a second or third opinion, rather like seeing a doctor.
Though there are many anti-virus engines out there, they sometimes make mistakes and could end up deleting a critical file that causes you to lose valuable data.
Unfortunately, most users don't seek a second opinion when it comes to malware detection because it is too troublesome or they are not aware of the options. SecureAPlus makes this easy by collecting and presenting the information clearly to users, empowering them.
This also helps safeguard against any erroneous analysis by a single tool. The added information means you can better decide if a file is safe to be unblocked.
The default action for SecureAPlus, of course, is to hold a file from accessing the rest of the system if it is deemed to be acting suspiciously. This means you are always on the safe side, especially when you face the all-too-common threat of ransomware today.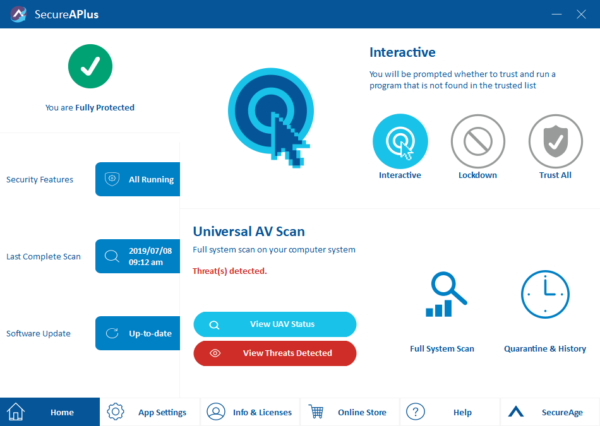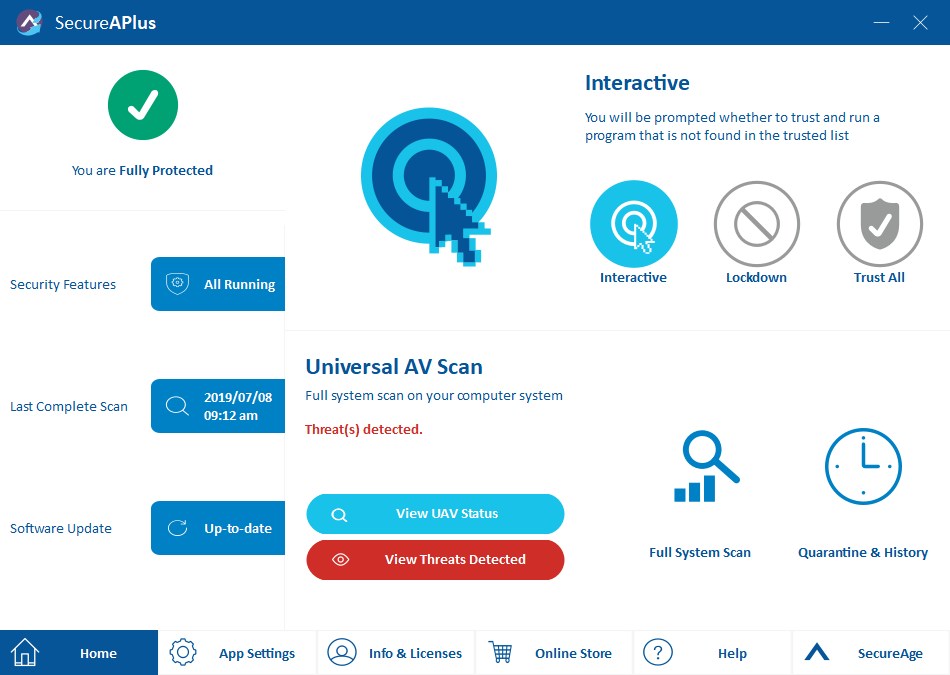 Firing up SecureAPlus for the first time, you'll notice that the interface is rather uncluttered. Stripped of frills, you could even say.
There are no fancy animations or high-resolution graphics that do little more than pretty things up. Instead, you get a no-nonsense interface that gives you the most important facts, like whether you have got an infected file after you do a scan.
There's a reason for this. SecureAPlus is lightweight, typically using up only tens of megabytes of RAM and 150MB at the most. This compares favourably with Windows Defender, the built-in cyber defence tool in Windows, which can use up hundreds of megabytes at full load.
So, SecureAPlus runs quietly in the background, helping to secure the system without hampering its performance. This is important to both home and business users.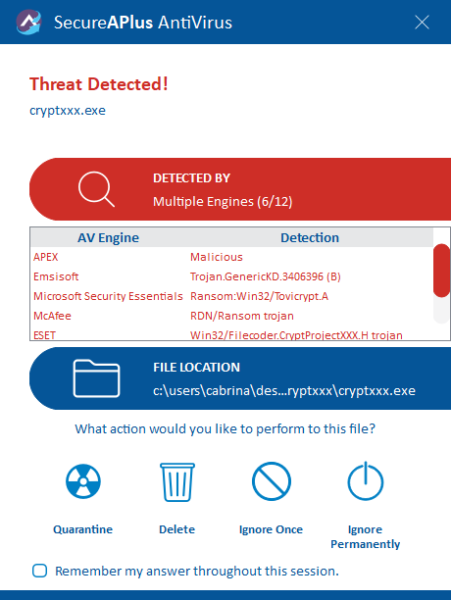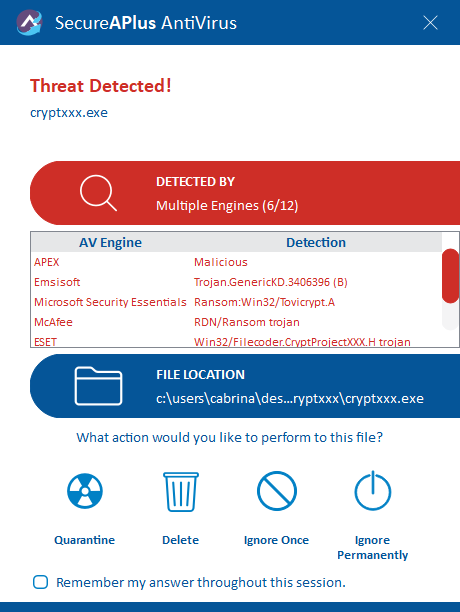 What's also useful is the ability to recognise threats to automatically block them while also recognising files you already trust. This means it smartly recognises future installs from the same publisher after you've whitelisted, say, Adobe Photoshop, as a trusted vendor.
With just a click or two, you can update your own whitelists at the point when it matters the most – when a piece of software is trying to run. This means that you do not have to build a whitelist on your own.
One thing that Singapore readers might find interesting is that SecureAPlus is made by a company called SecureAge Technology, which was set up by a Singaporean back in 2003, long before cybersecurity became as important as like it is today.
Dr Teow-Hin Ngair, a graduate of Cambridge University, the National University of Singapore, and the University of Pennsylvania founded the company in 2003 with a vision to create innovative data security solutions.
Today, SecureAPlus is the only anti-virus program made in Singapore and the only AI-powered one from Southeast Asia. Recently relaunched in September 2019, it now comes in three packages – Life, Essential and Pro.
As a special offer, Techgoondu readers get a free upgrade for SecureAPlus Essential for the first 12 months with the following code: 7859-A887-B2E7-F76A when they download SecureAPlus for the first time.
More details here: SecureAge Facebook, Twitter and website pages.