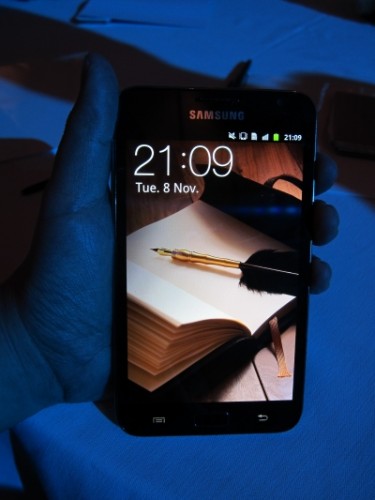 I'll be honest. I wasn't crazy about the Galaxy Note when I first saw it a few weeks ago at Samsung's big show-and-tell in Jakarta. The 5.3-inch screen makes it bigger than most phones (the Galaxy S II has a 4.3-inch screen), yet is smaller than the most petite tablet, like the original 7-inch Galaxy Tab.
Samsung's new gizmo also uses a stylus in addition to the usual finger gestures that you can use to interact with the Android 2.3.5 OS (upgradable next year to Android 4.0). Now, where have we seen a stylus before? Yes, in the HTC Flyer, a slightly larger tablet, which didn't do fantastically well.
Then there are other "middle of the road" devices like Dell's Streak, which was well-made but didn't win over enough fans, some of whom must have been confused by its "hybrid" nature.
And now, here we are with the Galaxy Note, which is cosmetically, a larger version of the popular Galaxy S II. What I think is crucial to its popularity in recent weeks, as I've heard from sources, is that it has come at a time when the screen sizes of phones have themselves increased from the iPhone's 3.5 inches to 4.7 inches on the HTC Sensation XL, for example.
It helps too that the Galaxy Note can still be held in one hand. And if you have a big, loose pair of jeans, you can just about squeeze it into your back pocket. Just remember to take it out when you rush for a seat on the MRT train, and if you like skinny jeans, forget about the Galaxy Note.
What of the stylus then? I'd say the 5.3-inch screen helps give you enough space to scribble on. Personally, I'm not a scribbler who relies on transcribing software to convert my notes to text, because T9 predictive text and a virtual keyboard can be so good these days. But for folks who have always liked to doodle, the Galaxy Note works pretty smoothly as a digital pad.
Besides that, you can also use the stylus to crop pictures, which is a little tough to do accurately with your fingers. Then there's a smart calendar app that lets you jot down your appointments like on a good old paper filofax, which will surely resonate with folks who miss their old leather-bound diaries.
The Galaxy Note also boasts the smooth interface that has made the Galaxy S II so popular. Under the hood, or rather, inside the light 178g frame, is a speedy 1.4GHz dual-core chip. When I tested it briefly some weeks back, I couldn't detect any slowdown at all, despite the extra pixels needed to be processed thanks to the big screen.
That, by the way, is a bright Super AMOLED screen pumping out 1,280 x 800 pixels. The result: a whole lot of detail that ensures the text and pictures on screen are really sharp. Come to think about it, my mom's old 19-inch PC LCD monitor only displays slightly more pixels and details, despite being so much bigger.
From what I recall from my quick hands-on with the Galaxy Note, what's perhaps even most interesting is the 8-meg camera, which shoots videos and images pretty well even in low light.
By that, I mean it can even detect the vague shapes of people in a dimly-lit hall, like the one that the phone was launched in. A fellow journalist on the trip with me shot a quick video of the group of us at the table, and guess what, I could even make out each person in a very dark function room.
Personally, the Galaxy Note is not something I'd buy, because I prefer two devices – a tablet at home (or when overseas) and a phone while I'm out in town. But for others who have been looking for a device that fits both worlds – women who don't have to stuff their mobile phones into their skinny jeans, for example – the S$998 Galaxy Note can be an interesting "middle of the road" gadget to check out.