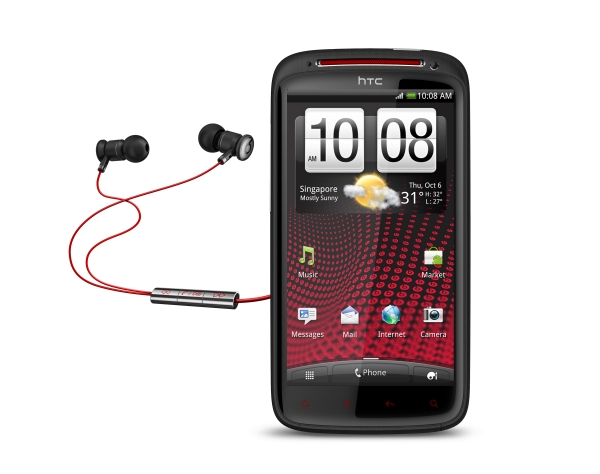 Just two months after it said it was buying a majority stake in Dr Dre's Beats Audio, HTC has come up with a couple of souped up versions of its Sensation smartphone – the large-screen XL and speedier XE – that promise better-sounding music on the go.
Both phones will ship in Singapore with the well-endorsed audio technology by the end of the year, said the Taiwanese phone maker, at a media launch here on Thursday. The XL, which boasts a gigantic 4.7-inch screen, will sell for S$908 with bundled urBeats headphones, while the XE will cost S$868.
Beats Audio technology is known more through its endorsement by rapper Dr Dre than the audio hardware and software that promises to make vocals clearer and bass more impactful.
In laptops, such as HP's Envy 14, and (somewhat expensive) earphones bearing the signature red cords, Beats Audio has won fans for its superior audio reproduction, though many users still know the name more for its lifestyle branding rather than the better sounds that it puts out.
But either way, HTC looks set to cash in on the exposure that Beat Audio has by incorporating it in its new versions of the Sensation, which are essentially souped up editions of the company's flagship Android phone in Singapore.
Both new models feature a speedy 1.5GHz dual-core chip, an upgrade over the already speedy 1.2GHz engine on the original Sensation. They also carry more juice on the go – instead of a 1,520mAh power pack of old, the Sensation XL and XE both come with a 1,730mAh battery.
Under the well-made aluminium unibody case, you'd also find a handy microSD card slot to plug in memory cards full of songs, in case the onboard storage (16GB on the XL and 4GB on the XE) isn't enough.
All in, interesting phones that should give HTC a much-needed boost during the year-end buying season to take on Samsung's popular Galaxy S II and Apple's upcoming iPhone 4S.