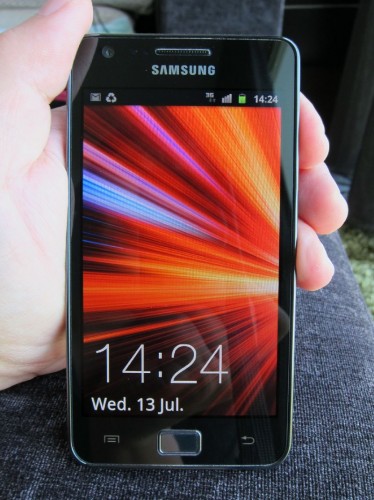 Should I wait for the next iPhone 5 due to be out some time in the next few months, or should I just go out and buy an iPhone 4 now, a friend of mine asked, like many other iPhone users who have never considered anything other than Apple.
My answer: buy an Android phone instead. It's here, it's better and it's time you checked it out.
Indeed, my suggestion now for anyone waiting for the next iPhone or any top-end smartphone is to first take a look at Samsung's Galaxy SII. Look first at the best out there now before deciding.
After some hands-on time with it in the past, I had placed Samsung's much-awaited gizmo at the top with HTC's Sensation, which is cheaper and offers almost all the features. But after buying one myself and using it for the past couple of weeks, I'm convinced the Galaxy SII is the phone to have now. Hands down.
All you have to do is to look at the brilliant Super AMOLED Plus screen. No other cellphone screen is brighter or offers better contrast right now. Images look amazingly sharp and display contrast I'd expect more out of my high-end TV than a small cellphone. Text is easy to read because the edges are sharp.
It's true. One look at the Super AMOLED Plus screen and it's hard to go back to another screen. Even my wife's Galaxy S, which boasted a last-gen Super AMOLED, looks jaded when placed next to the new model. My old Nexus One, which had one of the best screens when I first had it 18 months ago, pales in comparison.
Samsung has pulled out all the stops in this Galaxy SII, and it shows in the sales it has enjoyed worldwide and in Singapore, where it was sold out at launch. Very importantly, besides the screen, the Korean firm has addressed two issues that used to irritate users.
The first is the rather plasticky feel that reminds one of a iPhone knock-off. The new phone is still protected by a thin sheet of plastic at the back, but the grooved texture feels a lot more refined than the shiny plastic of the Galaxy S. To be honest, I still prefer the heavier metal offered by HTC's unibody design, but I guess the benefit here with the Samsung is in its lightness.
Then there is the proprietary file system that used to lag after you installed more than a few apps onto the Galaxy S. The Galaxy SII, thanks to a faster dual-core CPU and a new file system, feels a lot faster now than the Galaxy S.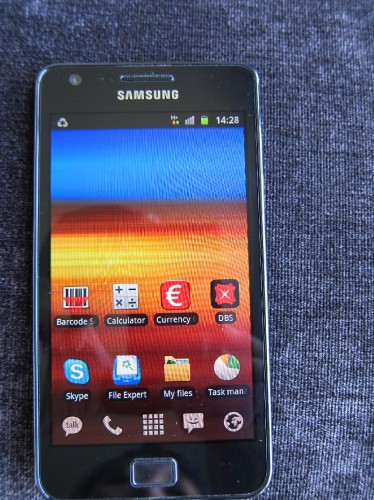 In the two weeks using it, I have installed a few dozen apps – mostly ones backed up from my old phone – and I don't feel a single bit of slowdown. If anything, it feels even faster than the pure Google experience offered by the Nexus One. Zippy is the way I'd describe it.
The Web browser benefits the most from the dual-core chip onboard. Open five, six, even seven windows and things do not slow down with Android's true multi-tasking. I'm talking about webpages laden with content, like the desktop versions of the New York Times or CNN websites.
Flash will kill your battery and your phone's performance? You should see the Galaxy SII play back embedded YouTube videos on a content-heavy webpage as if they were in a proprietary Apple app. Smooth, immediate and glitch-free.
The Samsung touchscreen is yet another area that I have to give Samsung credit for. One of the best touch experiences is on the iPhone because it offers a really smooth feel that has what you can call "nano-second" response. The same can be said of the Galaxy SII. Things just react when you touch them.
All this doesn't mean the phone is perfect, of course. One complaint I've heard is that the battery life is too short. The 3.11 watt-hour battery should have packed more juice, I agree. If you are firing up apps and reading news on your phone all day, you'd be surprised a single charge won't last an entire day, that is, from morning all the way past dinner.
I've used it on certain days with one charge, from morning to evening, but that's when I only "react" to the phone, like to SMS or e-mail people occasionally throughout the day. Most days now, I just plug in the phone to the car charger when I hop inside the car and it solves the problem. For folks out all day and working at cafes, I think an add-on USB battery is a good backup to have.
That's really the one big issue I have with the Galaxy SII, which I hope Samsung will address perhaps with a patch to improve some of the battery use by background services.
For some, it could be a deal-breaker. For me, I guess all the features are reason enough for me to plug it in the charger whenever I remember. That's why the S$300+ I paid for the phone along with a two-year M1 line, I feel, is one of the best deals I've had. At retail, the S$998 asking price, I'd admit, is pretty steep.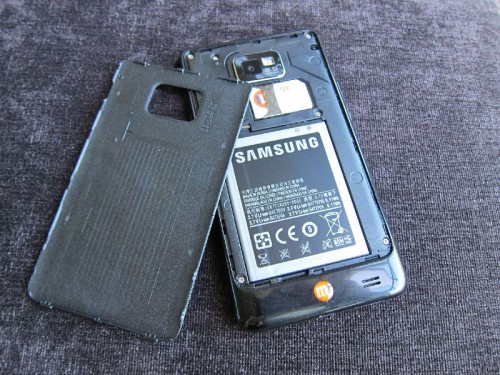 The other issue I believe a lot of phone geeks hate about Samsung is its cartoony icons and interface. Fear not, there's a way to get around this – get your own launcher!
I used to have Launcher Pro, one of the best free launchers around, on my Nexus One and I am running it on the Galaxy SII as well. Much, much better than the cartoony UI offered by Samsung's Touchwiz, and there's no need to "root" your phone. (Goondu DIY: how to optimise your Galaxy SII's interface)
I'd say Samsung has come a long way from the early Windows-based Omnia touch-screen phones and later the Android-based Galaxy S that mimick some of the iPhone best features. Rather than another Apple clone, the new Galaxy SII makes you feel that the Korean firm has really come into its own.
In appearance, of course, some of the bright metal is gone, replaced by a subtler dark metallic rim that frames the 4.3-inch screen almost to the edge. The soft-touch menu icons at the bottom also feels "premium" and useful at the same time.
And what of the 8-meg camera? So far, from some pictures I've taken, colours can be a little too saturated for things that are already bright in colour, say, a bunch of cooked prawns. But otherwise, it once again shows the excellent contrast and vibrance you'd come to expect from its screen.
Though not perfect, the Samsung Galaxy SII is the smartphone to own now. Find another that is as slim, as light, while offering the robustness and flexibility of Android 2.3, and showing everything off in such a bright screen, and I'll say that phone is better than the Galaxy SII. So far, there is none other.