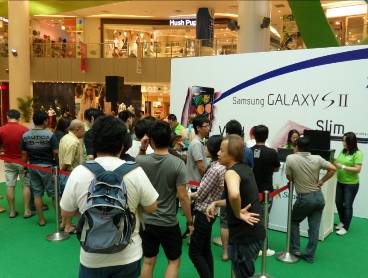 The followup to one of the most popular Android phones last year is proving to be a good one for Samsung, as the Galaxy SII was sold out in Singapore over the weekend.
No numbers from Samsung Singapore folks yet, but they must be beaming with smiles at the "unexpected" sales at launch, while waiting for more stocks to arrive "in the next few days".
Some 14 million of the original Galaxy S have been sold globally since its launch last year, making it one of the most popular Android phones around. A million of the new Galaxy SII are said to have been sold in South Korea in the one month that it has been on the shelves there.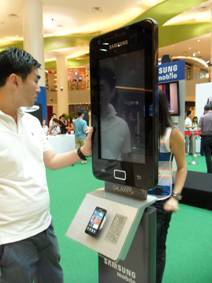 The phone is expected to be a hot seller in Singapore as well. Sources tell Techgoondu telcos here have committed much bigger than usual shipments of the phone.
In terms of the phone's features, the star for me is still the ultra-bright Super AMOLED Plus screen – I saw it myself in a hands-on session several weeks ago, and I'll tell you it's hard to go back to a duller screen after getting used to it.
There's also a dual-core 1.2GHz processor, 21Mbps HSPA+ downloads and 16GB of internal memory, along with a much-improved design (the last Galaxy felt a little too plasticky for some users).
The one sticking point for some users might be Samsung's TouchWiz interface, which has been criticised in the past as being too "cartoony" and also for being laggy when you have several apps running at the same time.
The alternative, of course, is the HTC Sensation. Running the latest Android 2.3 OS as well, it looks and feels a little more "solid" to some users, though it doesn't have a Super AMOLED Plus screen and comes with just 1GB of phone storage.
The Sensation goes for S$838, while Samsung's Galaxy SII costs S$998. Interestingly, telcos seem to be offering bigger discounts for the Samsung phone – SingTel's selling the Sensation for S$548 with a two-year-plan, while the Galaxy SII costs just S$40 more at S$588.