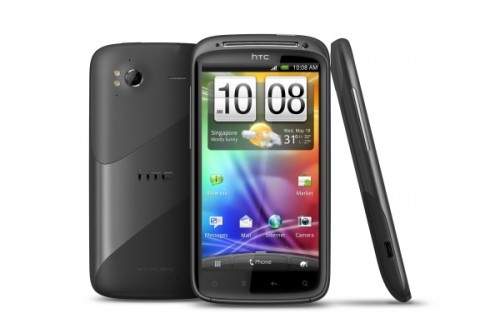 After being relatively quiet with just "updates" of its previous Desire and Desire HD phones, HTC has come up with a pretty impressive smartphone that will compete strongly with the likes of Samsung's Galaxy SII hitting the stores this month.
Shipping in Singapore today, the HTC Sensation comes with a speedy dual-core 1.2GHz CPU, large 4.3-inch screen and an 8-meg camera that will make phone geeks tick off their checklists in delight.
No doubt fast, the Sensation, however, makes do with only 1GB of storage and comes with a microSD slot for any other apps, movies or songs that you might want to put on the phone. In contrast, the Galaxy SII comes with a nice 16GB. The Samsung gizmo also weighs less at 116g, compared to the HTC rival at 148g.
For the super-geeky, the Galaxy SII also wins the bout with support for 21Mbps downloads over HSPA+ networks, while the Sensation maxes out at 14.4Mbps. But this only applies if your operator supports such fast speeds.
What about the screen? If you are a fan of Samsung's Super AMOLED, then the new version on the Galaxy SII (Super AMOLED Plus) will wow your socks off with its brightness and contrast. However, I also know of folks who prefer a screen that is more "natural", or who really don't mind a less bright screen because they mostly use their phones indoors. For them, the Sensation's 4.3-incher is no slouch in that aspect.
And let's not forget the make. HTC's proven aluminium unibody and contoured design make it feel really smooth to hold in your hand (I own an 18-month-old Google Nexus One made by HTC, and I love it!).  Samsung, on the other hand, has been criticised at times for its rather "plasticky" feel. It has made improvements to that with the Galaxy SII, but I'd say the looks department still goes to the HTC Sensation.
Finally, the price. HTC wins again for selling the Sensation at S$838 (in Singapore), while Samsung's more spec'd out Android number, to be fair, comes with a more expensive S$998 price tag.
I had earlier decided to upgrade my trusted Nexus One to a Galaxy SII, which to be sure is still the most high-end Android smartphone to have right now. Yet, for its better looks and lower price, the HTC Sensation is giving me second thoughts. I'm not complaining though – as an Android user, I expect to be spoilt for choice!
For a very in-depth comparison, do check out Slashgear's review of two of the best Android phones right now, and also PCMag's roundup here. Let us know what you think of the two gizmos in our comments as well!