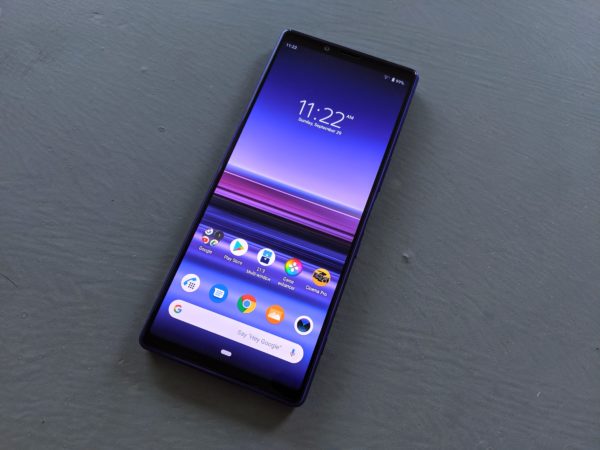 The Xperia 1 is Sony's flagship mobile device of 2019, the latest salvo in the firm's struggle to gain substantial market share in a sector that has seen the top six brands account for 69 per cent of smartphone sales volumes.
Sony's strategy with all its smartphones this year calls for a further trimming of screen bezels that begun with the XZ3 last year (which was curiously never launched in Singapore). The result is a display with a 21:9 ultra-wide aspect ratio like its mid-ranged Xperia 10 siblings.
Usual flagship table stakes such as a triple camera array, and a premium industrial design befitting an industry veteran come standard with the Xperia 1, but are they enough for Sony to win the hearts and minds of consumers?
Design
The Sony design language may be evolving, but it has basically kept to a defined, angular playbook even as it sanded down the corners to create a more organic look.
The Xperia 1 is, to me, Sony's most attractive design yet. The device retains sharp corners on the front and rear slabs as well as its four corners, but rounds everything else to make for a comfortable grip.
During my tests, the device was a complete joy to hold. The grip was just right and comfortable, and there was just something very satisfying while physically interacting with the phone. The glossy purple review unit is pleasing, looking resplendent from every angle.
The oleophobic coating on the device is great, as fingerprints were kept at bay despite its slippery, glossy finish. I handled the Xperia throughout a day without wiping it down, and the device held up admirably.
This is very impressive. After all, what good is a shiny, reflective design if you have to wipe it down every time after using the phone?
To be sure, you'd still want a case on the Xperia 1 if you cherish it enough – I nearly dropped the review unit as it slipped when I left in on top of my wallet.
The Xperia 1 measures 167 x 72 x 8.2mm, and weighs 178g. The size and weight are standard fare for a smart device these days, but a little longer and less wide.
Display
The standard mobile phone aspect ratio has gone on a widescreen upsize in recent times, as devices moved from a 16:9 to 18 or 18.5:9 aspect ratio. Going to 21:9, however, is pretty unprecedented (even if it is not a first).
The 21:9 outfit on the Xperia 1 is a boon for media junkies. The 6.5-inch, 1,644 x 3,840 OLED screen is clear and viewable from every angle. It is not the brightest under direct sunlight – perhaps not helped by the reflective screen – but remains serviceable.
Unfortunately, ultra-widescreen content is common, but not as common as one may think. Most videos are 16:9, and the letterboxing effect on the sides is glaring (no pun intended) when consumed on the Xperia 1 – A waste of screen real estate.
Zoom to fill the entire screen, and you noticeably lose content on the top and bottom of the video as compared to 18:9 devices.
For social media and web pages, it may be easier to thumb through a narrower display, but there is just something odd about the text quashed onto such a long screen.
The same goes with light document editing on the Xperia 1 – I find myself craving for more vertical space while working on a spreadsheet in landscape.
A quick note on Sony's Side Sense – the feature purports that one can double tap the edge of the screen to pull up a menu to start split screen or take a screenshot, or slide down along the edge of the screen to return to the previous screen.
In practice, it is awfully difficult to position your finger in the correct angle to be reliably detected by Side Sense. I mastered double-tapping with some practice, but getting the Xperia 1 to recognise my finger for the scrolling gesture was a tall order.
Performance and Battery Life
The Xperia 1 features an octa-core Qualcomm Snapdragon 855 processor running in configurations ranging from 1.78GHz to 2.84GHz, an Adreno 640 graphical core, and 6GB of RAM paired with 64GB or 128GB of built-in storage.
Storage can be further expanded with a microSD card, which is no longer a standard feature on smartphones today.
Sony's software "skinning" on this generation of Xperia is very light, near identical to stock Android even. I updated to the latest version of Android 9 Pie from Sony for my tests, and there is really no lag whatsoever while thumbing around the interface.
Battery life was just alright. The 3,330mAh cell barely kept the device alive until the end of the day. I plugged in the Xperia 1 to the wall socket towards the evening, or had to cut back on my use of the phone during night engagements.
Nevertheless, the Xperia 1 is quick to juice up via the bundled 18W charger. The device supports USB Power Delivery 2.0 and is different from the typical Qualcomm QuickCharge standards, so do take note while shopping for a second charger.
Sony continues to include a nifty Battery Care function that will leave the final 10 per cent of a charge to the final hour before you wake up, to reduce the damage from overcharging the phone.
In my own experience with dwindling battery life from overcharging other smartphones in my sleep, I know the benefit of such a feature.
Camera
The Xperia 1 features three 12 megapixel shooters in its rear with different apertures, sensors and pixel sizes. They include:
-12MP, 26mm "standard wide" lens, f/1.6 aperture, 1/2.6-inch sensor, 1.4µm pixels, with dual pixel predictive autofocus and 5-axis optical image stabilisation

-12MP, 52mm "telephoto" lens, f/2.4 aperture, 1/3.4 -inch sensor, 1.0µm pixels, with dual pixel predictive autofocus and 5-axis optical image stabilisation

-12MP, 16mm "ultra-wide" lens, f/2.4 aperture, 1/3.4 -inch sensor, 1.0µm pixels
The differences in pixel size, sensor size and presence of OIS does not always account for the rather wide variations in quality, as the image samples below would tell.
Daytime shots are good, as expected of a flagship from a reputable maker in this era. Colours are vibrant and there is good detail.
What Sony lacked in computational photography prowess (Google, Apple, and Huawei really upped their game here) was helped by its slightly larger f/1.6 aperture and 1/2.6 -inch sensor against the competition today.
At night, the images generally lose some detail (especially obvious are the blown out, lit areas), and/or the colour balance goes slightly off.
I made a quick comparison against similar shots taken by a Google Pixel 3 XL and Huawei P30, and the lack of software smarts meant finer details tend to be less refined (notice the lights in the building in the horizon).
The telephoto lens has a 52mm range, giving the equivalent of a 2x zoom over the standard wide lens. The pixels are smaller too, at 1.0-micron versus the 1.4-microns on standard wide.
The specifications do not tell the full story, however. Shots taken with the zoom lens are grainy, as if they were digitally zoomed even when they were not.
I can detect significant purple fringing. The optical stabilisation also did not work as well on the telephoto as the standard wide. A blurriness persisted despite me holding the device rather steadily.
As for the ultra-wide lens, the sensor on the Xperia 1 is fixed-focus and features no OIS whatsoever. One may argue autofocus is less important for landscapes, but it is always good to have control.
There is also a clear pause when switching to ultra-wide lens – the camera app screen will blank out as it fires up the sensor.
The ultra-wide lens works fine when there is sufficient light, even if there is a pronounced fish-eye effect. The image quickly loses detail and patches start to emerge, however, in lower light situations.
The lens also has a tendency to overexpose or underexpose the shot, which can be dialled manually to achieve a decent shot.
Comparing the three lenses, one cannot help but feel that the standard wide lens is the most reliable at delivering decent shots in most situations. The telephoto and ultra-wide lens have their value, but definitely require care in order to get a good shot.
The Xperia 1 also features Sony's Camera Pro app for shooting cinema-worthy reels. I am no pro (if it was not abundantly clear from the sample shots above), but I had fun applying the cinematographic filters that easily added class to my amateur recordings.
It was also really helpful to have the ISO, shutter speed, focus and zoom all within easy reach and with live preview. It is basically professional Meipai for videos, on steroids.
Conclusion
Sony has delivered a competent device with good hardware and a software interface that is generally a joy to use.
Still, the Xperia 1's camera system does not stand out in a hyper-competitive playing field, with some players ironically using Sony's own sensors to better effect.
Costing S$1,299, the Xperia 1 is playing with the big boys, in an unforgiving segment of the market where any slip up can be costly.
In this regard, Sony has to go with a larger battery (or optimise energy use better), and put more work into the cameras, where standards are high, and is becoming the differentiator at the top-tier today.