When it turned up in Singapore early this year, the Samsung Galaxy Tab 7.7 was one of the best tablets – still is, actually – with a bright Super AMOLED screen and a really sharp resolution. So when the rest of the Samsung pack, from the Galaxy S II to Galaxy Note, recently got their official Ice Cream Sandwich updates, it seemed somewhat left out.
I'm not waiting for Samsung Singapore to release their firmware, of course. Earlier this week, when an official ROM update (for Europe) turned up online, I updated my Galaxy Tab 7.7. It is now like a new tablet, zippy and really responsive.

Here's a quick guide to get the ROM (from a stock Samsung device). As usual, to go with it, a standard disclaimer that we are not responsible for any loss resulting from following these instructions. You might also potentially void your warranty.
1. Download Odin to your PC.
2. Download the "Austrian" version of the official Samsung Galaxy Tab 7.7 Ice Cream Sandwich ROM (first download link, not those listed for the GT-I9001 and other models below)
3. Fire up Odin on your PC, select the ROM under "PDA". Do not change anything else.
4.  Boot your phone into download mode (guide here) and connect your device via USB to your PC.
5. Wait till Odin has fully recognised your phone. Then hit the start button and wait till the flash process is finished
6. Your phone will restart and after installing some apps, it should be loaded with the new OS.
[UPDATE: the official update for Singapore is out. You can simply update with Kies if you are on a stock ROM. Or you can update manually by downloading the ROM (search for it here) and installing it with Odin.
Though Samsung's Touchwiz interface is still there, the crazy amounts of animation in the previous Honeycomb (Android 3.0) operating system seem to have been pared down. The result: a really smooth interface.
You also get face unlock and other Android 4.0 goodies. But the main improvement is still the zippiness in switching between apps. The Galaxy Tab 7.7 was already a joy to use previously. With Ice Cream Sandwich, it is one great tablet.
Generally, this update should be straightforward since it is from Samsung – just that it's not for Singapore. However, there have been some complaints from users who found their eBook app and Maps not working well after the update.
I can say that Maps works fine for me but the eBook app only responds with a "service will be available soon" message when you try firing it up. Fortunately, that's not an issue for me as I use the bundled Kobo e-book app and Zinio magazine app for reading on the tablet.
Strangely though, Google's Chrome browser seems a little slower than the default browser that comes with the Ice Cream Sandwich OS. I tried surfing to heavy-to-load sites such as the Guardian newspaper and the default browser seems to be doing a better job than the usually zippier Chrome browser that has stripped off support for Flash, for example.
For folks new to Ice Cream Sandwich, there are a few cool features, including face unlock, which uses face recognition to unlock the phone after it goes to sleep. It's nice, but I ended up going back to the standard unlock that relies on me drawing a pre-set pattern. It's just faster.
Other changes: the default picture gallery now features the flat ICS style, instead of the 3D-motion gallery common on many earlier Android devices. It's a matter of personal preference here, and you can always download the 3D gallery yourself from the Play Store if you want it back.
There's even a Music Hub app, by 7Digital, which sells songs in Singapore dollars (99 cents for an Adele track). I didn't try buying anything but it appears that you can once you register with the service. You wonder why Samsung hasn't included this in the original Tab!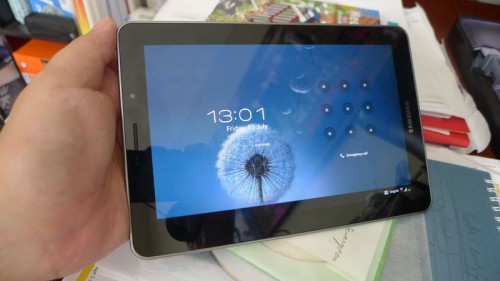 As expected, Google apps such as Gmail and YouTube are first class on the Tab, but we already know that with the original Honeycomb release. Samsung's S Planner calender app, which syncs with Google Calendar, is another favourite of mine. It's easy to use and takes advantage of the bigger screen by laying out all the information of an appointment.
Like many users who updated their device, I'm looking almost at a brand new tablet. Well, the experience certainly is much improved.
For those who are waiting for a "pure" Android experience, the good news is that Samsung has released the source code for their software and you bet some enterprising developers are working on a modded OS that will do away with the dreaded Touchwiz. Surprisingly, I'm already quite happy with the current ICS ROM from Samsung, even with Touchwiz built in!
To be sure, the Galaxy Tab 7.7 has excellent hardware. Now the software is souped up as well. If not for Google spoiling the party with a US$199 Nexus 7 tablet with a quad-core CPU and similar high-res screen, I'd be tempted to tell everyone to go buy a Galaxy Tab 7.7 now and upgrade it to Ice Cream Sandwich.