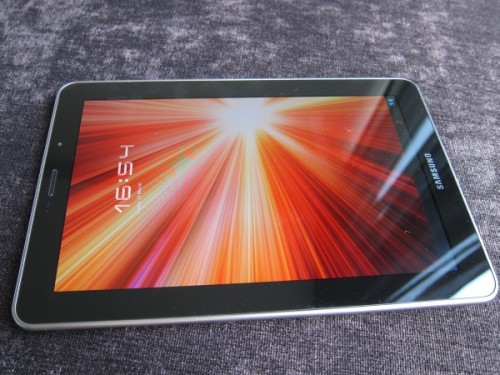 When everyone was going ga-ga last week over Apple's new iPad, I went out to a small store in Funan and bought a Samsung Galaxy Tab 7.7, a tablet that I had under-estimated when I first saw it earlier this year.
I had thought this was simply a refresh of the 7-inch Galaxy Tab that marked the Korean firm's entry into the tablet market in 2010. But I changed my mind the moment I saw the screen on the new tablet. It is sharp, bright, has great contrast, and is quite stunning.

Despite seeing the Galaxy Tab 2 primed for launch in the coming months, I'm convinced the Galaxy Tab 7.7's Super AMOLED Plus screen is the best around in terms of brightness and contrast.
Place the tablet in sunlight and you still are able to read what's on the screen. Movies, meanwhile, turn out really nicely thanks to the contrast and emphasis on the blackness of backgrounds. An LED TV this is not, but the screen is no slouch in terms of playing back your favourite videos, say, while on a plane.
In terms of sharpness, the 1,280 x 800 pixels bring pin-sharp accuracy with a pixel density of 197 pixels per inch (ppi) – it's one of the best around, except for Apple's 2,048 x 1,536 pixels on the 10-inch new iPad, which translates to a stunning 264ppi.
Why not the new iPad then? I had used a 7-incher previously, so my first instinct was to get a similar-sized device and that ruled out the new iPad and other Android offerings. Plus, I wanted to bring on my travels a thin device, which the new iPad clearly is not with the added weight.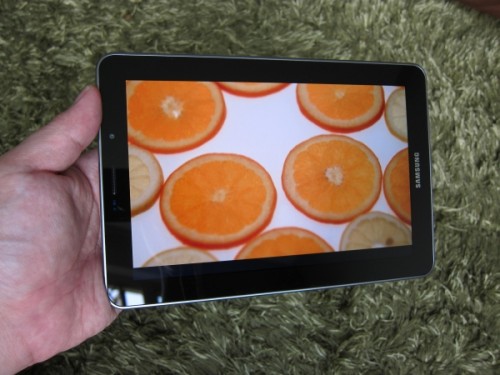 The screen on the Galaxy Tab 7.7 really shows off HD movies in a much different light from regular tablets like the slightly cheaper Galaxy Tab 7.0 Plus. You see a lot more detail that can be lost when the movie is played on a lesser screen.
Similarly, it is a joy to read through books and magazines downloaded onto the tablet. Some of the nicely formatted titles, like Harvard Business Review, for example, are a lot more pleasant to read when the text comes out more sharply.
What of the Honeycomb performance? I hear folks complaining about slow response from some Android 3.2 or Honeycomb tablets from Samsung, and I have to tell you this – remove those useless and ugly widgets that Samsung seems compelled to stick on the screen for some reason. The experience is very smooth if you don't have such memory-sucking stuff in the background.
There's no escaping Samsung's Touchwiz interface, unfortunately, unless you go install your own ROM (and possibly void your warranty if you are not careful). I wish the Korean firm would have just taken out some of the stuff it adds on its Android tablets, like the useless pop-up menu at the bottom of the screen to call up a dialer or an e-mail app.
Okay, some folks might use them, but Android also comes with a ton of useful widgets you can pin on your screens if you choose to. Plus, there should be a way to disable some of the menus to cut down on their memory use.
Fortunately, my experience with Honeycomb has mostly been positive and the Galaxy Tab 7.7 doesn't change that. The exception, as I said, is when Samsung loads a whole lot of widgets out of the box. Since I "undid" much of the stuff that Samsung had put in, I've been happy so far with my new tablet.
There is no lag in the browsing experience, even when all that Java and Flash add-ons are turned on, and you are surfing to complex sites like CNN or New York Times. Similarly, moving between apps is usually a fuss-free affair.
The only thing I don't really like about the OS is that the context menu can appear in different locations, depending on the app. Sometimes, it appears at the top for some apps; other times, it just turns up at the bottom. It can be a little irritating at start, though you do get used to it after a few days.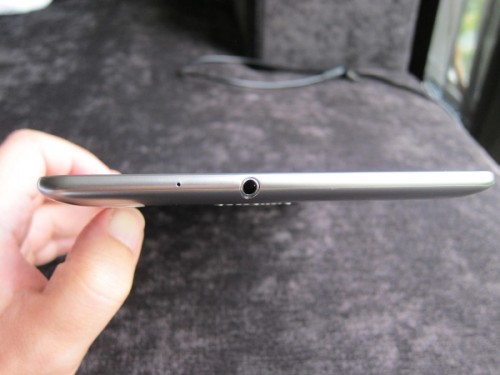 In terms of 7-inchers, there is nothing in the market that really threatens the Galaxy Tab 7.7 for now. Sure, the Kindle Fire is racking up sales in the United States, but its screen is nothing to call home about. Similarly, while 7-inchers from Ainol and Huawei are attractively priced, they lack the same "wow factor" in the Samsung.
By that, I'm talking about the ultra-slim frame, for starters. Amazingly, this 340-gram device with a girth of just 7.89mm can pack in so much. Inside, there's a fast 1.4GHz dual-core CPU humming away to run the Android 3.2 Honeycomb OS (upgradable to Android 4.0 in Q2, says Samsung).
There's also no need to use a micro-SIM, as the Galaxy Tab 7.7 accepts a regular SIM card. Somehow, the Korean engineers have also added a microSD card slot, which comes in really handy for bringing along your songs and movies for trips overseas. It saves you all the trouble hooking up the tablet to the PC, and of course, you don't worry about running out of space with expandable storage.
Still on design, there are folks who might prefer that the faux brush metal design on the back plate be replaced by real metal instead. I agree partly, in that, it would better protect the tablet from drops and knocks. The argument against metal, obviously, is that it adds to the weight.
In any case, I have already dropped my precious Galaxy Tab 7.7 once. Yes, I almost slammed it on the floor after I struggled to catch it in mid-fall. It's survived so far, literally without a scratch, but I hope the Samsung service centre folks are not reading this.
Am I happy with the Galaxy Tab 7.7 after a week of use? I have to say I am more impressed than any Android tablets I've seen thus far, in terms of performance.
It helps that the battery life is pretty good. The 5,100mAh battery runs for than a day or two between charges, for usage that includes a few phone calls, but mostly time spent surfing the Web on 3G and some games. Even when I fire up demanding games, like Grand Theft Auto, I expect it to last me hours playing them.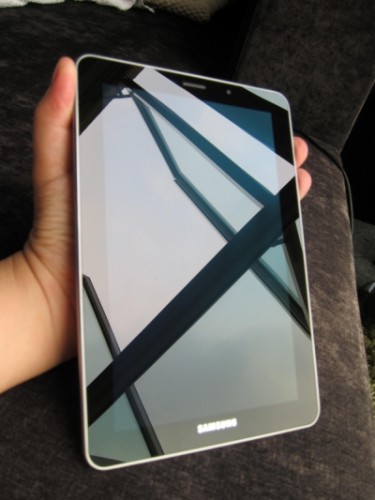 How does the Samsung tablet compare to the new iPad? I've been impressed by the new iPad's really sharp screen, but I'd say those who prefer a smaller tablet should take a look at the Galaxy Tab 7.7, especially if you bring it on your travels. The Samsung device is also lighter and much more attractive-looking than the rather thick new iPad.
Though I have no grouse with the price personally – I paid S$448 for the Samsung tablet because I bought it with an M1 plan – Samsung should really rethink the Galaxy Tab 7.7's price.
At S$898 (retail price), the 16GB Wi-Fi + 3G version costs more than the similar 16GB Wi-Fi + 3G/4G version of the new iPad, which goes for S$828 in Singapore.
Sure, I accept that the Galaxy Tab 7.7 is for the thinking man, discerning geeks or folks who simply don't subscribe to Apple's unfriendly restrictions, but the smaller tablet should be priced more competitively against the leader of of the day.
Do that, and I think Samsung could do pretty well with the Galaxy Tab 7.7. I, for one, am a happy user.