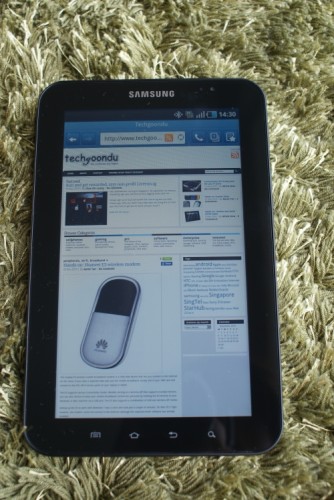 Everyone already has an iPad.
That was one of the reasons for users going for Samsung's just as hyped-up Galaxy Tab, when I asked fellow buyers of the new tablet at SingTel's launch event last Saturday.
Another guy in the crowd told me Samsung's 7-incher was much more portable than the 10-inch iPad, when I casually asked him, while waiting for almost two hours at SingTel Comcentre over the weekend (the event could be better planned, to be honest).
Yet someone else explained that he went for the Android-based Galaxy Tab because he couldn't stand the way Apple controlled how people used their devices. He wanted Flash, used to show multimedia on many websites, and which Apple adamantly won't support.
All of these reasons, if you ask me, were also what eventually pushed me to buy a Galaxy Tab for myself. Now, a week after trying out the tablet on a plane, while overseas and back in the living room couch, I'm glad I bought the best tablet currently out there.
Not just Android slapped on
The first thing that separates the Galaxy Tab from other Android offerings is the software that Samsung has taken the trouble to optimise for the bigger screen.
While others like Toshiba and even Archos are content to slap on Android 2.2, fast as it is on 1GHz chips like the one on the Galaxy Tab, the Korean electronics maker has included useful apps as well as redone some of the most basic apps that you use.
The first you'll notice are the E-mail and Contacts apps. In landscape view, you get a preview panel not unlike what you get on Outlook on the PC, for example. The bigger screen means you don't have to open each e-mail message to find out what it is – a nice preview comes on as you tap on each message on the list.
The Contacts app is another improvement that takes advantage of the bigger screen. Like the E-mail app, you can click on a friend and see his or her picture and immediately call, SMS or e-mail him or her. A nice way to make use of the extra screen real estate.
All this, of course, does not stop you from using the regular Android apps, such as the built-in Gmail, to get your e-mail, for example. But Samsung has made the interface much better than regular Android-based tablets out now, and it shows.
The other app I am really impressed with is Samsung Readers Hub, which lets you buy and read newspapers, books and magazines through third-party vendors such as Press Display for print newspapers. The interface is snappy, ultra-easy to use and most of all, glitch-free.
I really had not been reading that many newspapers until I started doing so on the plane with the Galaxy Tab's news reader. As I flip through the pages, I can either pinch and zoom into articles or click on the headline of articles and see the text-only version – a nice touch.
Of course, if I want fresh news, I would prefer reading it on a live website instead of a downloaded version. But if you are on a long flight, this Readers Hub app from Samsung is a great way to pass time. There's a nifty version of Today, by the way, which you can set to be delivered to you daily.
The other apps I really like are the built-in Music and Video apps, which smartly shows off all the albums or movies you have on the device's microSD card. To be sure, they are not as snazzy as the iTunes interface on Apple devices, but here's news for Apple users: the Galaxy Tab supports a wider range of formats, including AVI and MKV for movies and even FLAC for music.
So, nope, there is no need to spend hours transcoding your movies to an Apple-friendly format, or be tied to Apple's iTunes store. Just copy your music and movies onto your microSD card, pop it in and play the content. To me, that's a big plus over the iPad, when it comes to being a media playback device.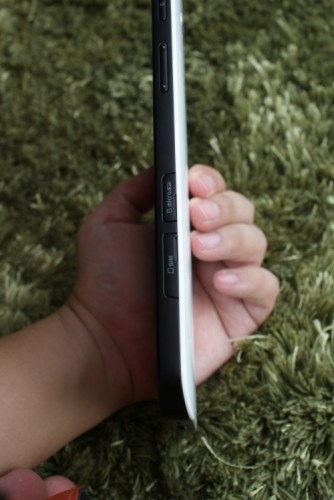 Size is right
The Tab scores with its screen size as well. Not just because it is portable, which it is, the screen size is right because most Android apps will run fine on it. Angry Birds looks great, Fruit Ninja works perfectly fine and Tweetdeck and Facebook run without a glitch.
Even my Squeeze Commander app for controlling my Logitech Squeezebox streaming device works without a problem. The only thing is that a small picture of the album art that had looked perfectly okay on my Nexus One's 3.7-inch screen now looks blur! I'll just have to get high-res versions if I'm anal about that.
The only app I've tried so far that does not scale up to the 7-inch screen is Epicurious, which has thousands of recipes for foodies. Like iPhone apps not optimised for the iPad, it keeps to its small size, leaving a thick black frame around.
That, fortunately, is the exception. Most apps I've tried on the Galaxy Tab run without a problem, as they would on my Nexus One.
Yes, the 7-inch format is a limitation of the Android tablet platform now, make no mistake about that, as Engadget rightly points out, but it also works in the Galaxy Tab's favour in terms of portability. Just ask my wife, who would happily slip it into her Speedy handbag.
Screen is great
I've been told that a prototype of the Galaxy Tab was shown internally at Samsung with a Super AMOLED screen as far back as a year ago. Yes, the Korean electronics maker was already contemplating a Super AMOLED-based Galaxy Tab long before the current one became the final product.
The good news is that, despite not having a Super AMOLED screen, this current Galaxy Tab has a wonderfully bright screen even under direct sunlight. The 1,024 x 600 resolution also shows off sharp images, whether you are looking at holiday photos or simply reading an e-book.
Flash is great
Much has been made of Android's support for Flash, which is used on thousands of websites to show off videos and other multimedia elements. How well does it work on a big screen? Generally, good.
Yes, it does slow things down a little in the browser, but this is far from "unusable", as Steve Jobs will say. While in Bangkok, I not only read a story about Prince William's engagement with Kate Middleton, but also watched their first interview on the Telegraph website.
Sure, you can still search for the video on YouTube after you've read the story. It's just more convenient to do that on the Galaxy Tab as I read the story on the website.
Plus, even if I don't want Flash, I can choose to turn it off or only on-demand. That's called choice, and it's what makes Android attractive.
Market is crucial
Finally, what sets the Galaxy Tab from the rest of the Android tablet pack is access to Android Market out of the box. Whether this is to download Angry Birds or an update to Flash, this makes things easy and brainless for non-techie users.
Sure, geeks will get around things, say, by side-loading on the otherwise-excellent Archos tablets, but for many users, the out-of-box experience is a lot better with native access to the thousands of apps available on Market.
Battery life
With Bluetooth on, and brightness set to Auto, the device can last an entire day or more, even when my niece is at it with Fruit Ninja.
I haven't tried draining the 4,000-mAh battery in measured tests, like what Engadget has done. The tech site says the Galaxy Tab lasted over 6 hours while playing back an SD movie with Wi-Fi on and brightness at 65 per cent.
On my own casual, unmeasured usage, the device appeared to have more than half the juice left after I watched a 720p movie for two hours on the plane. Of course, that was with wireless totally turned off.
What could be better
One thing I'd had hoped for was a lighter Galaxy Tab. It may seem light at 380 grams (the 10-inch iPad with Wi-Fi and 3G weighs 730 grams) but it is not that light to carry on one hand. 
Obviously, another big minus here is a lack of a direct USB connection. This was one common gripe with the iPad and Samsung should have addressed this with the Galaxy Tab, but instead it has gone for an iPad-like proprietary connector.
The Galaxy Tab does come with a cable with a USB plug at one end, but you'll realise that this does not let you charge the tablet via USB. Perhaps one explanation is that the typical USB port supports electrical currents up to 0.5 to 0.9 amperes, while the Tab supports a max current of 2 amperes?
The other thing I am a bit disappointed with is the included Chrome browser, which appears a tad bit slow, even without Flash turned on. Samsung told me this is different from the default Android 2.2 Froyo browser, which is snappier than on most smartphones, and which I wished was on the Galaxy Tab.
[UPDATE: I've just tried Dolphin Browser HD and it's much better – faster than the default browser and has Flash as well. So, for the best of both worlds, go with Dolphin. Thanks to Peter and James (over Twitter).]
Finally, the SingTel apps thrown in seem a little rushed. The DeeLite magazine app lacks the polish of Samsung's Readers Hub, and sports some rather jerky animation. There's also the rather pointless ExciteVideo app, which only acts to link you to freely-available videos from, say, New York Times, which you have to view on your browser anyway.
Bottomline:
Inevitably, the question Samsung has to answer is whether this is an alternative to the successful iPad. To me, and indeed to several Galaxy Tab users I've spoken to, the answer is a certain Yes.
Some additional features, like the ability to make phone calls or additional cameras, do not necessarily make the Tab a better tablet. But it excels in many other areas, for example, a more portable size, a handy microSD slot and native support for Flash.
Most importantly, it brings all the winning features of Android to the big screen, without the penalty of pixelated screens or crashes from legacy apps. To add to that, Samsung has put up a number of apps that cleverly take advantage of the bigger 7-inch screen – and they are a joy to use.
For those thinking of a new tablet, I'd say check out the Galaxy Tab before going straight to the Apple store to join the rest of the crowd. For those considering an Android tablet already, the Galaxy Tab should be your first choice for its overall polish and Market support.
What Google does for tablets in the coming months is crucial. Clearly, with an Android OS meant originally for small-screen smartphones, Samsung has probably pushed the platform further than any other Android device maker out there.
The coming months could become even more exciting, if rumours of tablet-based guidelines for developers start appearing and we start seeing high-res versions of Android apps for big-screen tablets.
Get three Goondu tips for the Galaxy Tab.