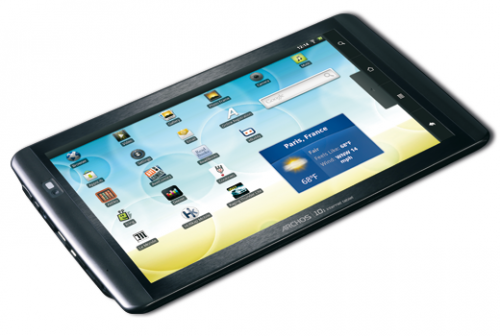 Long before Apple and Samsung trotted out their tablets, the lesser-known Archos had been making what were known as portable multimedia players (PMPs), which worked sort of like tricked-up MP3 players with video playback.
Now, after being not particularly successful with early Android tablets, the French company is back with a couple of tablets you really have to check out before buying an iPad or Samsung's upcoming Galaxy Tab.
While buying some parts for a PC over the weekend, I found the Archos 70 and 101 tablets selling at Memory World and its other outlet Storage Studio at Sim Lim Square, and I joined a small crowd swiping our fingers over the screens of these two wonderfully portable machines.
Boy, was I pleasantly surprised after getting a quick hands-on with the gizmos.
For starters, look at the attractive prices:
S$459

for the 7-incher 70 with 8GB

S$499

for the 7-incher 70 with 250GB hard disk

S$499

for the 10-incher 101 with 8GB (most popular, I'm told)

S$599

for the 10-incher 101 with 16GB
All of them are Wi-Fi only and do not have 3G built in, which may be a good thing for those who don't need mobile data, or can get it by tethering to their cellphones.
With the Archos 101, the bigger version with the 10.1-inch wide-screen, the first thing that hits you is how light it weighs in one hand. You can carry this and watch your movie on the train without tiring out your arm.
The specs say it is 480 grams, a good 200 grams or roughly 30 per cent lighter than the 680-gram iPad (Wi-Fi only model). On the hand, the lighter 101 really feels like a world of difference.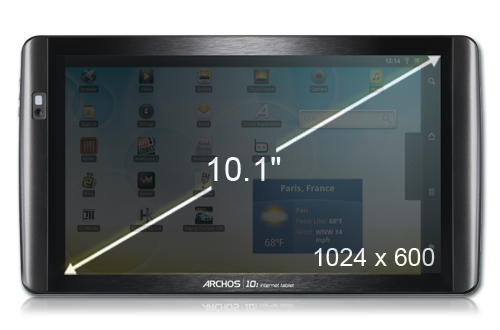 Looks-wise, Archos' tablets are also much sleeker looking than the iPad and Galaxy Tab. Not just slim but streamlined, these feel like really thin computers that are perfect for surfing the Web or even reading e-books on.
The only thing is, the battery pack on the bigger 101 can feel a little warm. Though nowhere near your laptop's warmth, it's something you should look out for if you are sensitive to that. Archos doesn't say how much juice the battery has, though it promises up to seven hours of video playback.
Under the hood, the 101 has the works: an 1GHz Arm Cortex A8 processor, support for all sorts of video and picture formats and a MicroSD slot that negates the relatively small 8/16GB flash memory for storing files. It also has a handy HDMI port to hook up to your TV if you want to watch movies stored on the tablet.
The same specs are found on the smaller 7-incher Archos 70, which to me, is just the right size and weight (just 300 grams for the flash memory model) to carry around. For some reason, the device also seems noticeably faster than its larger 101 cousin when I tried swiping my finger through the Android menus.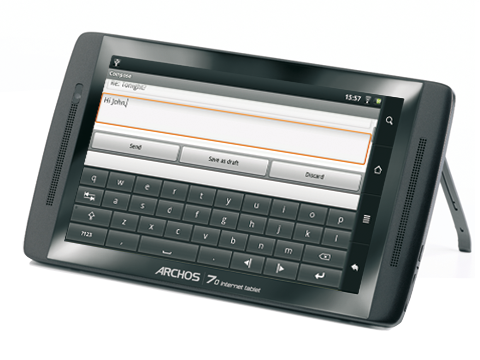 Speaking of Android, Archos promises Android 2.2 on the machines, but the tablets on sale at Sim Lim are still running Android 2.1, with promises of an update within the coming weeks.
That, to me, was the deal-breaker at the moment I was going to take out my ATM card to pay. To be fair, the devices are only to be officially launched in Singapore on Nov 17, but I held back from buying a device that may seem still in development.
Why does Android 2.2 matter? For one, I'd like Flash on the big screen. And, of course, the speed improvements that I have seen with the same OS update on my Nexus One.
Another thing to note is that, unlike the Samsung Galaxy Tab, there are no extra software, such as an e-reader and content that you may (or may not) like. Out of the box, the Archos gizmos are plain vanilla Android devices that probably require the user to download his own software.
Speaking of which, there doesn't seem to be native Android Market support here. That means you either have to apply a hack or "sideload" the apps, that is, download them separately and install them by running the APK packages from your tablet.
Still, the Archos tablets look like they will give other tablets a run for the money given its low cost – once they are updated with Android 2.2. And they could really ruin the party for the upcoming Creative ZiiOs shipping here next month.
Unlike the Creative tablets, Archos' two offerings appear to use capacitive screens, which are more sensitive and enable multi-touch. Strangely, the Memory World salesman told me the tablets use a special type of resistive screen that provides for what felt like very smooth pinch and zoom gestures, while Engadget says they use the now-common capacitive models.
Either way, at the prices they are sold, I expect these Archos tablets to stake a claim in the growing market, which will likely see new entrants such as Acer, Asus and Toshiba very soon. At the low-end, the Archos 70 and 101 will do particularly well, especially with their sleek design.
They'll also be attractive to users who don't want a built-in 3G link – I, for one, can tether with my Nexus One. With Wi-Fi b/g/n, the 70 and 101 will appeal as a device to surf or play games on while lounging in the living room.
With more competition in the horizon, and tablets running Google's upcoming OSes made from ground-up for tablets, consumers may be spoilt for choice in the coming weeks and months.