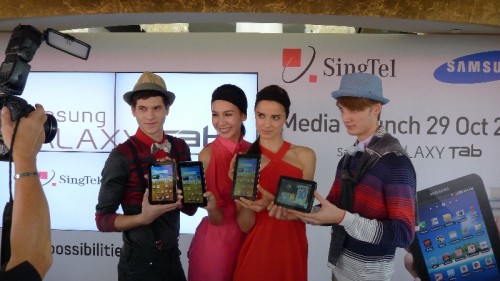 Samsung's Galaxy Tab is shipping in Singapore on November 13, with the Wi-Fi cum 3G version hitting stores before a Wi-Fi-only version that could appear later at a yet unspecified date.
The much-awaited tablet computer, a much-touted rival to Apple's iPad, will be sold by SingTel as well as by Samsung directly, the companies just unveiled at a launch at Marina Bay Sands.
UPDATE: Samsung has said it will sell the 16GB version for S$998 (without contract) at its store, while SingTel says its discounted prices – tied to a data plan – will be out only in a week's time. They declined to say if prices are similar to what has been revealed elsewhere in the United States, for example.
That means, if you want an operator discount, you can sign up with SingTel for plans that start from S$39 to S$95 a month. These plans offer 12GB of data with varying amounts of call time.
If you already have a mobile broadband plan, say, one tied to a USB dongle, simply buy the device without contract from Samsung at its flagship store at Vivo City.
It's a good thing the Korean firm has not forced people to buy the tablet computer with a SingTel line, because that would surely kill its sales targets.
At the same time, it's smart too to have one "exclusive" operator offer the Galaxy Tab at a discount, for users who balk at the high price of almost S$1,000 (it's US$600 without contract in the United States).
I suspect many users will sign up for a new SingTel line while it has the exclusive deal (it declined to say when the exclusivity will expire). Unlike with a phone line, they probably won't have to port over an existing phone number.
Among the apps that SingTel has included out of the box are local magazines such as August Man, as well as its video and music services and Android apps. Another big plus: users will be able to watch SingTel's Barclays Premier League broadcasts on the Galaxy Tab.
I've already had a great hands-on experience with the tablet in Berlin, where it was unveiled last month. But for some reason, the demos I saw today, which are closer to the final product, seemed a wee bit slower than the version I saw in Berlin.
I suspect it could be the additional apps – including SingTel's – that are installed with the device that may be slowing it down. If so, all I have to do is simply uninstall them.
Meanwhile, stay tuned for a full review soon. I, for one, can't wait to play Angry Birds or read US newspapers on the sharp 7-inch screen.