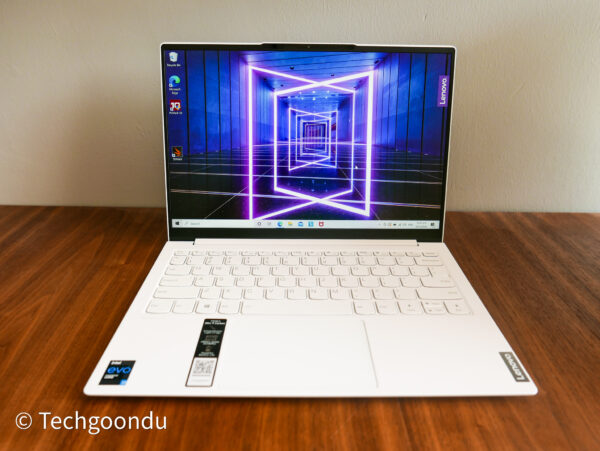 If you want an affordable laptop that's thin and light yet packed with the latest Intel processor, then the Lenovo Yoga Slim 7i Carbon is surely one of the first to catch the eye.
Weighing just 966 grams, it is easy to pick up and carry around. The slim bezels – just slightly thicker than the best-in-class in Dell's XPS 13 – also make the 13.3-inch screen look sleek, while keeping things compact.
Though the surfaces may appear a little plasticky, Lenovo says the top cover is made of carbon fibre (so no more screen flex) while the palm rest uses magnesium alloy. The laptop does not feel like the most premium one around but it's sturdy and solid to touch.
Perhaps more important is the price. At S$1,599, it is cheaper than some high-end tablets yet can boast of having the latest 11th-gen Intel Core i5-1135G7 chip that comes with the chipmaker's souped-up Iris Xe graphics.
This means improved performance over older laptops that rely on Intel's basic built-in graphics chip, which is essentially most thin and light machines made previously.
The Yoga Slim 7i Carbon also comes with 8GB of DDR4 memory and a 512GB solid state drive (SSD), which is what you'd expect from a moderately spec'd laptop today.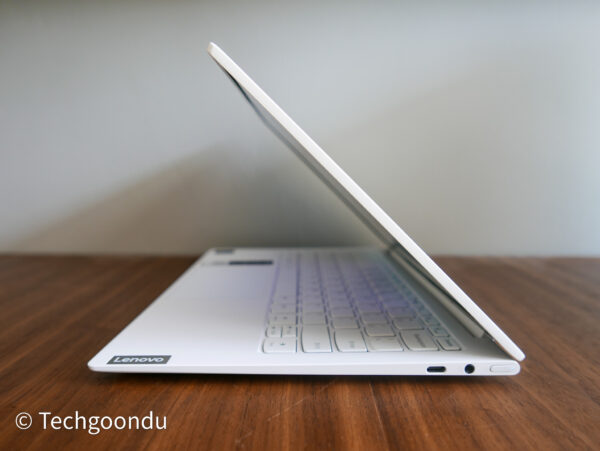 In PCMark 10 tests, which measure how well a PC performs everyday tasks like videoconferencing and spreadsheets, the Lenovo laptop scored a good 4,856.
That's a clear improvement over the 4,518 I got on an AMD Ryzen 4700U-based HP ProBook last month and the 4,022 on a Dell Latitude 2-in-1 running an older 10th-gen Intel Core i7 chip back in August.
In the graphics department, Intel's new setup is also making a difference here on the Yoga Slim 7i Carbon. This is shown in 3DMark tests that simulate PC games.
Here, for the the Time Spy subtest, the Lenovo laptop scored 1,634, which is an improvement over the AMD-based HP laptop, which scored just 838. The Dell machine could not complete the subtest back in August.
The Lenovo laptop also excelled in the other subtests – Fire Strike (4,517), Night Raid (14,994) and Sky Diver (10,834). Unsurprisingly, it beat both the HP and Dell machines I had tested earlier.
So, Intel's new 11th-gen Core processor and its Iris Xe graphics chip – called Evo in the company's marketing materials – do make a real difference in thin and light machines like the Lenovo laptop here.
Another thing I've noticed is that the engine here runs rather quietly and cool. I don't hear much of the fan spinning up and the bottom surface won't be burning your lap when you work on it.
Speaking of work, the laptop also sports Intel's built-in Wi-Fi 6 module with 2×2 antennas. This should come in handy to connect to a growing number of networks that support the speedy technology, especially if your school campus or office network supports it.
What I also like is the Quad HD screen with 2,560 x 1,600 resolution (16:10 aspect ratio). While many 13.3-inchers have kept to basic Full HD resolutions for entry-level models and 4K for their high-end ones, Lenovo has chosen the middle path here.
It's a nice compromise for some users who don't want the battery sucking 4K sharpness on the road but an upgrade over the run-of-the-mill Full HD screen. It's certainly nice to have at the price Lenovo is asking for the laptop.
Unfortunately, I can't say that it scores just as high on usability. Here, I'd say it is a bit of a mixed bag.
Like most thin-and-light machines, the Yoga Slim 7i Carbon sacrifices regular-sized USB ports for the smaller USB-C variant, which means you'd need an adapter if you want to plug in a USB flash drive or a mouse.
The touchpad is pretty well-sized and sensitive so you don't have to worry about using the laptop in tight spaces, say, while flying Economy when it is safe to travel again.
What I'm not a fan of is the keyboard. Lacking enough tactile feedback, the keys also feel shallow. I'm not sure I want to be typing on them for hours, especially when typing is a key part of my work. For those who type a lot on the road, this could be a deal breaker.
The power button is also a little strangely placed. Small and located right at the corner on one side of the laptop, it is hard to reach. Perhaps Lenovo doesn't expect users to handle it much, seeing that it's easy to just close the lid to end a day or pop up the screen to begin one.
That's partly because of the fast recovery that the laptop is capable of. The laptop is ready to resume within milliseconds when you open the lid to get started.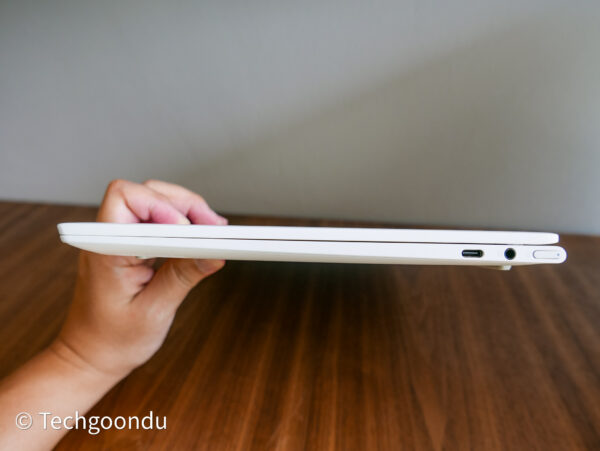 It helps, of course, that the laptop is expected to run up to 13 hours, according to MobileMark 2014 tests that Lenovo says it has run. That means the laptop will run on battery longer than most of your work days.
So, on the whole, the Yoga Slim 7i Carbon does look attractive for its price. With improved performance and a decent design, it will win over many potential buyers.
It lacks some features that businesses may use, such as a fingerprint reader to authenticate one's identity, which makes the Yoga Slim 7i Carbon better suited to consumers such as students or freelancers.
So, in summary, this is a likeable laptop, though you should try to get some hands-on feel of the machine before buying. If you type a lot, make sure you try out the keyboard to see if it's to your liking.