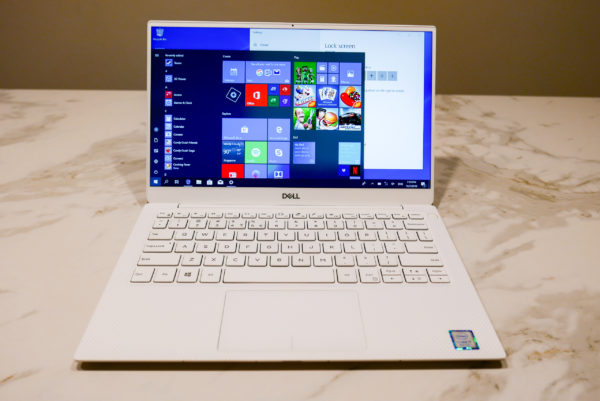 If I told you that the biggest new thing in this year's Dell XPS 13 laptop was its camera, you would probably scratch your head. What's the big deal with a webcam?
Well, for Dell, and indeed many Dell users such as myself, this was the one thing that had prevented the XPS 13 of previous years from being just about perfect.
You see, the older versions of the 13.3-inch ultraportable laptop had placed the webcam at the bottom of the screen, because its edges are so thin. Unfortunately, this meant that your colleagues were often staring up at your nose when you had a videoconference with them.
Now, with the new 2019 XPS 13 (the 9380, when ordering online), the camera has been moved up to the top of the screen. The trick is installing a skinny 2.25mm-thick camera at the top without adding to the thickness of the edge. No small feat, according to Dell.
What this means is that you can now videoconference like anyone else. In other words, people will look straight at your eyes or face instead of staring at your nose.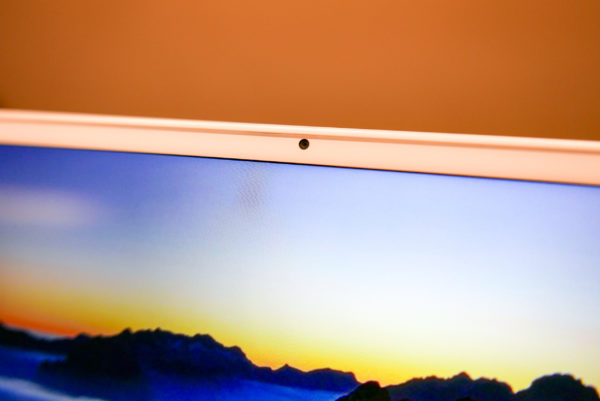 The other thing about this new camera is that you lose the camera used to log you in to the laptop using your face. Not a biggie, frankly, because the fingerprint sensor on the power button is pretty nifty as well.
Without a doubt, the XPS 13 is more attractive now because it has solved a problem likened to its Achilles heel. I say this as someone who bought last year's already very skinny version, which was also solid and bomb-proof at the same time.
Thanks to the slim bezels, the XPS 13 has always been an extremely easy-to-carry laptop. You can slip it into a slim briefcase and open it up on an economy seat in an airplane without fuss.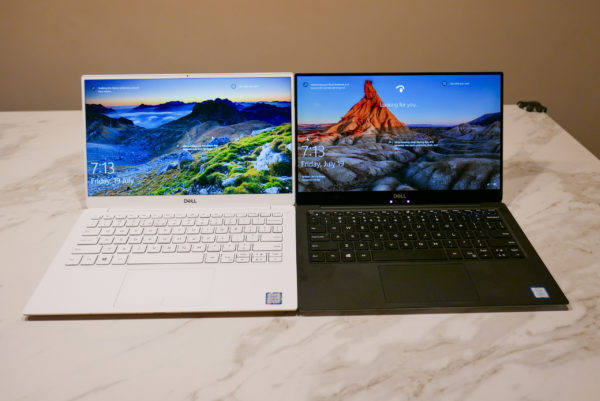 Indeed, I've written articles and replied to e-mails quite often on planes, a couple of times even with inconsiderate folks in front pushing their seats back.
There is a reassuringly solid feel about the XPS 13, despite a lightweight frame weighing just 1.23kg. The back of the screen doesn't flex easily and the palm-rest feels sturdy and ready for a tough ride on the road.
The frame is cut from a single piece of aluminium, while the palm rest is made of carbon fibre and woven glass fibre, so the design is not just a "look" but derived from truly durable materials.
The keyboard, too, is one of my favourites among ultraportables. The key travel is significant enough so you get tactile feedback as you type. I write for a living so this is a welcome feature that makes life easier and more comfortable.
The touchpad is also of a decent size, though as always, I still like Apple's MacBooks as the reference. The XPS 13 does fine, of course, with a responsive option that will be handy in tight situations (such as airplane seats).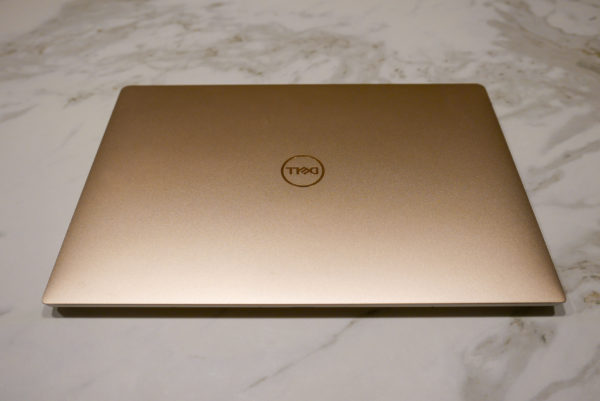 If there's one thing to take note of, it's the shrunken USB ports on both sides of the laptop, a feature debuted in last year's XPS 13. If you are using USB-C devices, like a phone bought in the past couple of years, then they are cool.
However, if you want to plug in, say, a USB receiver for a wireless presenter, or a simple USB drive, then you'd need an adapter. Fortunately, one is provided in the box, though if you want more stuff like Ethernet or full-sized HDMI ports, you'd need an USB extender costing S$151.
What about performance? The review unit I tested was a high-end model that came with an Intel Core i7-8565U processor, 16GB of RAM and a 512GB PCIe NVMe solid state drive (SSD).
It's more than handy for regular workloads like e-mail, spreadsheets, basic photo editing and videoconferencing without breaking sweat.
It certainly seems capable, at least going by the PCMark benchmark test I ran on the machine. In the latest version of the test, which included new subtests such as video editing, the XPS 13 scored 3,599.
The ultraportable, as you'd expect, doesn't have the horsepower to run serious games. The onboard Intel UHD Graphics 620 chip does a decent job playing back movies but this isn't a gaming laptop.
With the 3DMark test, for example, the results are clear. The XPS 13 didn't do well in the demanding subtests here, scoring just 403 for Time Spy and 1,084 for Fire Strike.
It did better when faced with the less tough ones. It scored 4,707 for Night Raid, 3,559 for Sky Diver and 7,132 for Cloud Gate.
I wouldn't be firing up demanding games such as Call of Duty – at least not with graphics tuned to high quality – if I were using the XPS 13. Of course, if you have extra moolah, you can plug in a zippy external graphics card to bring things up to desktop PC levels of performance.
What I do like the XPS 13 when it comes to entertainment is its cinema-worthy screen. Here, it does its job well with colour vibrancy and good contrast.
Watch some Netflix shows on the laptop and you'd know what I mean. This isn't just a work machine but also a decent entertainment laptop while on your business trips.
In particular, the 4K version of the 13.3-inch screen brings added sharpness when you're watching 4K shows on Netflix. Being a touchscreen, the display also lets you use your fingers to navigate around easily, say, when looking up a place on Google Maps.
All said, it's hard to fault the XPS 13. It's an already well made machine "perfected", according to Dell. Though I won't go so far with that, I'd say this is pretty close to a perfect laptop for folks looking for a sleek, sturdy and high-performance machine.
The unit I reviewed costs S$2,799 (including an additional S$100 for the rose gold colour), so this isn't a cheap laptop.
If you don't mind a Core i5 chip, less memory (8GB), less storage (256GB) and a regular Full HD screen, you can shave prices down to S$1,999. That still offers decent performance, to be fair.
As someone who has been using last year's XPS 13, I must say I like this year's version a lot. The good stuff has been retained and the camera is properly placed now. This has to be at the top of your list if you're buying an ultraportable laptop for work.