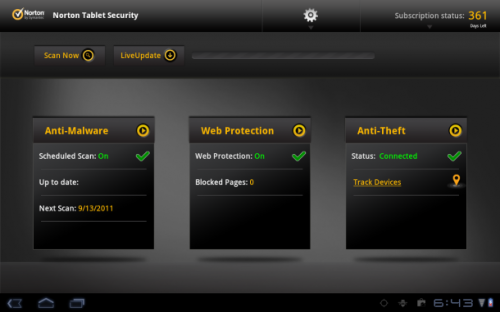 Like all computing devices, tablets are not immune to malicious apps and other software created by cyber criminals waiting to pounce on unknowing consumers.
While the Android malware threat is somewhat overblown, it is undeniable that the number of rogue apps targeting the wide spectrum of Android devices is on the rise. As we spend more time browsing the Web, playing games, connecting with friends and store more information on tablets, it becomes a no-brainer to secure these devices — like how we would with our PCs.
A growing number of IT security vendors such as AVG, Symantec and Kaspersky are beginning to target this segment of the market. I recently installed Norton Tablet Security on my two-month old Amazon Kindle Fire to guard against malicious files and apps. It scans files right after they've been downloaded onto the tablet, reducing the chances of falling prey to rogue APK files circulating on the Internet.
Sure, downloading apps from the authorised Amazon AppStore is safer, but until Amazon keeps up with the latest titles on Google Play, I'll be getting my fix of apps like Draw Something and Angry Birds Space Free through APKs.
Norton Tablet Security doesn't seem to gobble up computing resources or slow down Web browsing, though the device stuttered on a few occasions while browsing books and apps on the Kindle Fire's sleek bookshelf interface.
Like all Norton security offerings, you can scan your device on-demand, or schedule weekly or daily scans. You can also block fraudulent websites, though this feature only works with the stock Android browser, which isn't available on the Kindle Fire. Symantec uses the data from Norton Safe Web to identify the rogue sites.
There's an anti-theft plugin that you can install too, so you can track your tablet if it gets lost and remotely wipe off its data. And if your device has a front-facing camera, the software will even capture a shot of the thief's current location — and maybe his or her face if you're lucky.
Bottomline: Costing US$29.99 for a year's protection against Android malware, the Norton Tablet Security is not a bad deal if you value your tablet and whatever you have on it. But as of now, the Singapore Norton store lists the software's price as S$19.90, though the purchase link seems to be broken.
Update (March 27, 22:46 SGT): Symantec has clarified that Norton Tablet Security is not sold through Norton's local e-store. In Singapore, the S$19.90 security software is available at Challenger stores and selected Harvey Norman stores.