Brought to you by Parallels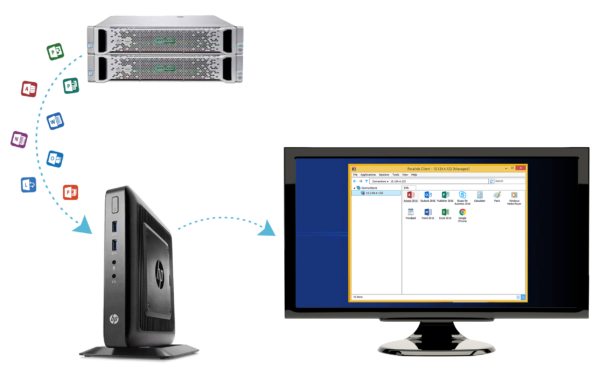 Managing a fleet of machines running various operating systems (OSes) can be a daunting challenge for any IT administrator or third-party service provider.
One way that many organisations have adopted is to use a remote application server (RAS) to deliver apps and virtual desktops to users, no matter what platform they are on.
Now with Parallels' recently launched RAS 17, these organisations' IT teams can enable employees using just about any device to access their corporate applications and virtual desktops.
A productive user experience (UX) delivered by Parallels RAS supports users of Windows, Linux, Mac, Android, iOS, Chromebook, thin clients as well as HTML5 browsers.
Those with an iPhone, iPad or Android device can even use familiar native touch gestures to easily work with virtual files and be truly productive from anywhere.
Plus, with a revamped console, Parallels RAS promises to enable administrators to deploy and manage their entire infrastructure on a single pane of glass.
They can better secure their digital environment, even as an organisation seeks to digitise its operations and processes. This is done by controlling access to apps and data, based on location, device or client policies, for example.
At the same time, Parallels RAS works with different types of infrastructure – on-premise, hybrid or multicloud, with Micosoft Azure or Amazon Web Services, for example. Flexibility lets the IT team and the organisation be more agile.
Indeed, some organisations are switching over from other vendors' solutions to Parallels RAS. One of them is APT Travel Group, which hires 600 employees and has offices in the United States, Britain, Cyprus and New Zealand.
After a successful proof of concept, it is migrating its systems from Citrix to Parallels RAS, according to a report in iTWire, a technology publication, earlier this month.
APT Travel's infrastructure and support services manager Anthony Bianco, told the publication that one advantage that Parallels RAS had was VDI and application delivery in a single product.
Yet another organisation that has adopted Parallels RAS is Henley High School in Australia. Its new infrastructure now serves 1,400 students, including 25 with special needs.
By using a virtual application publishing solution that offers access to documents and files remotely, it now enables teachers to prepare lessons from any location.
With Parallels RAS, the school also enjoys the full benefits of a bring-your-own-device (BYOD) policy, greatly empowering teachers and students to focus on their learning goals.
Interested to know more? Here are several new features from the latest Parallels RAS 17 that will empower IT administrators and service providers:
Reduce the wait
A new pre-launch feature enables users to get started on their work quickly, without the usual wait for a session to spin up. This saves time and makes for happier users.
This feature is made possible by machine learning, which maps users' habits, apps used and login time, so the system is ready for them before they fire up an app or desktop.
Authenticate it with Google
With cyber threats becoming more sophisticated, it helps to have multi-factor authentication (MFA) to reduce risk.
Parallels RAS 17 now integrates with Google Authenticator, so users can log in with an additional layer of security, in the form of a one-time password. This is an easy and affordable way to beef up security for an organisation of any size.
Set granular permissions
Yet another example of an improved security practice is the ability to set granular permissions in Parallels RAS 17. This means users only get what they need to do their job, reducing the risk of exposure.
In RAS 17, IT administrators can configure specific permissions to different administrators and delegate control of Parallels RAS objects, such as infrastructure components, session management and much more.
Work with Windows Server 2019
Parallels RAS 17 now supports Windows Server 2019, allowing it to leverage the advanced features of the latest version of Microsoft RDS and Hyper-V.
Boost VDI security
You can now prevent unwanted access to the VDI by dynamically managing users' remote access rights as required, by enabling remote access permissions during login and revoking permissions during logoff.
There are a good number of advancements in a product that is already comprehensive for IT administrators. Through Parallels RAS 17, they can better deploy and manage the apps and other IT resources as organisations transform digitally.
At the same time, the new tools allow IT leaders to develop better practices that can help better prepare for the ongoing threat of cyber attacks.
Try out Parallels RAS or check out a live demo at the Parallels site.