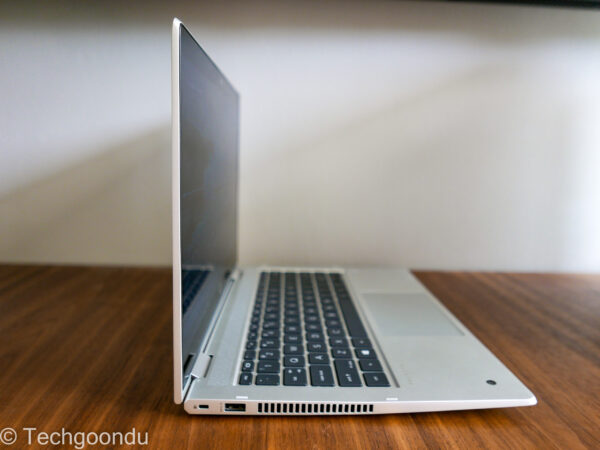 When it comes to looks, you can say the HP ProBook x360 435 G7 is far from the sexiest laptop out there. Neither is its name, which frankly, is quite a mouthful.
For starters, this 1.3kg workhorse aimed at corporate users has a rather thick bezel all around the regular 13.3-inch Full HD screen. It's nowhere as neat as top-end models such as HP's own Elite Dragonfly or Spectre range, for example.
To be fair, the ProBook's metallic finish is more than decent, though it doesn't have the fine-grain brushed metal finish on some other more expensive laptops. This HP laptop just looks rather utilitarian.
Still, it is a convertible, so you can flip its screen over and turn it into a tablet of sorts. You can also prop it up in "tent" mode and watch a movie easily. Here, HP has done well to keep the hinges relatively unobtrusive and retained a design that's still rather slim.
Perhaps more interesting is what's under the hood. This HP laptop is powered by AMD's Ryzen 4700U chip, a version which comes with a handy graphics processor that promises to boost performance beyond rival Intel chips.
In this top-end model for the series, the review unit I got also packs a good 16GB of memory and a 1TB solid state drive (SSD) that could come in handy for large files. These are high-end specs on a powerful laptop.
How did it fare in our tests? Well, in PCMark 10, which measures performance in everyday tasks such a video calls and spreadsheets, the ProBook x360 437 G7 did relatively well, unsurprisingly.
It scored 4,518, which is significantly higher than the 4,022 I got from a Dell Latitude 2-in-1 laptop sporting a Core i7 chip, 16GB of RAM and a 512GB SSD back in August. So, the AMD chip does make a difference in performance.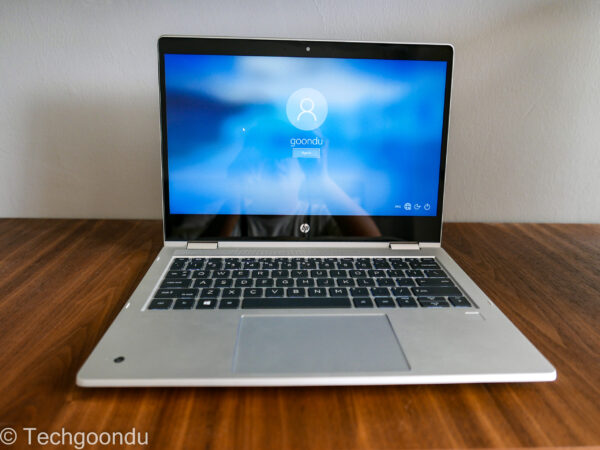 In 3DMark tests, which simulate actual game scenarios, the HP laptop does well again, likely pushed on by the AMD graphics capabilities that help it handle the visual effects better.
Here, it scored just 838 for the more demanding Time Spy subtest, showing that it is still no full-fledged gaming machine, which usually gets a few times that number.
However, in the less demanding subtests, such as Fire Strike (2,171), Sky Diver (8,413) and Night Raid (9,647), the HP laptop shows that it can improve on most older Intel-based laptops.
It certainly compares better than the same Dell Latitude rival I mentioned earlier, which could not complete the Time Spy test and scored lower 1,070 (Fire Strike), 4,172 (Sky Diver) and 5,009 (Night Raid) in the other 3DMark subtests.
What do the numbers mean? Well, the HP laptop certainly does outpace some older Intel-based rivals. It can also get games going at a low Full HD resolution, should you want to fire up a session of Fortnite, for example.
Even when running the tests, you can say that the AMD-based machine runs pretty coolly and quietly. This is one laptop you can place on your lap, because the exhaust at the bottom is only slightly warm.
For a business workhorse, the HP ProBook is built with a number of practical considerations, which are a good thing.
You get a useful full-sized USB port on each side of the laptop, along with a microSD card slot, a full-sized HDMI port and a headphone connector. You can bring this to meetings and not worry about forgetting an USB adapter.
There's also a fingerprint sensor, as you'd expect of a workhorse machine. Plus, the three-cell, 45Whr battery is handy for long workdays.
In terms of input, you'd get a decent backlit keyboard with comfortable key travel, though the tactile feedback can be slightly better, if I were to nitpick. The touchpad is of a good size and sensitive as well, so it's easy to navigate without a mouse in a tight space.
HP has also included a stylus for use with the touchscreen. Okay, this isn't a fancy affair like what you find with a Samsung or Apple tablet – you have to slot in a small battery yourself, for example – but it at least gets you started with scribbling some notes down or adding notes to a document.
So, on the whole, is the HP laptop worth its S$2,099 asking price? Certainly, it's competitive for a convertible, especially when the package comes with a stylus.
Though its looks may not excite many users initially, its performance makes it attractive. Plus, you suspect the person signing the cheque for the HP ProBook x360 435 G7 is probably the typical corporate IT manager, who will find it a decent deal for a department upgrade.