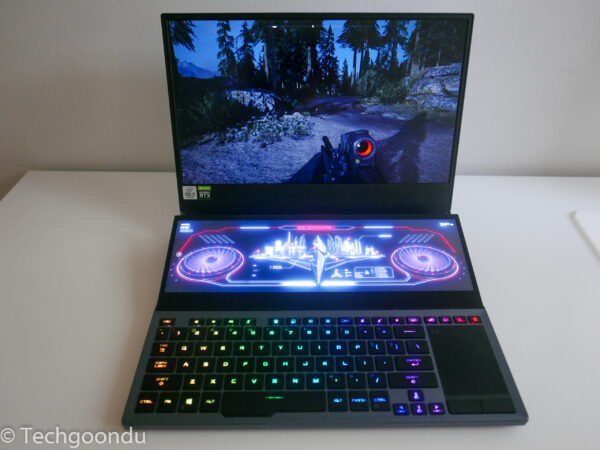 When I first saw the Asus Zephyrus Duo 15 at a demo in Singapore earlier this year, I knew I had to get hold of this one-of-a-kind, no-holds-barred gaming notebook.
The moment you flip open the screen, you realise that you have more than one large 15.6-inch Full HD screen. You find a second screen, a 14.1-inch 4K display popping up at a nice 13-degree angle.
This second screen, called ScreenPad Plus, is right above the keyboard and lets you in on a second window of information, say, your Discord chats, while you're firing away in a game on the main screen.
Now, this isn't the first gaming notebook with a second screen – HP fired up the Omen X 2S last year but its screen is closer to a smartphone's than this large one from Asus, which spans the width of the notebook.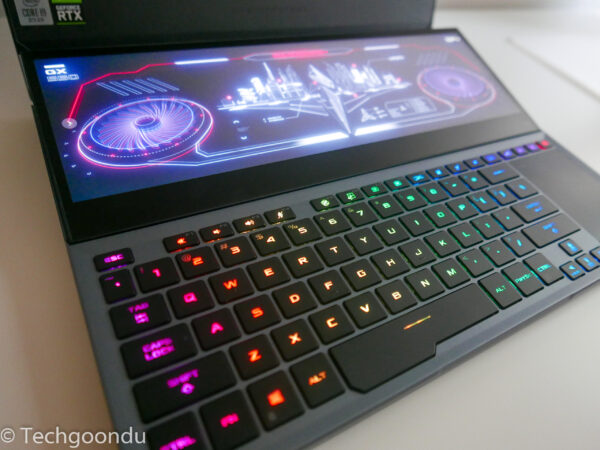 With the Zephyrus Duo 15, the second screen is touch-enabled. Plus, you can also use a mouse or the built-in touchpad to easily drag windows from your main screen down to it. These windows also smartly snap into a corner so you don't need to fiddle with them.
You can drag your music player into the screen below so you don't have to switch up windows while doing work and enjoying music. Or you can play your videos there in the small screen while, erm, doing work.
It could help with productivity as well. So, if you're editing your photos, you can have the smaller screen be your "console" or editing toolbox while the large screen just shows the photo you are working on.
There are also apps that are native to the notebook that will run well on the small screen. These include a handwriting pad and a number keypad, both handy everyday tools.
To be sure, you'll have to get used to all this at first. Unlike on a regular desktop, you can't just drag your mouse to the bottom edge of the large screen to activate the task bar – the cursor "falls" into the second screen below, so it's better to use the Windows key to call up the task bar.
The bigger question, of course, is whether this second screen gives gamers an edge? Well, I would say it does in the same way you have a second large monitor on your desk, except this is right in you eyeline for easy reference.
In Dying Light 2, which is bundled with the notebook, you can move your missions, inventory and other features to the second screen, which is handy.
Going forward, Asus would need more games to support this unique split screen function natively. For those that don't, you can always have the small screen keep tabs on other things, like a Discord chat, for example, when you're assembling a fire team or a raid party.
Of course, you can also stream a video of your pals in the small screen below, which makes for a cool virtual gathering.
I'm not sure this second screen is a necessity but it certainly is fancy. Plus, Asus has executed this design really well, without the hinges feeling any less sturdy than with a regular notebook design, for example.
Smartly, too, it has made the area beneath the second screen an exhaust vent for the fans blowing heat out of the top-end Nvidia GeForce RTX 2080 Super graphics chip.
Surprisingly, the 2.4kg Zephyrus Duo 15 is still rather slim, despite packing in all the top-end gear.
In my test machine, the fast graphics chip and high-res screen are paired with a zippy Core i9-10980HK processor, 32GB of DDR4 memory and two 1TB solid state drives (SSDs) running in RAID0 to offer 2TB of capacity.
I'll be a bit careful about RAID0 because it means that either one of the two drives breaking down would result in data loss. Your risk is higher than using one drive, so make sure to back things up.
On the flip side, this setup means top-notch performance, certainly for the storage side of things. The rest of the hardware, especially the powerful graphics chip, push things along too.
In the built-in benchmark test in Far Cry 5, the Asus notebook came back with an average frame rate of 107 frames per second with the screen refresh rate at 60Hz, and just slightly lower at 104 fps with the refresh rate turned up to 300Hz. That's on the High game settings.
With the game settings set to Ultra, the performance hardly dipped. The notebook cranked out average frame rates of 102 fps (60Hz) and 101 fps (300Hz). These are excellent frame rates, even if the Far Cry 5 game is not a new title and even if it is running only on Full HD resolution.
By comparison, a Razer Blade Stealth 13 with a slower graphics chip could only run smoothly in Normal or Low settings.
I also played the opening level of the trusty Destiny 2 game, which isn't the most demanding today but is still a good gauge of what to expect of a graphics chip.
Here, in the first level of the game, where there are numerous lighting effects, the Zephyrus Duo 15 roughly stayed between 130 fps and 150 fps with the game settings at Highest. That's smooth gameplay, for sure.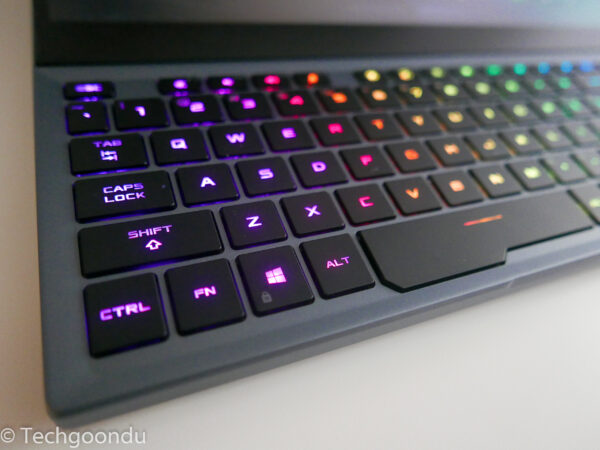 In 3DMark synthetic game tests, which simulate real game features, the Asus gaming notebook did well too, unsurprisingly.
It scored 7,808 in the Time Spy subtest, 18,045 in the Fire Strike subtest, 44,526 in the Night Raid subtest and 43,531 in the Sky Diver subtest. Again, good results, thanks to the GeForce RTX 2080 Super graphics chip.
Just for fun, I also checked out how well the notebook would run everyday productivity tasks, such as spreadsheets and video calls. In PCMark 10, it scored 5,214, substantially higher than the 4,220 on the Razer machine.
Of course, it is unfair to compare with a thinner and lighter Razer laptop that is made more for portability. However, this serves as a guide to the difference you get with a top-end gaming notebook.
Besides performance, there are a number of other things to like about the Asus notebook. The keyboard, for example, is said to offer 1.4mm travel and it doesn't disappoint when you type on it.
Of course, with the keyboard mounted at the bottom edge, you have to make sure you get some space to be comfortable typing on it. The keys are also responsive in games, though I suspect you might have a spare keyboard for gaming as well.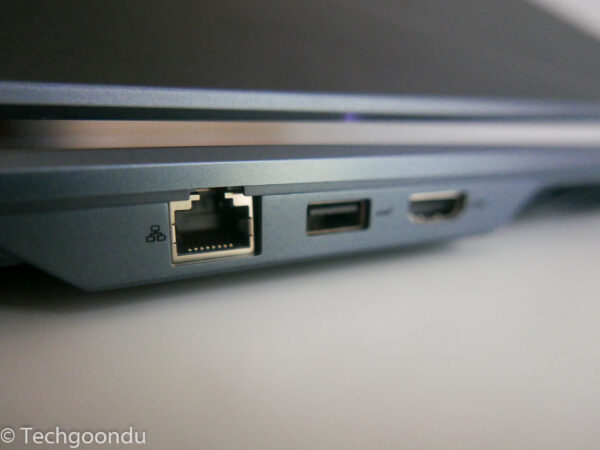 On the sides of the Zephyrus Duo 15, you will find a number of useful ports. You get four large USB ports, including one that doubles up as a DisplayPort, Thunderbolt and power delivery link.
At the back, there's a full-sized Ethernet port, which lets you connect to a home or office network directly if you don't fancy the Wi-Fi 6 that's built in as well.
The two 4-watt speakers that are connected to a useful ESS Sabre HiFi DAC are decent enough, delivering heft and balance unusual for a notebook.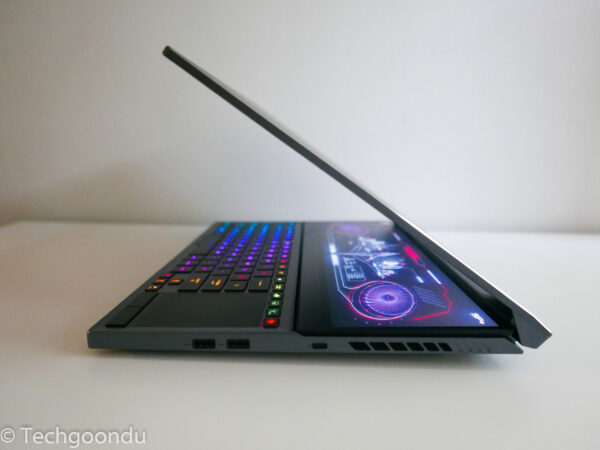 However, when the fans spin up at full speed, they can get pretty loud and can drown things out a little.
I'd recommend a pair of headphones, as you'd likely be using them anyway for in-game communications, to keep the noise out.
Costing a hefty S$6,998, the Zephyrus Duo 15 isn't for everyone. It's a crazy price to pay for the latest in gaming notebook innovation, which for a change, actually works in its very first iteration.
Certainly, this notebook is in the exclusive dream PC category, which means you drool at it from afar, then move on with life and buy a cheaper PC that you can actually afford.