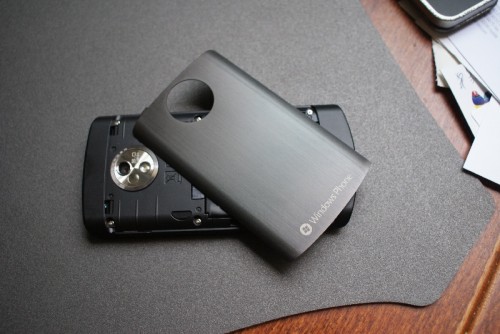 I'll be honest, when I first compared LG's Optimus 7 with the other Windows Phone 7 (WP7) devices from HTC and Samsung, I was least impressed by this rather regular-looking number.
The HTC HD7 has a larger 4.3-inch screen showing off all the glory of an engrossing game or simply more of a webpage, while the Samsung Omnia 7 gets first impressions right with a bright, 4-inch Super AMOLED screen.
What does that leave LG and the Optimus 7 then? It has a smaller 3.8-inch screen and a by-now-regular 5-meg camera. Well, that doesn't seem to excite the senses in a season that is being flooded with new smartphones running WP7 and Android, does it?
That early impression, however, has changed a little after I checked out the Optimus 7 in more detail in the past couple of days.
I like the fact that the camera at the back is mounted on a solid, metallic frame. At the same time, the cover that protects the battery and other internals is made with real metal, with a true, brushed metal fascia, instead of a regular faux metal plastic case.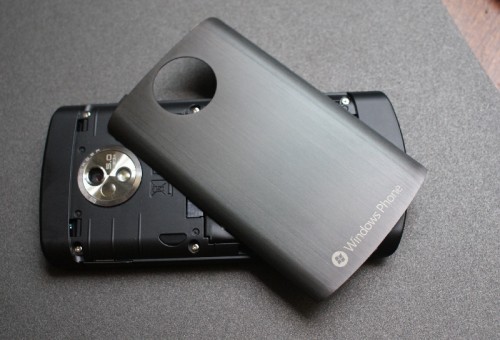 Other nice touches: sloped top and bottom end that give the phone a dynamic feel, as well as an understated matt black finish that does not attract fingerprints as easily as shiny finishes.
Geeks may not find these design features as important, as say, the size of the screen or software included. But for folks buying their first smartphone, as well as people who prefer a rather "regular" sized screen that they have been used to with their previous smartphone, the Optimus 7 fits the bill.
It helps too that it runs WP7, which looks really sharp in most of the areas that count.
WP7 impresses
Let's start with the home screen, which basically gives you most of the stuff you use every day – a phone dialer, a "people" tile that gives access to Facebook updates as well as contact numbers, SMS, e-mail, Web browser and more.
My wife, who had always struggled to find a dial button on her Motorola Milestone (Android 2.1), immediately took to the tile system on WP7. And she loved it because it was easy to get started. For many users like her, WP7 works out of the box with what they are used to. Android may be more powerful, but it requires some customisation, say, in adding a contact on  the main screen.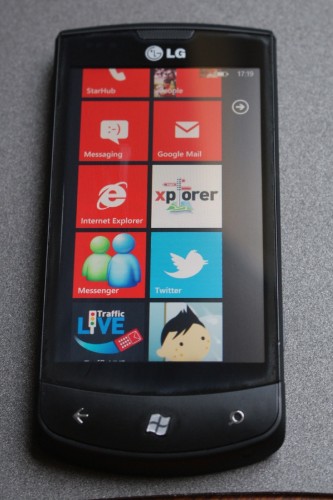 WP7 also impresses with its UI. It's snappy, it's got eye-catching animation and it has everything packaged in a simplicity that usually eludes Microsoft.
The SMS feature, for example, is presented in clean sans-serif font, and the text balloons in a conversation are in neat rectangles instead of useless (and ugly) balloon shapes like in some iPhone or Android apps. Another example: the three buttons at the front – back, Windows (home) and search – will ensure that new users are not swamped with options they do not understand or need.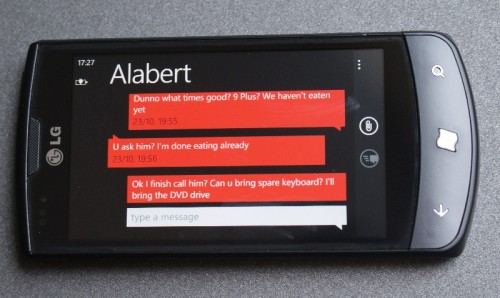 Of all the WP7 features, I particularly like the integrated Facebook updates, which appear on the People/What's New screen. Once you have set up your Facebook account, this screen streams all the updates your friends post on the social network, without having you fire up a separate app.
It's fast, it's neat (even loading with pictures, which Tweetdeck doesn't do) and it's better than the Facebook experience on both the iPhone and Android, I dare say.
Yet another change from previous Microsoft offerings is seamless integration with non-Microsoft services. Instead of locking you in with Windows Live, WP7 is smarter by trying to meld what you have on other networks – Google and Facebook, for example – into a seamless whole.
Contrary to some reviews, I had no problems getting everything I had on Google – calendars, e-mail and contacts – onto the Optimus 7. Five minutes was all it took, which was surely way better than what I faced when I moved from Windows Mobile 6.5/Outlook to Gmail/Android earlier this year.
Clearly, switching to WP7 is a cinch in areas that matter the most. I still had to link or unlink some of my contacts who appear on multiple networks (say, Facebook and Gmail), but that's what I did when I started using my Nexus One as well.
What Microsoft could have done is to let you filter contacts with phone numbers. This makes it easier to dial someone in an instant, instead of scrolling through all the contacts. Also, it'd be great if there was a dialer like what you get on HTC Sense-enabled phones, which offer a predictive text search of contacts as you tap the dialpad.
Improvements?
Microsoft should also include Twitter in the social networks that WP7 syncs with out of the box. For now, Twitter feeds appear when you click on a friend's details, but they do not meld with the Facebook updates, for example. For that, you have to download Seesmic for WP7.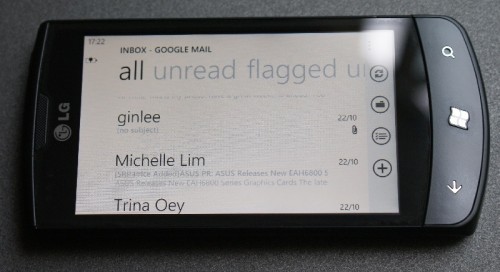 Among the other things that impressed, I must say the mail app is excellent in its simplicity. A flick of the finger brings you to your unread, flagged or urgent messages. The only thing I miss here is threaded messages, which keep your screen from being cluttered by a long e-mail chain.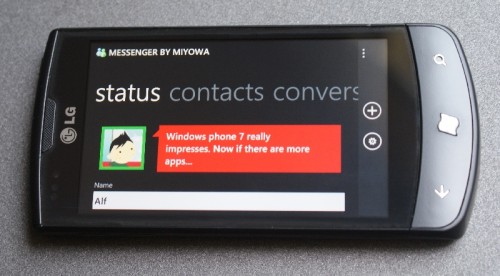 Microsoft should also have included Messenger and other online chat services out of the box. Right now, there's a downloadable app for MSN Messenger, but you'll probably have to wait a little longer to connect to, say, Google Talk. Even then, without multi-tasking in the OS, you find yourself being signed out when you try doing something else like fire up the browser. That's a big downer.
Apps also bring up the main weakness for a new OS that wants to rein in existing leaders. While Microsoft's Marketplace is easy to use – I downloaded several apps at a go – it has to be beefed up with more good stuff. Think Cut the Rope and Angry Birds, for example.
There's also no Zune store here for Singapore, as Microsoft announced at the launch here. So, you'll have to rely on, say, SingTel's smaller music store to get your songs.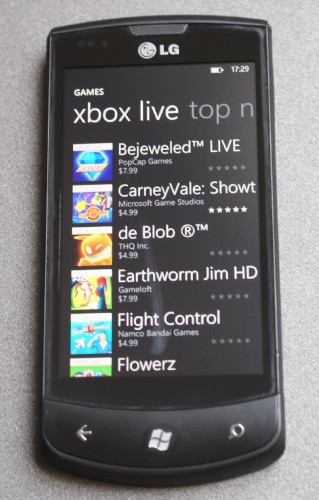 What Microsoft has going for it is games. Leveraging on its successful Xbox Live network, it can quickly bring developers onto its mobile platform, which it claims is easy to work with once they have done stuff for consoles and PCs.
For consumers, it's also easy for Microsoft to upsell, say, a mobile version of a console game they are already playing, since WP7 users easily sign in to the Xbox Live network on their phones.
Conclusion
As we approach a holiday season filled with endless smartphone choices, I would readily recommend WP7 and the Optimus 7 to new smartphone users. For them, I'm pretty sure the phone is easier to use out of the box than the iPhone and many an Android device.
WP7 is not for everyone, of course. Geeks like me will probably stay with Android for a while longer, given that apps are coming in faster than before.
Plus, some things still work better on Android:
Google Talk (no support on WP7 yet)
Google Maps with Street View (WP7 maps are really rudimentary, by comparison)
multi-tasking (chat on MSN Messenger while surfing, for example), and
support for Adobe Flash (I watched a Wayne Rooney video interview on my Nexus One as news broke of his contract saga).
Still, what WP7 has brought to the table is another great option for new users, who may not use all the above features on their phones. If Apple thinks it knows everything you need, and if Google Android gives you a totally blank slate, Microsoft has smartly chosen the middle road – offering just enough of what you need out of the box while letting you customise and download add-on apps for areas that you like to change.
For that, I'm sure it will win new fans.