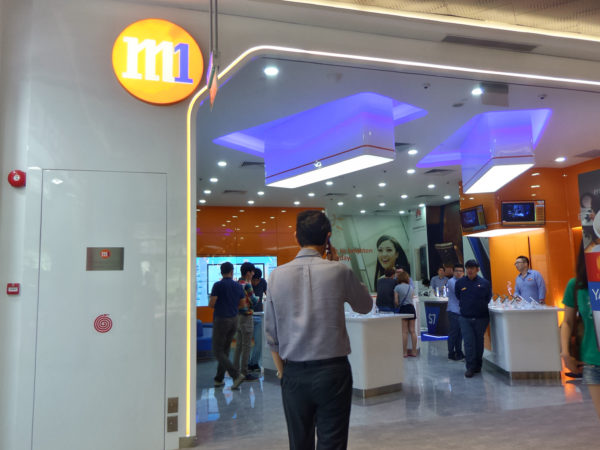 M1 has launched a nationwide network that will connect up smart sensors in buildings, vehicles and other places in Singapore, as more such devices come online in the so-called Internet of Things (IoT).
Using a technology called Narrowband IoT (NB-IoT), the network is the first such commercial nationwide deployment in Southeast Asia, the telecom operator said today.
Connecting to the new network, devices will use a lot less power because they don't require a high-bandwidth link like with regular 3G or 4G networks. The technology also promises to provide robust indoor penetration.
The NB-IoT network does not require a massive retrofit, because some components will be shared with its current 4G network, even as others are upgraded to handle the different frequency spectrum, M1 executives explained last year, when embarking on the rollout.
The technology opens up fresh opportunities and innovation, said M1 chief executive Karen Kooi today, adding that it would be working closely with government agencies, technology partners and customers to enable new smart solutions.
Earlier in the day, Singtel had said it would be completing its own network to connect up smart devices and sensors by the end of next month. Besides NB-IoT, it would also support a similar technology known as CAT-M1, which offers more bandwidth and less latency.
A distinguishing feature of Singtel's cellular IoT over CAT-M1 network is that it enables businesses to make VoLTE calls in future using small portable devices with long battery life, such as wearables and trackers with voice capability, Singtel said in a statement.
StarHub, meanwhile, told Techgoondu that it is currently rolling out an NB-IoT network across the island and installing gateways and sensors to facilitate ongoing solutions trials. These include tamper-proof locks for urban logistics and smart water metering, according to a spokesman.
For M1, the main focus now appears to be commercial customers. Among its first is Keppel Electric, part of Keppel Corporation which also owns M1 shareholder Keppel Telecommunications & Transportation.
The energy company is deploying power and water meters to customer premises faster and more cost-effectively by making use of M1's NB-IoT network to track usage, it said today.
This means customers can monitor how much electricity they are using in real time, a feature that Keppel Electric hopes to win over customers with as the electricity market becomes fully liberalised next year, said general manager Janice Bong.
UPDATE 08/08/2017 9:05am: Story is updated with StarHub's input.