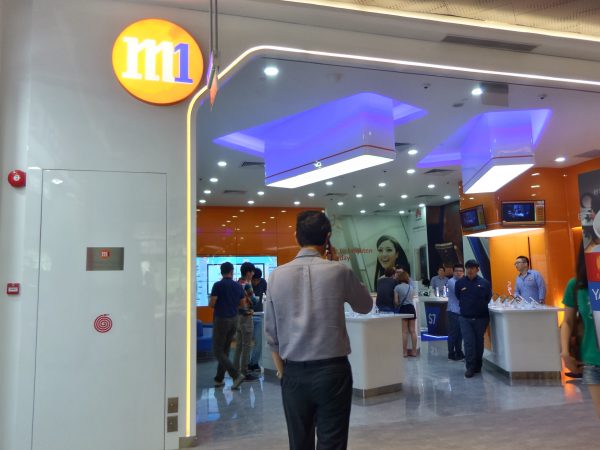 M1 is set to scale up its wireless coverage in Singapore in the next year with an initial S$50 million investment in a heterogeneous network (HetNet) that boosts speeds to more than 1Gbps and a separate one aimed at sensors, wearables and other devices that need less bandwidth.
The HetNet rollout, which uses Wi-Fi to help boost the bandwidth available to users, will be targeted at MRT and LRT stations, malls and popular outdoor areas such as Marina Bay and Clarke Quay.
It will benefit users who often find themselves in a jam in high-traffic areas. Touted as the first such commercial nationwide rollout, M1's HetNet is slated to provide download speeds of more than 1Gbps by next year.
Previously, M1 had run trials at the Paragon mall, the Orchard and Raffles Place MRT stations and multiple locations in Jurong East, as part of the government's HetNet trials last year.
Speed boosts in the trial were as much as 60 per cent, the telecom operator claimed yesterday, in a media briefing.
While that network caters to heavy users who stream videos or songs on the go, a separate network that M1 is setting up at the same time is aimed at the smart cars, sensors and even wearables.
This so-called narrowband Internet of Things (NB-IoT) network, when up by the first half of next year, will help connect up smart devices that require less bandwidth than a smartphone or tablet.
New versions of fitness tracking bands may be able to connect wirelessly to this network on the go, without having to be tethered to a user's phone, like now.
With the network, courier companies can track their vehicles without having to place a SIM card in each one of them to hook up to current 3G or 4G networks, as is the case now.
Connecting to the new network, devices will use a lot less power because they don't require a high-bandwidth link. The technology also promises to provide robust indoor penetration.
This NB-IoT network, supplied by Nokia, is built on M1's existing 4G network. It does not require a massive retrofit, because some components will be shared even as others are upgraded to handle the different frequency spectrum, M1 executives explained.
They said pricing will likely vary with each solution or package, with some companies saving costs from deploying large amounts of connected sensors. However, others that require the bandwidth, say, to deliver surveillance videos over the air, would likely stick with existing 4G networks.
And while many NB-IoT devices are still on the drawing board – standards for the network were only finalised in June – M1 executives were upbeat about jumping on the bandwagon early.
Alex Tan, the telco's chief innovation officer, said the technology would open up new business opportunities in the years ahead.
He cited an example in the United States, where car owners voluntarily install wireless sensors in their vehicles to allow insurance companies to track their travels and potentially offer them lower premiums.
"There will be many more services that we may not even know now that may be possible in future," he noted.