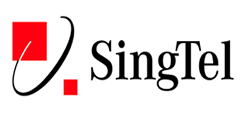 SingTel says it is restoring connections to its 3G services this evening, after a "software glitch" made it difficult for many users to make calls, send SMSes and surf the Web on their phones today.
The Singapore telecom operator posted on its Facebook page, an hour ago, that the issues were intermittent and services were being turned back on progressively. It said:
Hi everyone. The cause of the intermittent issues faced by some of our 3G customers has been traced to a software glitch. Our engineers are restoring services progressively this evening. Again, we apologise for the inconvenience and thank you for your patience.
Throughout the day, many SingTel users had taken to Facebook and Twitter to complain about being unable to log on to the network, and receiving only weak or unstable signals. According to one report by ZDNetAsia, the disruption for some users has been ongoing for two days.
In the afternoon, the telco admitted that it was experiencing "intermittent service interruptions on our 3G network in some areas". It recommended that users log on to its 2G network instead.
The outage comes less than three months after SingTel launched the country's first "priority lane" mobile broadband service, which promised faster "typical speeds" for users who paid for more expensive plans.
With a mobile customer base of more than 3.42 million, Singapore's biggest telco though is not the only one plagued by network problems of late.
In May, M1 users were locked out of their network and unable to make calls or send SMSes because of a problem with a customer management server. As a form of apology, the "orange" telco later offered a day's worth of free calls and SMSes to customers.
More than just irksome interruptions to users, these network glitches are likely to raise questions about telcos' ability to cope with the enormous growth of mobile broadband usage, which has exploded by several hundred times over the past few years with the arrival of smartphones and tablet devices.