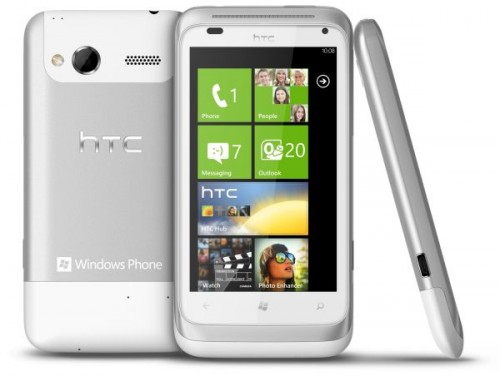 HTC is shipping its first smartphone with Microsoft's much-awaited "Mango" version of Windows Phone come October, and the price of S$569 – well below the usual S$800 to S$900 for top-end models – is likely to make rivals sit up.
The HTC Radar will come in the Taiwanese phone maker's usual unibody design seen in other popular makes like the Sensation and sport a number of mid-range features. These include a 3.8-inch screen and a 5-meg camera, capable of a useful f2.2 feature for shots with low depth of field, which will complement Microsoft's standard features such as Xbox Live games offerings.
The highlight is obviously Microsoft's latest Windows Phone OS installed on the phone. Version 7.5, or simply "Mango", offers much-needed updates, like true multi-tasking, to the otherwise well-made and easy-to-use version 7.0 we had tested late last year.
The "tile" system is retained so it'd be a no-brainer for folks using touch-screen phones the first time, plus this time, they can also keep an instant messaging chat going despite a phone call coming in (see Techgoondu preview here).
The question is whether users already used to Apple's iOS and Google's Android would move to Windows Phone now.
It seems the folks at HTC are content to go after the early adopter market with the HTC Radar's mid-end pricing, which is a smart move. With the right operator discounts, sometimes coming up to S$400 or more, the HTC Radar could be an attractive option for users looking to buy their first touch-screen phone.
These users are also likely to be looking for their first apps online, so the experience won't be as difficult as, say, an Android user switching over to Windows and having to look for alternatives to all the apps he's been used to on Android Market. Windows Marketplace, after all, is still very much a work in progress that needs a critical mass of new users to help grow its ecosystem.
All eyes are, of course, still on the high-end space that's perhaps been left to Nokia and its much touted Windows Phone to be expected in the coming months. From what we've seen of "leaked" videos and photos, Nokia appears to  have some good hardware on the way. But to win over high-end users, the fight is going to be tougher because it would involve pitting the much smaller Windows Phone app ecosystem against app marketplaces that have had several years headstart.