A couple of days after the next major software upgrade to the Windows Phone 7 platform was announced in the US, Singapore too got its taste of "Mango" on Friday, as Microsoft offered the media here a preview into what's in store for this up and rising mobile operating system.
The Mango release will be available to all current Windows Phone 7 models for free as a software update later this year, with Q4 as the projected time frame. Microsoft also mentioned that Nokia Windows Phones will be the first phones to ship with Mango, so we can speculate that we'll see at least one model from Nokia this year.
Just this week at the Japanese Microsoft Developer Forum 2011, Microsoft CEO Steve Ballmer mentioned "over 500 new features" in Mango. But in line with keeping things simple for the end user, the company is focusing on three key themes: communications, apps, and the web.
Communications
Mango features a more integrated approach to managing your communications, including an all new messaging hub where your SMSes, Facebook chat and Live Messenger chat are all integrated into one thread so you don't have to jump from app to app. Contact groups will also be available, and also the ability to link Twitter and LinkedIn contact info on top of your existing contacts.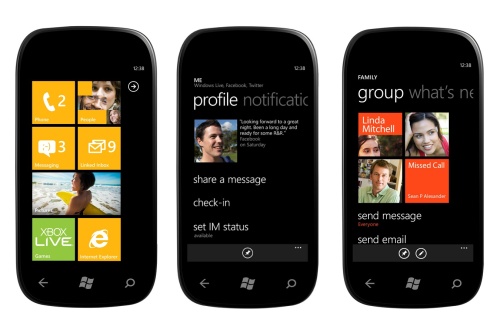 Your emails will be threaded, making them immensely easier to sort and read. Mango will also support multiple email accounts in one inbox; that means no more jumping between tiles just to check your emails. On top of all these, built-in speech-to-text and text-to-speech will aid in composing IMs or text messages when your hands are not available.
Microsoft's integrated approach is certainly welcome. After all, when we want to communicate with our friends, we want to do it regardless of what platform they are currently on. Taking the focus away on apps and putting the spotlight on communication itself makes a lot of sense.
Apps
One of WP7's most striking features is the use of dynamic tiles for apps instead of icons. Apps are also grouped into "hubs" for easier access. In Mango, Microsoft further expands this functionality by boosting the type of information live tiles can display by allowing developers access to a whole new set of APIs.
The mentioned hubs are also beefed up. Microsoft encourages developers to tap into hubs so that their app appears there instead of in a long list. For example, a YouTube app could appear in the Music and Videos hub, so that users can logically find them without much trouble. Virtually all the hubs will see some redesign to enhance usability and functionality.
But here's a weird little thing: Microsoft seems to be waging a war against millions of little apps peppering our mobile screens by touting tight integration and a focus on tasks, yet they are proud to declare that their Marketplace for Windows Phone has now surpassed BlackBerry App World in the number of apps, and that it is now the fastest growing app store among its competitors.
Still, apps are central to a platform, and we're happy to see more quality apps appearing. Coupled with other improvements such as multitasking, Windows Phone 7 is certainly catching up in this respect.
Web
If you have a smartphone, chances are you surf the Web on-the-go quite a bit. Mango comes with Internet Explorer 9, which runs the same rendering engine as the desktop version of IE9. Mobile IE9 is comparable to desktop IE9, complete with hardware acceleration and support for HTML5. In a speed test conducted by Microsoft (see video below), mobile IE9 appeared to blow the competition away.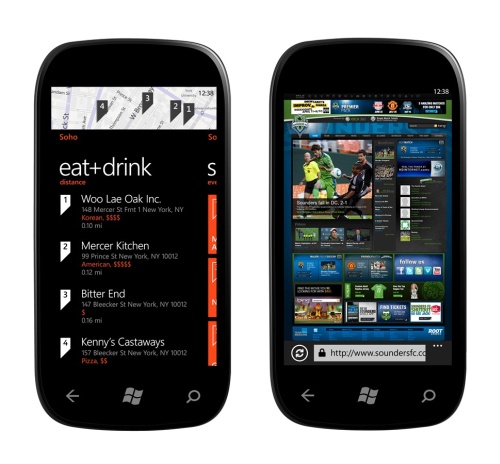 With Mango, Microsoft is also stretching the definition of the Web beyond the browser. The search button, which fires up a Bing app, is no longer a copycat of Android. The principle of getting things done without too much focus on an app is also evident here – called "local scout", a search on Bing brings up a variety of information based on your location, including places to go and things to do nearby.
Bing will also incorporate visual search (Bing Vision) and music search. Visual search makes use of your device's camera to scan barcodes, QR codes, Microsoft tags or even just the object itself and explore the relevant embedded information without the need for a third-party app.
Music search offers Shazam-like functionality, and gives detailed information about music that your phone "hears", including song title, artist information and album title. Let's take a look at the demo of these new "Web experiences":
But here's a caveat: as awesome as local and music features sound, they rarely make it out of the US due to various restrictions. Even now, on current Windows Phone 7 phones, you cannot search within the map app in Singapore without a workaround (which is really lame). Marc Hopstein, Windows Mobile Business Group Lead of Microsoft Asia, promises that they are "working to expand Bing globally", but there's no telling when such features will arrive.
Now, we wait…
These are but a few of the hundreds of improvements coming to Windows Phone 7, and we're starting to see why Nokia chose to bide its time instead of rushing a WP7 device to the market. Mango is an excellent upgrade which brings WP7 up to par, and in some areas, even surpasses iOS and Android in features and functionality.
As a WP7 user myself, I simply can't wait for the upgrade to come. And now that we know the upgrade is free for all current phones, you know you can't go wrong buying a WP7 phone now! On the flipside, some might choose to wait for WP7 phones with more attractive specs to appear pre-installed with Mango in light of all the monster Android phones in the market.
Meanwhile, here's the YouTube playlist for more Mango videos and cute demos.