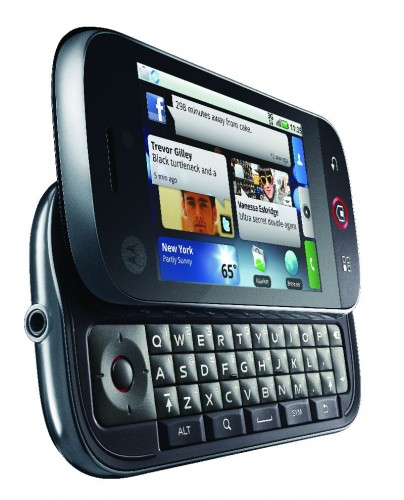 A nice "plugged in" social media phone. That's how I'd view the new Motorola Dext, which is being put on sale by SingTel  this Saturday (Jan 23).
One of Moto's "comeback" phones featuring the now-hot Google Android OS, the Dext comes with a slide-out Qwerty keyboard as well as an ample 3.1-inch screen offering a not-too-shabby 320 x 480 resolution.
SingTel is the first to bring the phone to Asia, as part of an exclusive deal with Moto that will last at least six months. According to Spiros Nikolakopoulos, Motorola's vice-president and general manager for Asia Pacific and international distribution, this exclusivity can be up for renewal.
This means SingTel will have, for a while, one of the best Android devices, sans the Google Nexus One, of course.
What of the hands-on experience? First off, the keyboard, with the "popped up" keys, are easy to type on, especially if you really don't fancy learning how to type SMSes on an on-screen keyboard.
But the star of the phone is the MotoBlur feature. This essentially ties up all your "social" activity with people through a single interface. You can add your Facebook, Google, Twitter and other social network accounts onto MotoBlur and it bascally shows you what's up with your friends on each of the networks.
Of course, you also get to view a history of all your interactions with your friends on one screen, without having to flip through Facebook or e-mail to reach someone.
You can also do this on the iPhone with third-party apps, or on several HTC phones which keep all your call/SMS/e-mail history with each contact.
But Moto does it with a nice interface that lets you in on an otherwise troublesome series of menus and programs. On my older HTC Touch Diamond, for example, I have to switch from Facebook to Twitter to check what's going on with some of my pals.
On the Dext, you simply do this with MotoBlur.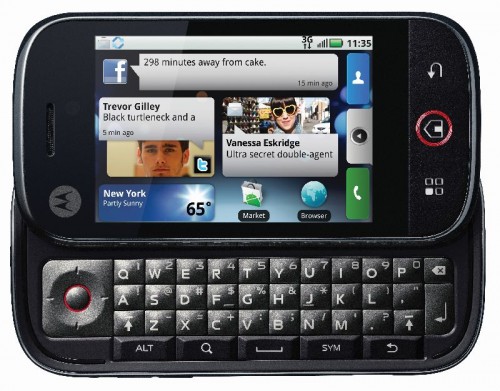 The phone also ticks other boxes, for example, a 3.5mm audio jack for your own earphones, a pretty speedy broswer to surf the Web on and a handy 5-megapixel camera for snapshots.
All this, of course, is no comparison with the slimmer, faster and sleeker Google Nexus One. For one, the Google phone has a bigger 3.7-inch screen with a sharper resolution of 480 x 800. The Nexus One also runs Android 2.1, while the Dext runs 1.5 (it can be upgraded by June, says Moto).
However, the Google phone is going for about S$800 (with delivery and a local electric charger), and there is no telco selling it at a discount now. In comparison, the Dext is going for an affordable S$348 or less with SingTel subscription plans.
To be honest, we're a bit disappointed the Moto Android arriving in stores is not the much-touted Milestone, essentially a W-CDMA version of the American CDMA-based Droid that truly rivals the Nexus One.
The official explanation from Moto, when asked by reporters, is that it preferred to ship the Dext, which comes with the MotoBlur feature.
If you are looking for a phone right now, my advice is to go to a SingTel shop and try out the Dext's MotoBlur feature. No, it does not have the dangerous slim lines on the Nexus One to seduce, but it does a hell of a job keeping you in touch – at a good price. I'm certainly hoping MobileOne and StarHub carry the Dext soon.
[nggallery id=17]