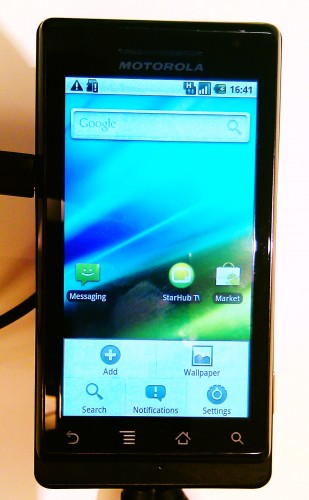 Just a day after we got our claws on the Motorola Dext, we managed to slime up the screen of an upcoming Motorola Milestone with our first hands-on with the much-awaited Android 2.0 phone.
Yes, folks, the slide-out keyboard gizmo touted as a step up from the Dext is coming to Singapore within the next couple of months from StarHub.
How do we know? The phone was put on demo today at StarHub's launch of its new mobile TV service, and the much-awaited Moto Milestone was among a list of devices that will roll out with the service the latest by March.
Whether or not StarHub has got an exclusive deal on this device, the folks here today were pretty coy. But it's interesting that SingTel, while launching the Dext yesterday, mentioned nothing about rolling out the Milestone themselves.
We also don't have any pricing details for now. But we can say, from a quick hands-on, that it will be one of the few phones that can really challenge the current "it" phone – the Google Nexus One.
My first impression is that Motorola's Milestone is a well-made phone, in the sense that the feel is solid. The keys also seem like they can take a pounding from compulsive SMS and e-mail users.
The keyboard surprised me in its ease of use as well. Despite being almost flat to touch – usually keyboards featuring "pop up" keys are easier to access – the Milestone's keys are excellent and accurate to type on. How do I know?
I did not make a single mistake typing out "the quick brown fox jumps over the lazy dog", which is a rare feat for my stumbling fingers!
For a slider phone, the Milestone also feels amazingly slim. I'd had easily slipped it into my shirt pocket, if I were a thief, and the StarHub folks won't have noticed a thing bulging on my chest (save the jokes, please).
Anyway, check out the rest of the specs on the Moto site. The X-factor – or "chio-ness" – still belongs to the Nexus One, if you ask me. But if you want more practicality – in the form of a keyboard – then the Milestone is worth waiting for from StarHub.
What's clear is you can forget about the iPhone, folks. This year is shaping up to be the year of the Android…. and I haven't told you of at least one more Android gizmo (link added after this report first went live) coming soon from the folks from HTC, which I have managed to get a glimpse of and was just as impressed.
So, here's the advice: just wait if you can't bear paying Google about S$800 for the Nexus One – the smartphone market is really opening up this year with lots of choices.
[nggallery id=18]