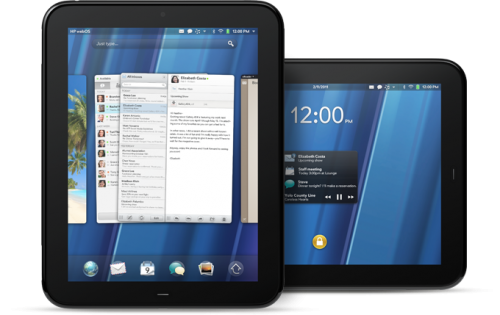 The tablet wars are heating up, and for those of you holding up for a decent iPad competitor, such as the Motorola Xoom, you now have one more item to consider.
Although rumours have been swirling for months, Hewlett Packard (HP) today officially revealed their take on the tablet: the TouchPad. The company also added two smartphones to its lineup: the Veer and the Pre 3. Until we get a hands-on with the actual devices, here's a brief overview of what was announced.
The TouchPad
The TouchPad sports a 9.7-inch capacitative touch screen with a 1,024 x 768 resolution, a front-facing 1.3-megapixel webcam for live video calling, 802.11b/g/n Wi-Fi with an option for 3G connectivity, and 16GB or 32GB storage options. Slightly more unique specs are the 1.2GHz dual-core processor and the HP-branded Beats audio.
But as any tech pundit can tell you, "It's the software, stupid!" In that respect, WebOS performs beautifully. Other than the standard dock at the bottom and notification bar on top, WebOS features "activity cards", which is perhaps the best implementation of multitasking on a mobile device.
It also supports Adobe Flash, and wireless printing to compatible networked HP Printers. There's also a smart "Just Type" bar, which lets you type a chunk of text first before choosing what to do with it. This means you can write an e-mail or tweet without having to launch an app first! The soft keyboard, too, is brilliant, letting you change the size of the keys to large or small according to your comfort level.
On top of all this, HP has built in their Touchstone technology for wireless charging. It also makes for a more connected experience between the Touchstone and other WebOS devices. For example, you can start reading a website on your TouchPad and tap your phone to continue reading on the go. The Touchstone is sold separately.
But what about apps, you ask? HP is in the midst of re-designing its App Catalog, but lots of apps will be ready at launch sometime in the middle of the year, including the all-time favourite Angry Birds game, Time magazine, Last.fm, and of course, Facebook.
The Pre 3 and the Veer
Palm didn't give Singapore any love for its first two Pre smartphones, but we hope HP will, because these two smartphones look pretty decent.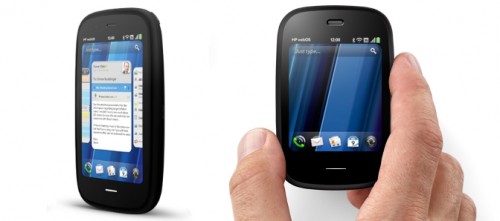 The Veer (pictured, right) is a small-ish device that looks a little like Sony Ericsson's Xperia X10 mini pro with a portrait slide-out keyboard instead a landscape one. Despite being tiny, it packs quite a punch, with an 800MHz processor, a 5-megapixel camera, 8GB of storage space and the ability to serve as a mobile hotspot.
The Pre 3 (pictured, left) is more of your typical smartphone. Under the 3.58-inch multi-touch display (800 x 480 resolution) breathes an 1.4GHz processor. A front-facing camera supports video calling, and a rear camera, capable of shooting HD video, comes with autofocus and LED flash. Both the Pre 3 and the Veer are support the Touchstone.
Round-up
All three devices will be shipped in the summer. That's a pretty long time in the tech sphere, and we have doubts as to whether their specs will still be considered good by that time. There is also no word of an Asian release, so we probably have to wait a few more months on top of the projected timeframe to get our hands on them.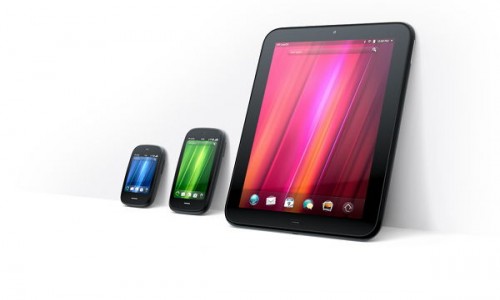 But the TouchPad looks like a serious contender from HP, and if priced right, could seriously hurt iPad sales. That is, of course, assuming that Apple doesn't respond with a second iteration of the iPad, with the Wall Street Journal reporting that it's already in production. The TouchPad will also have to prove its mettle against the Android-powered Xoom, one of the most anticipated tablets since the iPad.
HP has all but dropped the name Palm in their product naming, but all in all, it seems like the future of WebOS is in good hands. They've even promised to upscale WebOS onto computers, which sounds like a challenge to Chrome OS to us. Meanwhile, be sure to check out HP's landing page for these three babies.
Are you excited about HP's latest offerings? Let us know in the comments!