Talk about mobile TV brings me back many years – maybe as many as five years – when the first 3G phones came to town in all their bulky and overheated glory. Who can forget how pixelated and jerky the mobile TV or videos were when they were demo'd on these early 3G wonders?
Thus, seeing StarHub launch its new mobile TV offering today reminds me of how far we have come in mobile phone technology.
It's no wonder StarHub's new CEO Neil Montefiore, facing the media for the first time in his new role, kicked off the launch today by stressing how much things have changed since those lousy mobile TV programmes of old.
Phones today, he notes, are faster and smarter. Networks too, are keeping up with bandwidth over the air. And finally, the content is appreciated now  – young audiences are no longer averse to watching news or sports on the small screen.
What do StarHub have on offer then? Essentially 24 channels – including CNN, Disney and TVBJ – will be viewable on the small screen for just $1 a day. If you like what you see and want to view it everyday, there's a $25-a-month subscription that you can sign up for.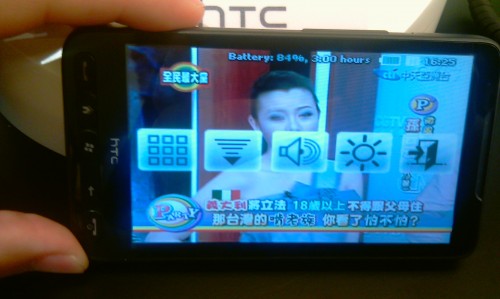 The service is available on a wide variety of platforms, from Blackberrys to Androids to eventually the iPhone and Symbian phones. The StarHub TV on Mobile service has been tested on 16 handsets – including upcoming models like the Motorola Milestone. And yes, Nexus One users can tune in, even though it's not on the list of phones because it is not officially sold by StarHub.
To tune in, you'll have to use your phone to download an app from the StarHub Gee portal. This gives you an excellent view of not just a TV programme but also the electronic programming guide (EPG), which is pretty nifty.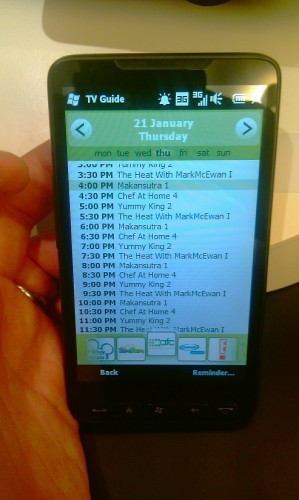 The best experience for me, from trying out the different phones on show today, is arguably on the HTC HD2. The fact that it has a massive 4.3-inch screen helps, of course. But more importantly, the interface is top-notch. A semi-transparent interface pops up on-screen if you want to change the volume, for example. And the touch-screen lets you slide along the different channels to tune in.
Kudos go to the SPB folks, the developers that StarHub hired to develop the mobile TV app. I'm told a team of them flew down to Singapore to handle the job – and the effort shows.
The only problem I can detect is a few seconds' lag when changing channels. That's essentially for buffering the content, since it is streamed over the 3.5G network. It's something I can live with.
The bigger question is whether this demanding service will take a toll on a cellphone network that is already taking on an increasing amount of searches on the Net and refreshes of Facebook pages. StarHub says it can handle the load – we'd take their word for it for now.
Another question is whether there will be just as big an audience when live Premier League football goes out of the StarHub lineup of programmes. Its executives say that news, not sports, was the biggest draw on its previous mobile TV offering, which attracted 100,000 viewers (both samplers and paid users) in December 2009.
But you wonder if this service – like its KaraOk! service launched just last week – was another pro-active attempt at keeping its Hubbing subscribers as SingTel starts trumping up its Barclays Premier League (BPL) advantage come June.
As a consumer, I am not complaining.
Some folks might think it's bad news that SingTel won the BPL rights for the next three seasons. That's half the story. Come August, I'm going to sign up for SingTel mio TV at the same rate I used to pay StarHub for current BPL matches.
I'm going to keep my StarHub TV subscription for the bedroom – at a lower cost without the sports programmes, of course. And finally, I'm going to sign up for $1-a-day access to programmes on TVBJ, for example. This way, my wife will be happy on her small and big screens, while I enjoy my football in the living room.