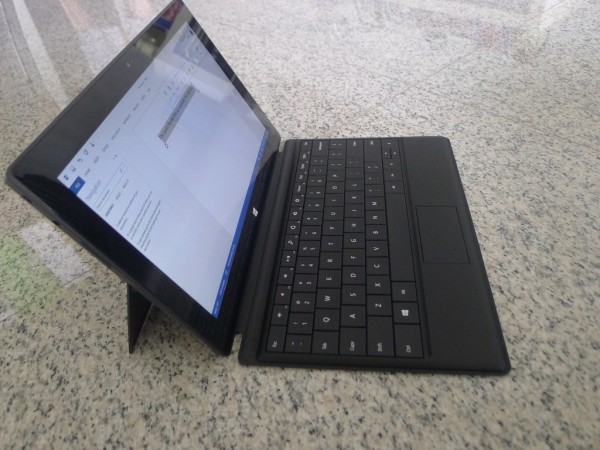 Months after it first appeared in American stores, the much-talked about Microsoft Surface RT finally made it to Singapore over the weekend.
It's a first for a couple of things. It's the debut tablet from Microsoft and it uses the first Microsoft operating system made just for tablets – Windows RT.
In the end, the Surface RT is just going to split opinions. It's got so much going for it, yet it is limiting in ways that can be frustrating.
First, why it's good. I have to say this is one of the most enjoyable tablets around when it comes to being a laptop substitute at meetings. Not an iPad, not a Google Nexus 10, which I have been using.
There are two reasons for this. The Surface RT runs Microsoft Office, or a version called Home and Student 2013 RT, right out of the box. Plus, it supports a couple of truly excellent keyboard covers made specially for it.
The Office app included here means your Powerpoint files don't get messed up, unlike when you open them sometimes on third-party apps on iOS or Android.
The two keyboard covers – an ultra-thin one for touch typists and one with shallow keys for a more traditional feel – both snap on conveniently without adding much heft to the tablet. Plus, they are excellent keyboards, at least when it comes to firing away e-mails or reports on the go.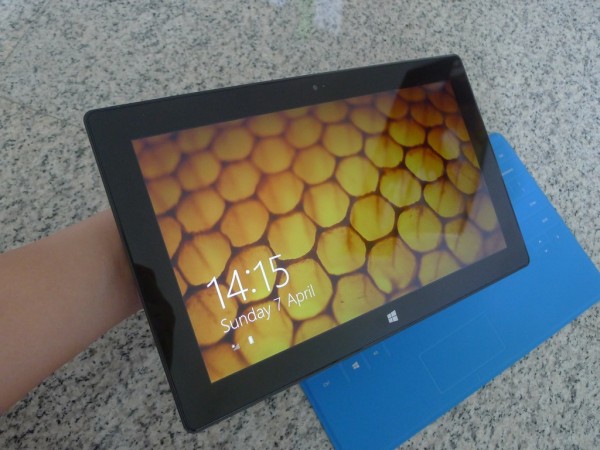 As first impressions go, the out-of-box experience is an excellent one. It helps that the Surface RT is not too heavy – its 680-gram frame is about 30 grams heavier than an iPad, and roughly 600 grams less than a thin and light laptop.
While the 1366 x 768 screen isn't the sharpest around, the 10.6-inch display is helped by Microsoft's ClearType technology, which makes text look rather sharp. This is not magic, of course. Look closely and you'd see the difference between the Surface RT's screen and an iPad with Retina or a Nexus 10.
That's not to say that the screen is poor. Indeed, when I played movies or showed off images on it, colours looked vibrant and the screen appeared bright.
Yet, clearly, the Surface RT shines because of its design.
I really like the built-in kick-stand, which props up the Surface RT at a nice angle for either watching a movie or firing away a report. Yes, the Surface RT is thicker than the iPad or Nexus 10, but it also doesn't require a cover to be propped up.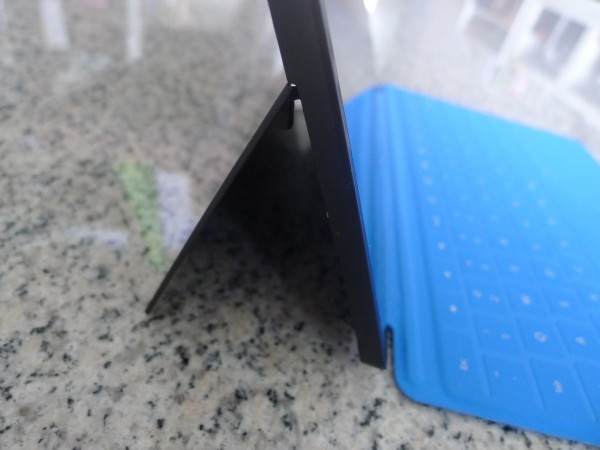 The slightly thicker frame also accommodates a full-sized USB port. You can plug in a USB drive or even a USB card reader without having to resort to a separate cable or software to enable the connection. This works just like Windows.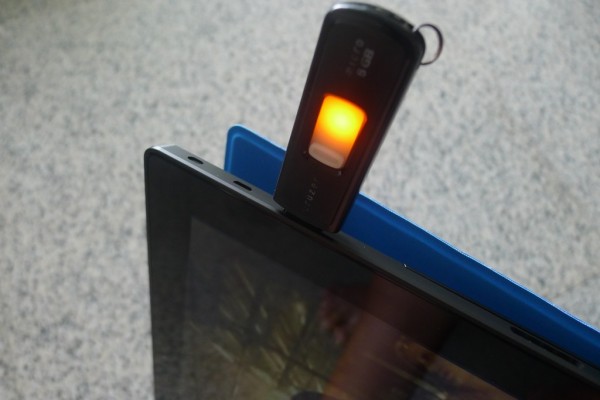 Except this isn't really Windows as you know it, but Windows RT.
This version does not run traditional Windows programs because the Nvidia Tegra 3 chip used in the tablet is based on a design from Arm Holdings, which is drastically different from Intel or AMD chips based on x86
My experience with Windows RT has been generally pleasant. It is usually smooth to switch between apps and the Internet Explorer included is not too bad for speed.
But strangely, on the Surface RT, I had the browser freeze up the screen a couple of times over the past few days. I could not fire up any apps when that happened – usually when I switched between a few apps swiftly – and eventually I restarted the tablet.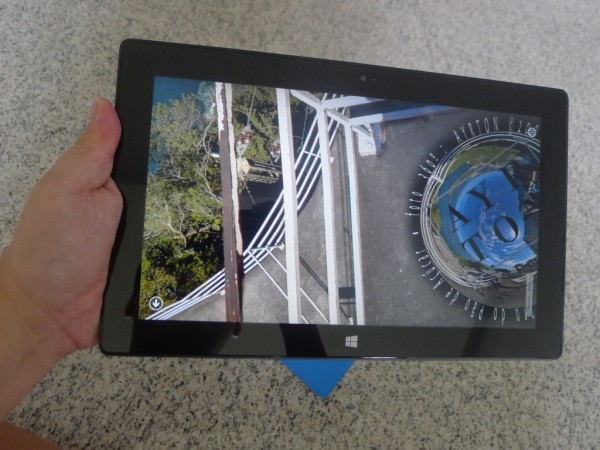 Another bugbear I faced was with Flash websites. Sure, I know they are being replaced by HTML 5 sites, but the Surface RT is supposed to support old Flash sites, as full-fledged PCs still do. But it doesn't seem to do so for all sites.
For some reason, the Flash support built into the browser did not let me play some videos online, for example, at SingTel's miostadium website (accessible within Singapore). It didn't work either in touch-screen or desktop mode. Yet, when I surfed to Adobe's Flash site, the test animation turned up fine.
Since last month, Microsoft is supposed to have opened up Flash support to most sites – except ones blacklisted as problematic – so it's puzzling why this is a problem.
After all, one reason why people choose Windows RT is for the PC-like experience, which they sometimes miss with tablets. By not providing full Flash support, the Surface RT loses potential customers.
[UPDATE 21/04/2013, 2355hrs: I have managed to play Flash videos now on miostadium.com and other sites, after downloading and installing a Windows update that was not available during the initial review. Happy to say that the Surface RT works with Flash sites I've visited today.]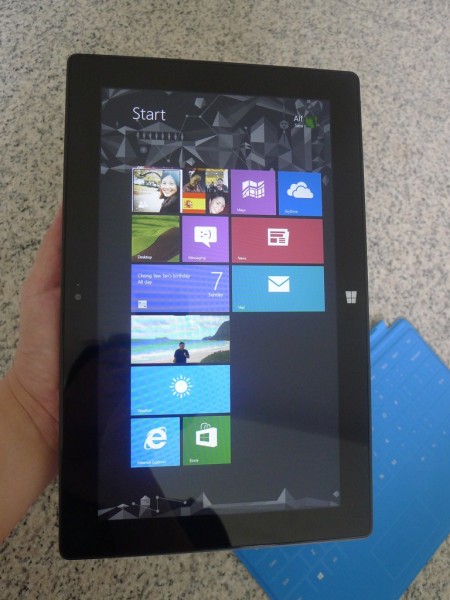 This brings me to the issue of apps. Being late to the game, Microsoft's Windows RT has to convince developers it's worth making software for, after they spend time on iOS and Android. The Windows Store where you have to download your apps tells a story of a new platform that still needs time to mature.
To be fair, some of the most important apps are there. You get your Twitter and Skype, for example. Yet, you miss Gmail on Android, which has improved leaps and bounds lately, and Google Maps which now even has indoor navigation and is arguably the best map app around.
In the end, you're not quite sure what to make of the Surface RT. It's a very well designed tablet – surely, a great companion on the road if your laptop is too heavy to bring along. It has something other tablets don't – Microsoft Office and native support for USB storage devices.
Yet, just when you think this is the future and it's time to junk your laptop, you realise it can't run many of your Windows programs and sometimes, Flash may not work well.
That's why, despite its attractive price of S$668 for a basic 32GB version (without keyboard), the Surface RT will draw a lot of curious glances but many users may stick to the safe iPad or Android route and continue using their PCs.
Alternatively, if they are geeky enough, they might wait for the more powerful Surface Pro, which runs Windows 8 and uses an Intel chip, to arrive. It's more expensive and bulkier, but it delivers a proper PC-like experience.
Like I said, the Surface RT will polarise opinion. Is it a sign of things to come or just a well-designed challenger to the iPad? I can't decide.
I might buy one to find out if I didn't already have a tablet, but I do. As do many users in Singapore. That's the problem for Microsoft.