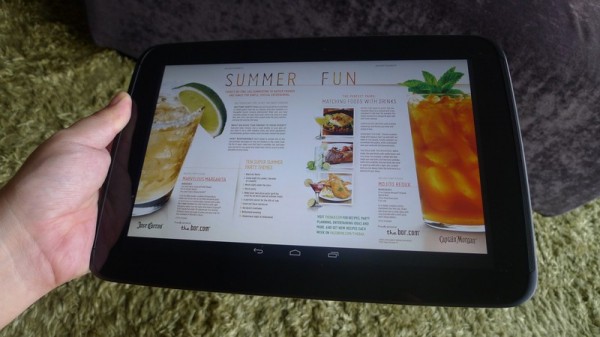 When Google took the wraps off its new Nexus 4 phone and Nexus 10 tablet last month, I was more interested in the US$399 10-inch tablet. Here was a slim, light gizmo with a screen that's razor sharp, plus it runs Google's latest Android 4.2 operating system.
After getting my hands on it for the past few days, I've to say I'm glad I bought it. A friend had helped me order the tablet over the Net and ship it to Singapore. All in, the S$548 I paid, including shipping, was still cheaper than many rival tablets.

One of the first things you'd notice, of course, is the screen. With a stunning 2,560 x 1,600 pixels packed in, it has more and finer pixels than any tablet out there, yes, including Apple's "Retina" iPad.
The 300 pixels per inch here excels especially when you are reading a magazine or e-book or even playing Angry Birds. Also very impressive: high-rez pictures. I know my Bali holiday photos certainly never looked better on another tablet screen (sorry, my photography skills don't really do justice to the Nexus 10 screen here).
I had high hopes, of course, of this Samsung-made device. My previous tablet – the Galaxy Tab 7.7 – had come with a very high-rez 1,280 x 800 for its smaller size. It is also the only tablet sold here that has a bright, vibrant Super AMOLED screen that is a hallmark of the Korean company's top smartphones.
The Nexus 10, unfortunately, does not have that same level of vibrancy. The colours are a little less impactful, to be honest, perhaps because I'm so used to screens where the reds, greens and blues seem a lot more lively.
Some will argue that the less tuned up colours will be more natural and less jarring if you stare at the screen for hours, but if you are used to a vibrant screen, do take note.
On the whole, the Nexus 10 feels well-made, if a little utilitarian. Though it looks like a Galaxy Tab 2, the chassis is dressed fully in black and has the Nexus logo emblazoned on its back.
I have mixed feelings about this. Coated with a semi-rubbery finish, the back panel lets you grip the device quite well. Yet, it doesn't have the luxury feel of an iPad's aluminium chassis or even an Asus PadFone 2's grooved metallic finish.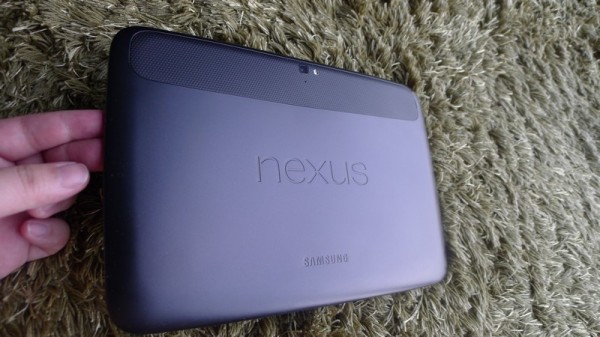 I'm being a little harsh, of course.
At just over 600 grams and with a girth of just 8.9mm, the Nexus 10 is very easy to handle. The iPad with Retina display, by comparison, weighs about 50 grams more and is a fraction thicker at 9.4mm. Not that much difference in real-world terms, but this means the Nexus 10 will handle well if you like the iPad.
Much of the weight on the Nexus 10 is probably taken up by the massive 9,000mAh battery, which Google promises will provide nine hours of video playback. Though I have not tested this out, I can say the Nexus 10 runs for more than a day easily, even when I'm fiddling with it for hours on end.
What you need to note is that the battery takes quite a few hours to charge from zero to full. Part of the reason could be that Google still uses the micro USB port for charging.
That is a good thing if you wish to charge with a regular USB charger, but try to get one that is capable of 2 amperes, or you might be waiting for a long time to fill up the Nexus 10.
There's a magnetic Pogo pin charger on one side of the device, so Google and Samsung may just have a separate rapid charger in the works. There are no details on that now though.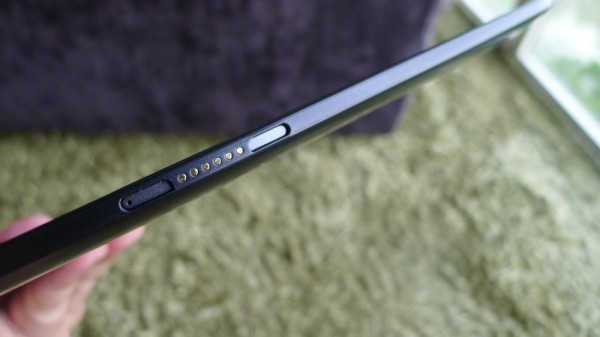 What about the software? Being a Nexus device means this is one tablet that does away with all the useless add-ons that vendors tend to clutter the screen with.
The result? A Nexus 10 that is real fast, zipping through menus and applications, thanks largely to the smooth Jellybean (Android 4.2) interface.
I have no problems viewing large HD videos or flipping through a gallery of pictures taken with a 10-meg digital camera. Indeed, I've never had as smooth an experience, especially when switching between apps, on another Android tablet except the Nexus 7, which also runs "pure" Android software.
It helps that the Nexus 10 has an updated Arm Cortex A15 CPU running at 1.7GHz. It is a dual-core chip, but is still a speedy option with the help of a handy quad-core Mali T604 graphics chip onboard. There's also 2GB RAM, which is becoming common on high-end devices compared to the rather standard 1GB these days.
The result is nothing short of the best Android experience so far. Among the other goodies in Android 4.2 is a multi-user option, which lets you share the device with someone else at home while keeping your own apps and wallpaper.
Sure, there will be complaints that there aren't enough apps for large Android tablets, or perhaps that those apps aren't as well-made. The reality is that there are lots of cool apps, just that you have to find them.
Sure, Facebook is not as pretty because it doesn't make use of all that white space on screen. What about Friendcaster, then? This alternative shows up a lot of activities on a three-column layout. The same for Plume, a Twitter app that again divides the content into three useful columns, using the screen's large real estate and sharp resolution well.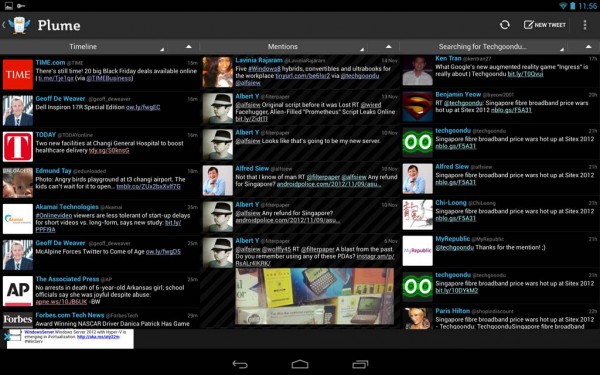 And I haven't mentioned apps such as Netflix, which runs well to stream movies over the Net. Also nice are the Google Play apps, including Music, Movies and Books, which can be enabled if you connect to the United States via a VPN (virtual private networking) service.
Of course, there are issues with some old apps. Some splash screens may not be as sharp if they were made for screens much less sharp than the Nexus 10. Some icons also look a tad bit blurry if placed next to Google's own, ultrasharp icons. But those are side issues. Place a Nexus 10 next to any tablet, and the interface stands up to comparison well.
What is more critical perhaps is the lack of an external memory card slot. If you bought the entry-level model, the 16GB onboard is down to about 13GB when you consider the system software and other apps that also take up space. In other words, you can't be copying too many 1080p movies over.
As with other Nexus devices, this is probably Google's way of forcing users to stream their stuff over the cloud. Sure, that works when you have speedy Wi-Fi at home, but what happens when you are on a plane or out at a cafe where the free hotspot is not working?
Remember that the Nexus 10, at least for now, doesn't come with 3G. There's no telling if Samsung and Google have one version of that up their sleeves, but for owners like me, it's down to Wi-Fi for now.
I'm being particularly picky because I had a great tablet in the Galaxy Tab 7.7, while really liking the Nexus 7 for its compactness. Yet, I can say, after a few days using it, the Nexus 10 has grown on me.
Once you get used to the sharpness of the screen and fluidity of the interface, it's hard to go back to another tablet. If there is 3G included, I'd say it's worth twice the asking price of US$399, which is roughly what Apple sells its new iPad for.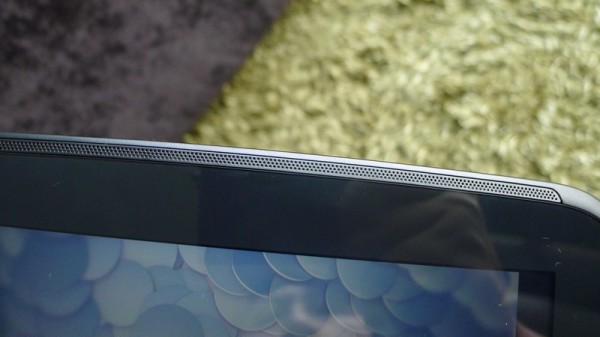 As it is, the Nexus 10 is well worth the money. Unlike the Nexus 7, Google's budget has not been so tight as to keep out some handy features. There's 5GHz Wi-Fi support, a micro HDMI port to hook up to larger screens and near-field communications (NFC) to exchange files or even pay for items.
Even the speakers, though nothing to shout about, turn up as a pair, so sound doesn't feel so trapped in one small corner of the tablet.
Like with the Nexus 4, it's too bad Google only sells the Nexus 10 to just a few countries at launch. There's also no word from Samsung Singapore if they are bringing this in.
If I were them, I'd be worried that the Nexus 10 could easily wipe the floor with the Galaxy Tab 2 and Galaxy Note 10.1, which have far inferior screens. Then again, Samsung may yet come up with a jazzed up version of this Nexus device next year, perhaps with a nicer design and Super AMOLED screen.
If the sales so far are anything to go by – the Nexus 10 was sold out along with the Nexus 4 last week – the Korean electronics maker should reconsider coming up with a really high-end tablet to challenge the large iPad, like how Asus' Nexus 7 has forced Apple to come up with the iPad mini.
Finally, to wrap up, how does the Nexus 10 compare to an iPad? I'd say very well. The challenger has got a screen as good as or even better than the iPad's. If only Samsung and Google had put a little more thought into the all-black design and added just some faux metal accents here and there, they'd have a premium device in the Nexus 10.
Still, it offers a good alternative, especially as more apps are turning up each day for such Android tablets. Today, there's really little reason to be tied to Apple's infamous restrictions, pay for more expensive "HD" apps or to forgo the best Google cloud experience, which is on an Android device.
Oh, and the Nexus 10 is also cheaper – more than S$100 cheaper – even when I ship it from the US. All things considered, the S$545 I paid just seems a better deal than the S$658 Apple is asking for its entry-level Retina-enabled iPad.
Got a question on the Nexus 10? Share with us in the comments. We'll also be updating the story with our take on its battery life.