Google finally took the wraps off the much-rumoured Nexus 4 smartphone yesterday evening (Singapore time), as it also launched a new stab at the 10-inch tablet market with an interesting high-res Nexus 10 made by Samsung.
Finally, the Nexus 4
The Nexus 4, made by LG, had been the subject of much Internet chatter for months. When it was confirmed yesterday by Google, it hardly brought a surprise to many Android fans, except it will come without LTE (long term evolution) or 4G.
If you don't care for that, then the rest of the phone is pretty much up there with the rest of the top-end phones in the market now. The Nexus 4 has a quad-core CPU, among the fastest according to Google, and a 4.7-inch screen with a sharp 320 pixels per inch (ppi) display.
What stands out here is the wireless charging option, which was also seen on the rival Nokia Lumia 920. There's also Android 4.2, of course. The latest Android version, still named Jelly Bean, brings with it a number of goodies like gesture typing and a panoramic photo feature called Photo Sphere.
The new Google phone is also very affordable. The 8GB version is going for US$299 and the 16GB version for US$349.
Unfortunately, you're not in luck if you are living in Singapore or Asia. For a start, the Nexus 4 is only shipping in the United States, Britain, Australia, France, Germany, Spain and Canada on November 13.
Interesting new 10-inch tablet
More interesting perhaps is the new Nexus 10, a Samsung-made tablet that boasts surely the sharpest screen around. The 2,560 x 1,600 resolution here packs more pixels than your large-screen TV and has as much detail as you'd see in a top-range 30-inch monitor from Dell.
On the small screen, images and text are expected to look incredibly sharp. Retina, what? That's 2,046 x 1,536 on the Apple iPad, bringing up an already stunning 264 ppi.
The Samsung Nexus 10, by Google, notches that up to 300 ppi. Just numbers, you say? Sure, look at an HD programme then go back to regular programming to compare the sharpness.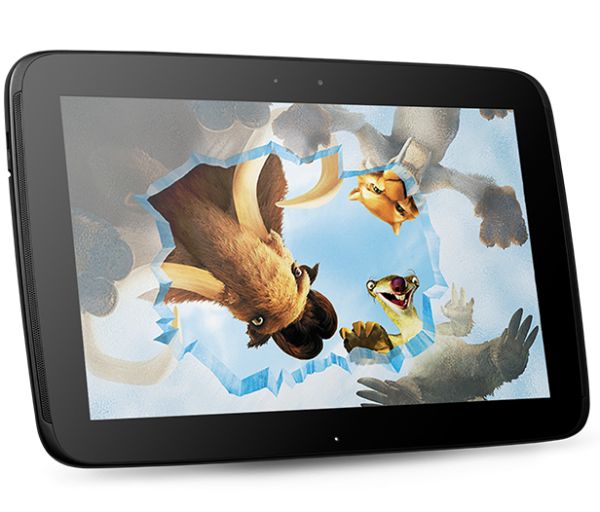 Samsung has chosen to keep a dual-core chip running in there, but there's a pretty fast graphics processing unit for company. It's probably needed, considering the Nexus 10 has such a high-res screen that needs enough graphics muscle for that heavy lifting.
As with the Nexus 4, prices are very competitive. The 16GB version is going for US$399 and the 32GB one for US$499.
The Nexus 10 will come only in Wi-Fi when it ships on November 13. But if it gets anywhere as popular as the Nexus 7, which Google also updated yesterday with 3G connectivity and a new 32GB version, don't be surprised to see a 3G or even 4G version of the Nexus 10.
Again, unfortunately, the tablet is not coming to Singapore for now. Unlike the Nexus 4, the Nexus 10 will ship in one Asian country – Japan. Elsewhere, you can buy the tablet in the US, Britain, Australia, France, Germany, Spain and Canada.
Let us know what you think of the new Google gizmos in the comments.