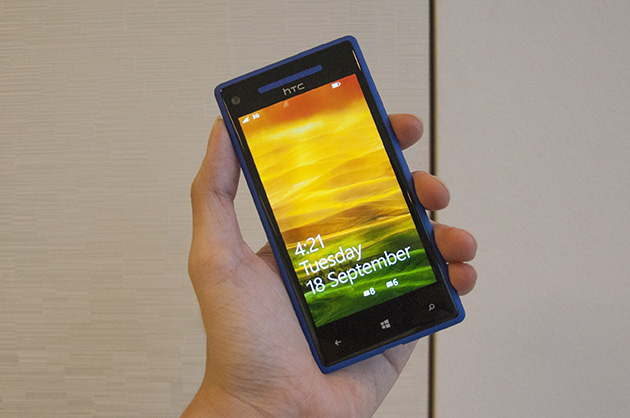 Nokia stole most of the Windows Phone 8 limelight with its new Lumia 920 flagship, but other device manufacturers are also starting to take the platform more seriously. Just look at the gorgeous phone above.
That's the Windows Phone 8X by HTC, a mouthful of words that is supposed to convey Microsoft's heavy involvement in the development of the smartphone. It's kind of like a Google Nexus device, in a sense.
Although just unveiled in New York, I got some hands-on time at HTC's Singapore office yesterday, and came away impressed on more than a few counts.
Hardware and design
It was not too long ago that HTC was still playing with 101 ways to re-package a Desire HD, until the One series broke out with new aesthetics. With the 8X, HTC has gone in yet another fresh design direction.
The back of the phone is curved, and the generous taper makes it look a lot skinnier than it actually is. And yet, the phone is not at all heavy, and the contour helps it sit comfortably in the hand.
Made of soft-touch polycarbonate, the back plate's texture feels a little rough to the touch, which gives it a nice grip. The blue colour in particular, which is really more purple in real life, looks very attractive and definitely stands out from existing smartphone designs.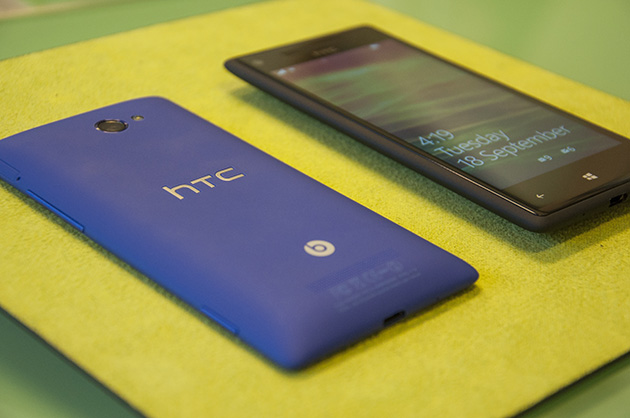 On the front sits a 4.3-inch Gorilla glass display (1,280 x 720) that is just slightly curved at the edges. The display is optically laminated to reduce light reflection, and looks sharp and bright even in direct sunlight. In fact, I found it to be the most viewable screen I've tested under Singapore's harsh equatorial sun.
Under that sleek chassis lies a dual-core 1.5GHz processor, 1GB of RAM and 16GB of fixed storage. Sadly, HTC went down the same route as Nokia and there's no micro SD card slot in this flagship model. Conversely, the cheaper 8S, which I'll touch on below, has such a slot.
The 8X also offers NFC connectivity, and will only come in an LTE variant in Singapore. That's not necessarily good news, as some might not want to jump on to the LTE bandwagon just yet.
Camera and sound enhancement
HTC's relationship with Beats Audio is also evident in the 8X, and it's the first time for Windows Phone. There are two amplifiers built into its speakers, and HTC touts "studio-quality" sound even if using non-Beats branded earphones. Beats headphones will be available as an optional purchase, and will not be bundled with the phone.
HTC has put quite a lot of work into the 8X's camera too, and while it's no PureView, the results are still pretty impressive.
It's an 8-megapixel camera with a backside-illuminated sensor and a large f/2.0 aperture for those tricky low-light shots.
Even the front camera received some love. It has the same f/2.0 aperture for soaking in light and a wide angle lens for those group self-shots everybody loves. It even records video in full HD!
The back camera also features a dedicated image processing chip which allows for faster auto-focus and lets you take multiple photos in quick succession. The chip should also be able to suppress more image noise than regular camera phones.
Check out this photo I snapped, straight out of the camera without any enhancement: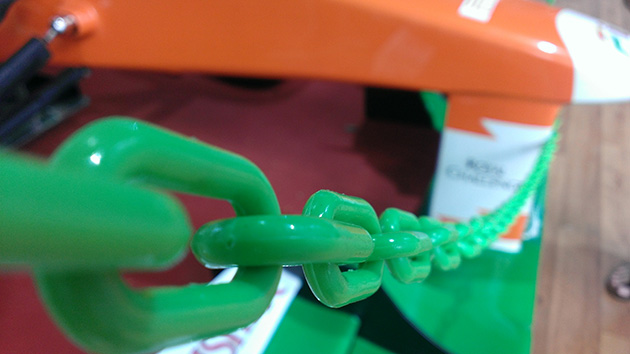 (Click here for the full-res photo and more samples)
While the output looks good in a well-lit street, its low-light performance remains to be tested.
Also, there are few software tweaks to speak of in the 8X's camera. Nokia has its exclusive photo apps to make their phones more compelling options, but it seems like HTC decided to stick with the stock camera. But again, this isn't final software, so we may see more features coming later on.
Software
HTC didn't allow me to play with any of the software features, saying that Windows Phone 8 isn't ready for prime time. The hands-on was restricted to only the lock screen and the camera app.
The 8X, obviously, runs Windows Phone 8, the latest and greatest mobile operating system out of Microsoft. We can be sure there won't be any major changes with the interface, as Microsoft pulls a tight rein on OEM customisation.
HTC confirmed that there will not be any major exclusive apps other than its "Sense experience", which brings some additional functionality to Windows Phone, such as flip to silence.
Windows Phone 8S by HTC
Along with the high-end phone comes a more affordable option, as all device manufacturers are wont to do.
There's nothing particularly outstanding about the 8S, and it sounds like a last-gen device, but you could do a lot worse. The design doesn't feel as premium as the 8X, but it look cute and it's smaller size makes it more comfortable to hold.
It has a 4-inch vanilla display (800 x 480) and a 1GHz dual-core processor, but only 512MB of RAM and no front-facing camera.
On the upside, Beats Audio is also available, and you get a micro SD slot because the phone only has 4GB of built-in storage.
Hopefully the 8S will be priced right for an entry-level Windows Phone, or I don't see it gaining much traction outside of developing markets.
Wrap-up
HTC goes as far as calling the 8X a "signature" Windows Phone, a term Microsoft has used to described "pure" Windows computers with no extra software bloat added.
The 8X does look like an excellent phone, not least because of its sleek and instantly recognisable design. The screen is sharp and beautiful, and it has enough unique features to warrant a second glance from fans of the new Lumia.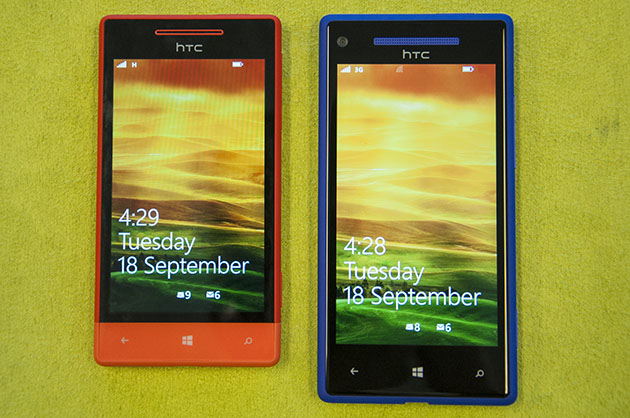 It's clear that HTC has put in much effort into the 8X and 8S and the inclusion of a premium feature like Beats Audio points to the company's revived interest in the Microsoft's platform.
But standing apart is different from standing out, and it won't be easy to market the 8X next to Nokia's exclusive apps and cool features, such as wireless charging and super-sensitive screen.
Prices and dates are currently unavailable, another sore point in all recent Windows Phone launches that needs to be addressed.