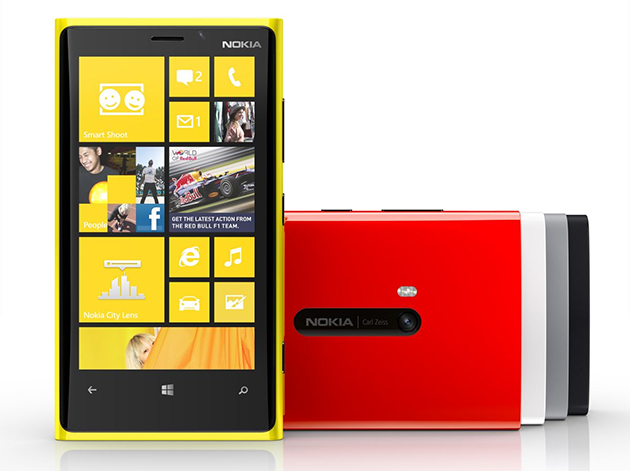 Back when the Lumia 800 was launched, Nokia called it the world's "first real Windows Phone", but it lacked many desirable features such as front-facing cameras, and was probably designed to slow the Finnish company's descent down, well, Research in Motion's route.
Now, unlike the 800 and 900, the new Lumia 920 will bring some new innovation to the table, and Nokia is going in with guns blazing. The Lumia 820, on the other hand, seems a tad more bland in comparison and seems to be a more direct hardware upgrade.
PureView imaging
No, it doesn't come with 41-megapixels, but Nokia is still calling the camera technology baked into the Lumia 920 "PureView".
According to Nokia's imaging chief Damian Danning, PureView is "not about the number of pixels, but what you do with them", adding that it's more than "a single specific feature or specification". In other words, it's just a brand not unlike Canon's PowerShot or Nikon's Coolpix.
The camera on the Lumia 920 has a paltry 8.7-megapixel sensor compared to the PureView 808's monstrous 41-megapixels, but at least we don't have to deal with a huge unsightly bump on the phone's back.
On a brighter note, the sensor is backside-illuminated, which basically means better lit photos, and the dual LED flash at the back is twice as powerful as the Lumia 800/900.
Sensor size is also an upgrade. The Lumia 920 sports a 1/3 inch sensor, bigger than that found on the iPhone 4S. This generally means better image quality. Here's a handy sensor comparison chart extracted from cameraimagesensor.com:

The Lumia 920's sensor will lie in between the smartphones and Canon's PowerShot S100.
With a large f/2.0 aperture (the size of the hole to let light into the camera) and the same image processing software found in the 808, the camera still sounds pretty amazing on paper.
In addition, the Lumia 920 has built-in optical image stabilisation where the lens is made to "float" on tiny springs, which reduces motion blur and lets the shutter stay open longer to drink in more light.
On the downside, no extra megapixels means no lossless zoom, so if you want to do a high-quality close up you'll have to walk closer to your subject.
Despite the initial embarrassment over the faked video, the camera is indeed impressive in live demonstrations. This image below from Anandtech compared the same shot from a Lumia 920 and an iPhone 4S at Nokia's New York event, and it's clear who's the winner here.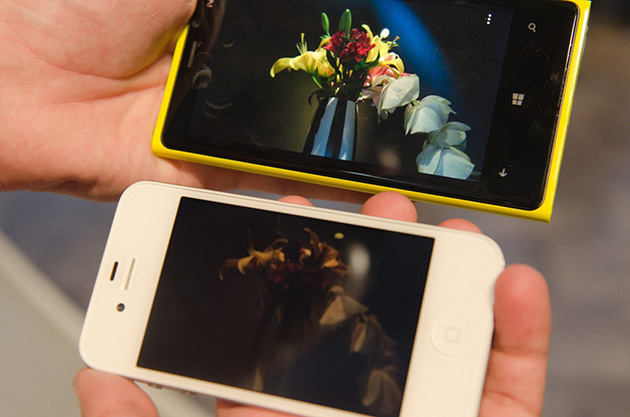 Optical image stabilisation on video is no slouch either, this not-faked video can attest.
Unfortunately, PureView is only available in the Lumia 920 and not the 820, but the latter has some new tricks up its sleeves too.
Wireless charging + NFC
The Lumia 920 has wireless charging and NFC built in out of the box, but you can add both to the Lumia 820 by swapping out its back cover. This is a good move, as it works to keep the price of the Lumia 820 as low as possible, while users who want the extra chips can pay more.
The wireless charging technology is based on the "Qi" standard set by the Wireless Power Consortium, so there may be third party accessories heading our way.
None of these two technologies are particularly new, but it might finally go mainstream through Nokia. The company will be installing charging pads at a Virgin Atlantic lounge in London's Heathrow Airport and New York's JFK airport, and has partnered with The Coffee Bean & Tea Leaf to install it in "select major metropolitan cities", too.
NFC is also nice to have in light of Singapore's push to become NFC-enabled.
There's no word on whether the charging pads will be bundled or sold separately, but the new fancy colourful NFC speakers and headphones will definitely be optional.
A new screen
The Lumia 820 sticks with Nokia's ClearBlack AMOLED screen, with its size bumped up to 4.3-inches. But the star is the Lumia 920's new screen tech, dubbed PureMotion HD+ by Nokia marketing, and is billed as the fastest, brightest and most sensitive screen around.
The Lumia 920's 4.5-inch (1280 x 768) screen combines ClearBlack's low reflectivity and bumps up luminance which is claimed to be even more viewable in direct sunlight. It's also supposedly more fluid so that the already buttery Windows Phone OS will be even more responsive.
Finally, and perhaps most practically, users in cold climates can use the Lumia 920 with their gloves on. The screen is so sensitive that it even responds to fingernails.
Will it be enough?
It's not an exaggeration to say this is probably Nokia's last chance to fight back. If these two new Windows Phone 8 devices fail to gain any traction in the market, the company's descent down the slippery slope may be unstoppable.
Fans who jumped onto the Lumia 800 and 900 bandwagon will have a long time to go before their contracts expire, so the phones are really targetting new customers who are not already on Windows Phone, and that is going to be the real challenge for Nokia.
Existing Lumia users don't need to be told that this is a worthy upgrade to their phones; it's the Android, iPhone and other feature phone users Nokia needs to convince.
We'll be back with our hands-on impression and review as soon as these two phones land in Singapore.