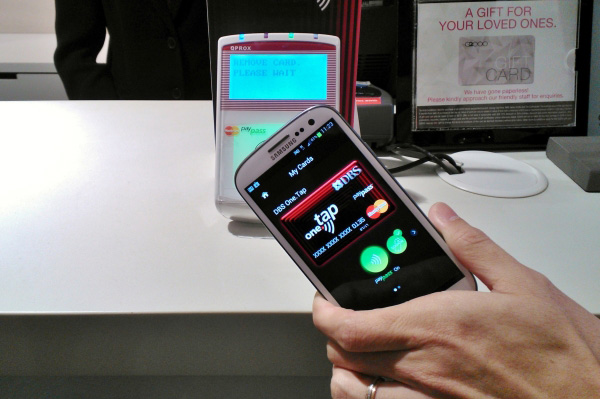 Years after mobile payment was first mooted as a new way to pay for things, Singapore users will finally be able pay for taxi and train rides and shopping items by simply tapping their phones on any of the 30,000 retail points that already accept such the near-field communications (NFC) technology.
On Friday, a group of banks, transit companies and telecom operators here introduced a number of mobile applications that promise to make payment much easier.
The idea is to make the phone a digital wallet that contains the information on the credit cards and stored value cards you have now, which can be accessed when you tap it against a supported reader.
Citibank, DBS, EZ-Link and the three local telcos, part of  a consortium partly funded by the government, say the first payment services will be available from the end of this month (read our commentary on their plans last year).
For a start, users will be able to pay at fast food and other retail outlets. Commuters will still have to use their existing stored value cards to pay for train rides, as phone payment for transit is only going on trial at the end of this year.
The catch is that only four smartphones are supported now. Users of Samsung's Galaxy III and Galaxy S Advance and Sony's Xperia P and Xperia S, all sporting an NFC chip in them, will be able to tap and go with their phones.
However, this doesn't mean you can just stick your existing SIM card into an NFC-capable phone and start using the feature. You'll have to approach your telco to get a new compatible SIM card for security reasons.
Even then, the Infocomm Development Authority, which has been pushing mobile payment for years here, cautions that the experience may not work as seamlessly on phones not on its short list.
There is another issue. Instead of one central wallet to manage all of a user's multiple credit and stored value cards, users have to fire up several different apps for different payment options.
For example, M1 has created an app to enable NFC payment through EZ-Link point-of-sales and a pre-paid virtual MasterCard. But EZ-Link has also provided its own app to handle all EZ-Link transactions, from MRT and taxi fares to shopping.
At the same time, DBS has teamed up with StarHub to produce yet another app called SmartWallet, which incorporates a new DBS virtual credit card named "One Tap", on top of the EZ-Link functionality.
So a user may not have to carry ten different cards any more but he may end up having to manage ten different NFC payment apps on his phone.
There are centralised wallet applications to hold all the information on a user's cards and coupons. The Wallet hub featured in Microsoft's upcoming Windows Phone 8 operating system is one example, but it's unclear if that technology will be integrated into the payment systems here in future.
Yet another limitation is that these payment solutions require an active data connection to work. If you're in an underground mall, or worse, find yourself running too close to your slashed data cap, then grimy old dollar notes probably still work best.
Proponents behind the technology, of course, believe it has come a long way and will improve. More phones will come with NFC, they say, and with more payment options available, users will find the technology convenient and preferable to good old fashioned cash.
Dylan Tan, senior corporate communications manager at SingTel, said, "This is just the beginning, and we'll see more services rolled out gradually over the next year."